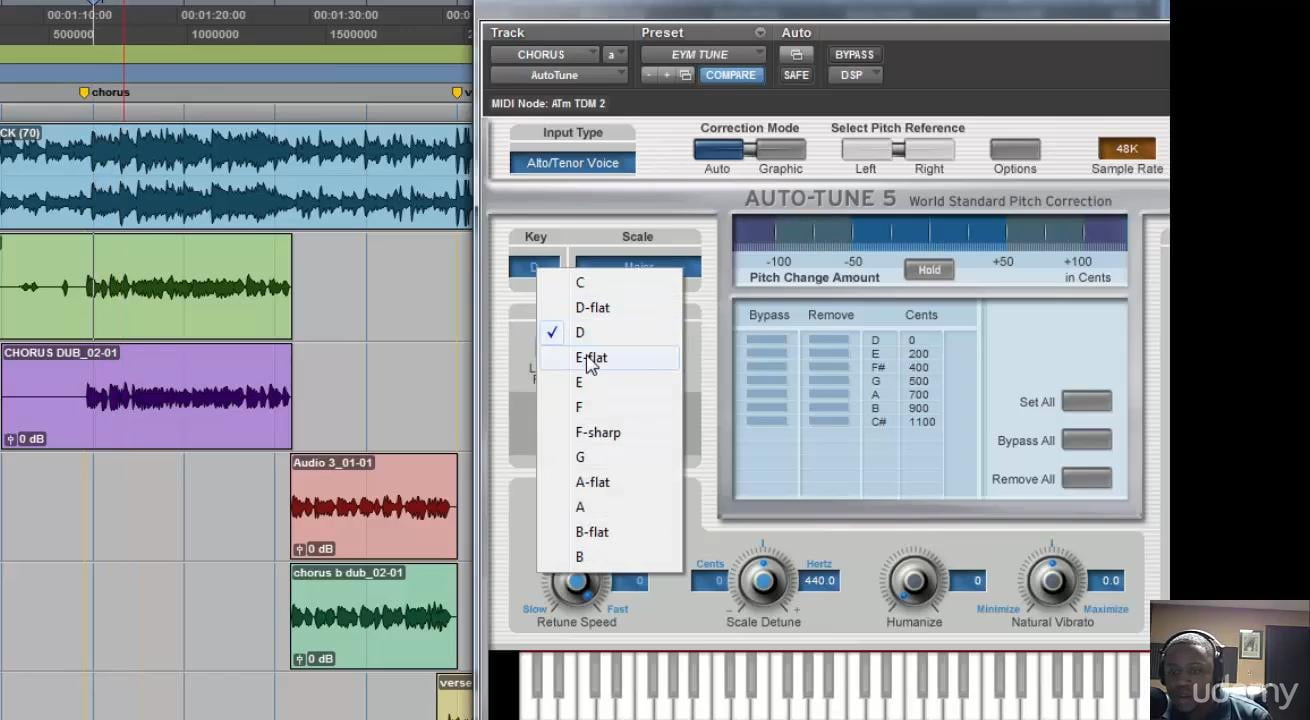 Year of release : 2016
Manufacturer : Udemy.com
Manufacturer site : www.udemy.com/record-a-song-in-pro-tools-the-easy-way/
Posted by : Kevin Cottrell
Duration : 02:12:18
Type of handing out material : Video Tutorial
Language : English

Description : This course is for beginners starting to work in Pro Tools. It includes descriptions of templates, presets, and keyboard commands, and also teaches you to work more efficiently and quickly with Pro Tools. We will prove that Pro Tools is easy to use and you can work with pleasure in it! We will guide you through the whole process of working with a real live artist "Kid Krush" and show you the full amount of work with the song "Easy Way".
A Easy Way to Get Started.
This is a way to work. It can be a lot of fun! It is an easy way to play music with Pro Tools. It's a funky way to make it. Thank you for taking your music career to a new height!
Content:
Section 1: Lets Pro Tools Can Be.
Lecture 1 Welcome 03:38
Lecture 2 Creating your 1st Pro Tools Session (using my premade template) 07:56
Lecture 3 Pro Tools Layout Overview 10:28
Lecture 4 Importing The Beat (Instrumental from Gottrax.com) 04:16
Lecture 5 Finding The Beats Tempo 05:28
Lecture 6 How To Count Bars 02:55
Lecture 7 Getting The Best Vocal 02:43
Section 2: Recording (How To)
Lecture 8 How To Record (The Easy Way) 03:49
Lecture 9 Recording Chorus Vocals part 1 08:48
Lecture 10 Recording Chorus Vocals part 2 05:40
Lecture 11 Recording Verse Vocals part 1 11:58
Lecture 12 Placing The Chorus Vocals 03:16
Lecture 13 Recording Verse Vocals part 2 (Verse 2) 08:21
Section 3: Mixing (How To)
Lecture 14 Mixing While You Record 03:04
Lecture 15 Importing Presets 04:01
Lecture 16 How To Autotune Vocals 06:02
Lecture 17 How To Mix (The Easy Way) 15:00
Lecture 18 Bringing Energy To Your Song Mix 08:36
Lecture 19 Adding Volume To Your Song 07:33
Lecture 20 Bouncing Your Song Down 03:27
Section 4: Congratulations
Lecture 21 Conclusion, Thank You and CONGRATULATIONS 01:41
Section 5: BONUS LECTURES
Lecture 22 How To Convert Your Song To An MP3: 03:29
Sample files : none
Video Format : MP4
Video : AVC, 1310×720, 16: 9, 30,000 fps, ~ 692 Kbps
Audio : AAC, 44.1 KHz, 79.2 Kbps, 2 channels