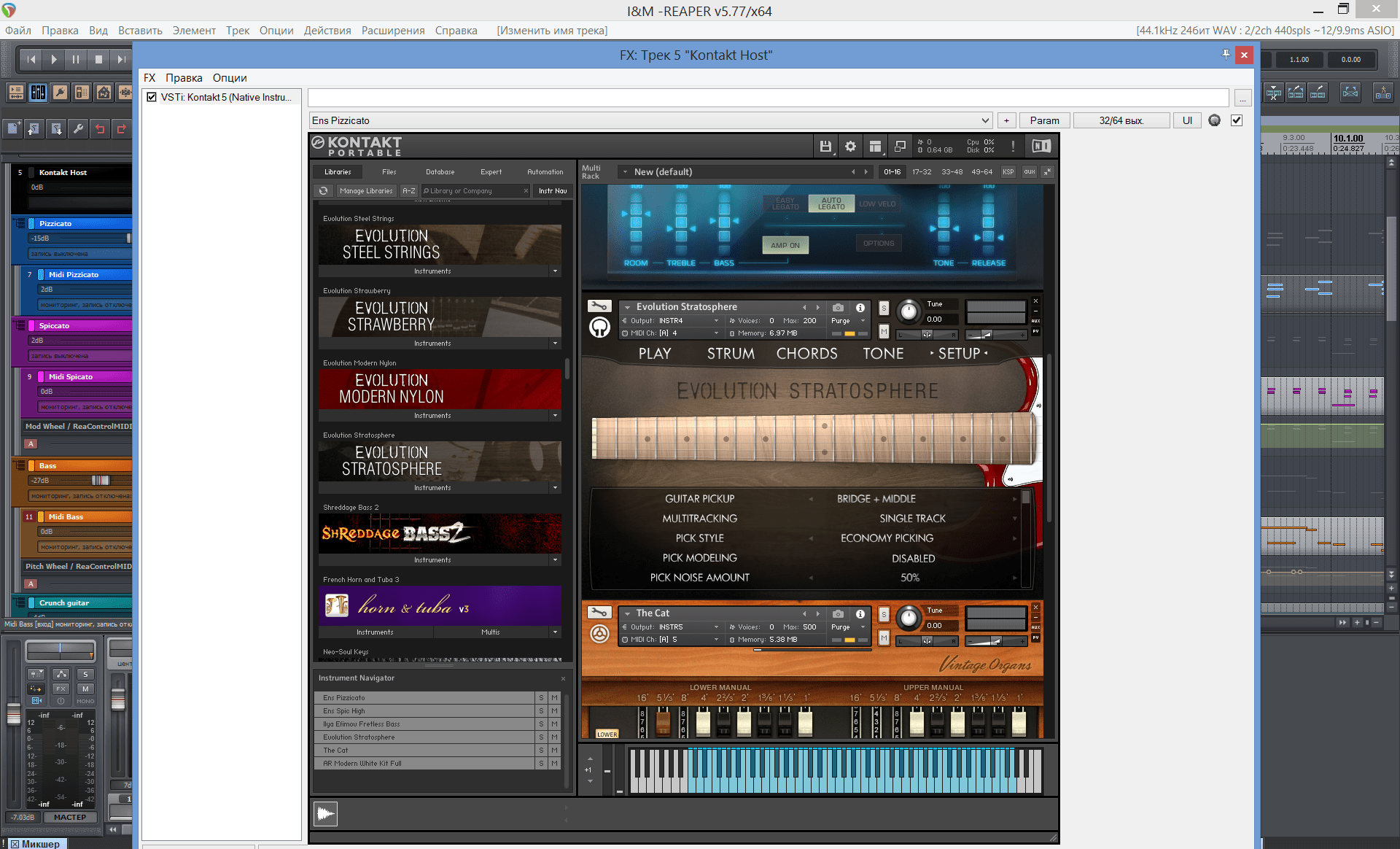 Year / Release Date : 04/05/2018
Version : 5.8.0 Build 36
Developer : Native Instruments
Developer's site : native-instruments.com
Format : STANDALONE, VSTi
Digit capacity : 32bit, 64bit
Tabletka : cured
System requirements : Windows 7 or higher, 4GB RAM
Description : Assemblyless and portable assembly of the popular sampler from the German office of Native Instruments, which has been producing music software since 1996. It stands at the origins of the revolution in music production, which made the emergence of virtual musical instruments.
A large number of third-party sample libraries have been created on the Kontakt platform.
Features :
1. Installation, including additional software (Service Center, Native Access, MS VS C ++ runtime), is not required.
2. All settings are saved in the portable program folder (Windows registry and other system storages are not used, administrator rights are not required * ).
3. The Library Manager is integrated (to replace the lost Add Library button), providing full control over protected libraries, as well as allowing to register unprotected (self-made) libraries without generating nicnt files.
4. The possibility of simultaneous work with the installed version of the Contact without conflicts and with different settings ** .
5. No activation of protected libraries is required.
6. Ability to edit password-protected scripts.
7. The possibility of resaving with samples patches protected libraries.
What's New in Version 5.8.0
Added by:
– sort and search libraries in bookmarks
Improved:
– the virtual keyboard is now automatically scaled to fit the width of the tool interface
– when clicking on the "Manage Libraries" button in the internal browser, the "Libraries" tab of Contact settings is now opened
Fixed:
– some controls became invisible when used in multiple rack instruments at the same time
– some built-in effects from the filter class used more memory than was necessary
For developers:
– IMPROVED KSP: it has been raised to 512.
– IMPROVED KSP: The maximum array size has now been raised to 1,000,000
– IMPROVED KSP: get_control_par () wouldn't work for ui_level_meter
– IMPROVED KSP: One can be up to three file selectors.
– FIXED KSP: Kontakt would crash when trying to build a MIDI pattern from a large while loop
– FIXED KSP: mf_reset () would not return an async ID
Notes:
* Requires (super) administrator rights if the portable program folder is placed in protected system storage (for example, in Program Files) – such a location for portable programs is unnatural and is not recommended
** In the VST folders of Kontakt 5 Portable there are plug-ins with modified identifiers (you must run Modified Plugins.exe and click the Extract button if your host does not see the plug-ins of the installed and portable Contact at the same time)
How to install Kontakt 5 PORTABLE:

No installation is required, just extract the package files:
Run Kontakt58Portable.exe , click the Browse … button and select an empty folder (or create a new one) in which the files of the transferred contact will be stored:

When choosing where to store contact files, avoid Cyrillic and protected system folders (a la Program files).

Click Extract
How to add Kontakt 5 PORTABLE VST to a host (DAW):

Method 1 : Run Kontakt57Portable Install.exe and create a link to the VST plug-ins of the migrated Contact in one of the folders that are already scanned by your host. Method 2 : Open the settings of your host and add the folder Kontakt57Portable Kontakt 5 x64 VST (or Kontakt57Portable Kontakt 5 x86 VST if the host does not support 64-bit plug-ins) as an additional folder for scanning plug-ins. For details, refer to the manual (manual) of your DAW.
How to roll on version 5.7.x PORTABLE:

Automatic update

Close all copies of

Kontakt 5 Portable

Run

Kontakt58Portable.exe

and click the

Browse

button

…

Select the folder where your

Kontakt 5 Portable

files are stored:

Click the Extract button and agree to replace the files:

---

Manual update:

List of files to be replaced:

… Kontakt57Portable Kontakt 5 x64 advapi32p.dll
… Kontakt57Portable Kontakt 5 x64 Kontakt 5.exe
… Kontakt57Portable Kontakt 5 x64 Kontakt 5.vst
… Kontakt57Portable Kontakt 5 x64 shll32p.dll
… Kontakt57Portable Kontakt 5 x86 advapi32p.dll
… Kontakt57Portable Kontakt 5 x86 Kontakt 5.exe
… Kontakt57Portable Kontakt 5 x86 Kontakt 5.vst
… Kontakt57Portable Kontakt 5 x86 shll32p.dll
… Kontakt57Portable Install.exe
… Kontakt57Portable Kontakt 5 Documentation Readme.txt
Pro tools:

AAX plugins are not in this build.

Kontakt 5 Portable VST plug-ins can be downloaded to Pro Tools (Audioutopia) using the Blue Cat's PatchWork v2.0 patch panel:

Install Blue Cat's PatchWork AAX plugins.

Download BC PatchWork Synth to Pro Tools.

Download VST Kontakt 5 Portable to BC PatchWork Synth:


Other ways to load VST in Pro Tools
Also suitable adapter from Sugar Bytes: TransVST + TransVST Fixer (available in this distribution )