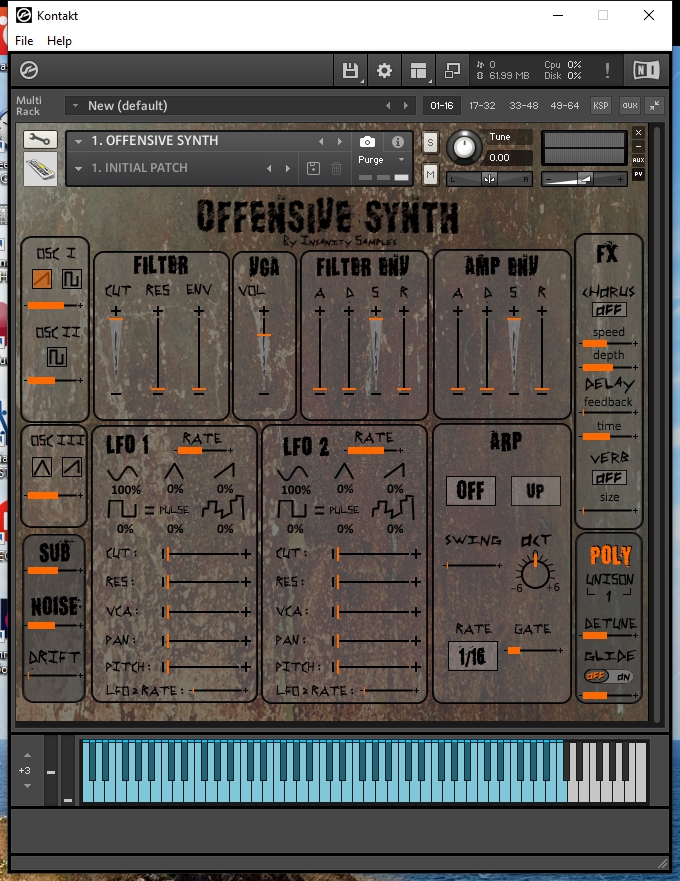 Publisher : Insanity Samples
Website : kontakthub
Format : KONTAKT 5.7.3
Quality : 24 bit 48 kHz stereo
Description : A 3-oscillator supersynthesizer modeled on a mixture of analog monsters. Designed for use with both classic analog sound, and for sound output in the modern era with a lot of modulation capabilities. For promising beginners there is an extensive set of presets, for hardened masters – synthesis.
The synthesizer has 3 main oscillators with 5 independently selectable waveforms. In addition, there is an auxiliary sub – oscillator with a sinusoidal wave and noise. Low pass filter with bright and strong resonance. There are 2 ADSR curves for the filter and amplifier, and 2 incredibly powerful LFOs with different waves, with several modulation addresses, including manipulations with each other.
Universal arpeggiator with a choice of directions and multiple synchronized speeds. Polyphonic and monophonic switch with unison detuning and sliding. Finally, there is a built-in FX section, which includes Chorus, Delay and Reverb.
In addition to the basic parameters and synthesizer modules, there are 68 presets in 6 different categories; ARP, Bass, FX, Lead, Pad and Risers. Designed for inspiration or use as source material for your own patches!

The post Insanity Samples – Offensive Synth (KONTAKT) appeared first on Audioplugin.net.