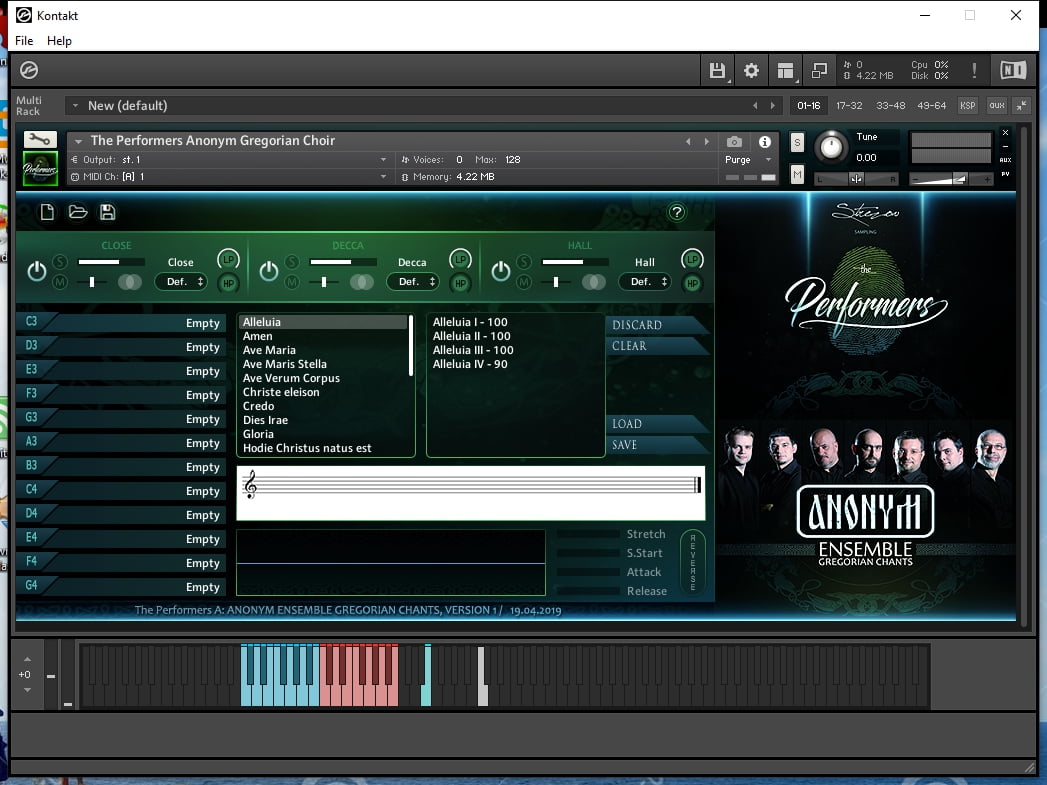 Publisher : Strezov Sampling
Website : strezov-sampling
Format : KONTAKT 5.7.1+, WAV
Quality : 24 bit 48 kHz stereo
Description : An extensive collection of fascinating and mystical Gregorian chants based on phrases, with a special emphasis on maximum flexibility and usability for composers and producers.
Starting the new Strezov Sampling The Performers series, focusing on virtuosic musical performances that cannot be created using traditional multisampling techniques, Anonym Gregorian Choir presents an extensive collection of famous Gregorian chants recorded using world-class equipment at Session Studio in Sofia and mixed with three microphone positions (Close, Decca and Hall).
All performances are enclosed in a new engine based on NI Kontakt, which allows the user to freely display all phrases and musical parts of phrases to their liking, creating new combinations that go beyond well-known schemes.
To ensure maximum usability and flexibility, all performances were recorded at different rates and throughout the gamut within one octave. You are not limited to the specific tempo or key in this collection. In addition to this ensemble, Gregorian Choir also has .wav files for import into a DAW or sampler of your choice.
Articulation:
SUSTAINS: – "Ooh" drone sustains, looped (1xRR), C2 – B2
BREATHS: – 6xRR
PHRASES (each recorded on wholetone scale within one octave):
1. Alleluia * – 4 phrases
– Alleluia I – 100 BPM
– Alleluia II – 100 BPM
– Alleluia III – 100 BPM
– Alleluia IV – 90 BPM
2. Amen * – 3 phrases
– Amen I – 120 BPM
– Amen II – 120 BPM
– Amen III – 90 BPM
3. Ave Maria – 4 phrases
– Ave Maria 1 – 100 BPM
– Ave Maria 2 – 100 BPM
– Ave Maria 3 – 100 BPM
– Ave Maria 4 – 100 BPM
4. Ave Maris Stella – 3 phrases
– Ave Maris Stella 1 – 90BPM
– Ave Maris Stella 2 – 90BPM
– Ave Maris Stella 3 – 90BPM
5. Ave Verum Corpus – 3 phrases
– Ave Verum Corpus 1 – 100 BPM
– Ave Verum Corpus 2 – 100 BPM
– Ave Verum Corpus 3 – 100 BPM
6. Christe Eleison * – 3 phrases
– Christe Eleison I – 100 BPM
– Christe Eleison II – 80 BPM
– Christe Eleison III – 80 BPM
7. Credo – 4 phrases
– Credo 1 – 80 BPM
– Credo 2 – 120 BPM
– Credo 3 – 120 BPM
– Credo 4 – 100 BPM
8. Dies Irae – 5 phrases
– Dies Irae 1 – 70 BPM
– Dies Irae 2 – 70 BPM
– Dies Irae 3 – 70 BPM
– Dies Irae 4 – 90 BPM
– Dies Irae 5 – 90 BPM
9. Gloria – 3 phrases
– Gloria 1 – 110 BPM
– Gloria 2 – 110 BPM
– Gloria 3 – 110 BPM
10. Hodie Christus Natus Est – 3 phrases
– Hodie Christus Natus Est 1 – 110BPM
– Hodie Christus Natus Est 2 – 110BPM
– Hodie Christus Natus Est 3 – 100BPM
11. In Paradisum – 3 phrases
– In Paradisum 1 – 120 BPM
– In Paradisum 2 – 120 BPM
– In Paradisum 3 – 120 BPM
12. Kyrie Eleison * – 3 phrases
– Kyrie Eleison I – 100 BPM
– Kyrie Eleison II – 100 BPM
– Kyrie Eleison III – 90 BPM
13. Pater Noster – 3 phrases
– Pater Noster 1 – 90 BPM
– Pater Noster 2 – 100 BPM
– Pater Noster 3 – 100 BPM
14. Requiem – 3 phrases
– Requiem 1 – 110BPM
– Requiem 1 – 100BPM
– Requiem 1 – 108BPM
15. Salve Regina – 3 phrases
– Salve Regina 1 – 80 BPM
– Salve Regina 2 – 80 BPM
– Salve Regina 3 – 100 BPM
16. Te Deum Laudamus – 4 phrases
– Te Deum Laudamus 1 – 100 BPM
– Te Deum Laudamus 2 – 90 BPM
– Te Deum Laudamus 3 – 70 BPM
– Te Deum Laudamus 4 – 100 BPM
17. Veni Creator Spiritus – 4 phrases
– Veni Creator Spiritus 1 – 90 BPM
– Veni Creator Spiritus 2 – 90 BPM
– Veni Creator Spiritus 3 – 90 BPM
– Veni Creator Spiritus 4 – 90 BPM
18. Victimae Paschali Laudes – 4 phrases
– Victimae Paschali Laudes 1 – 90 BPM
– Victimae Paschali Laudes 2 – 90 BPM
– Victimae Paschali Laudes 3 – 100 BPM
– Victimae Paschali Laudes 4 – 75 BPM
* The Roman numerals in certain phrases represent vocal variations of the same phrase, while the ones using Arabic numerals split the respective phrase into pieces and the number marks the part of the phrase in question