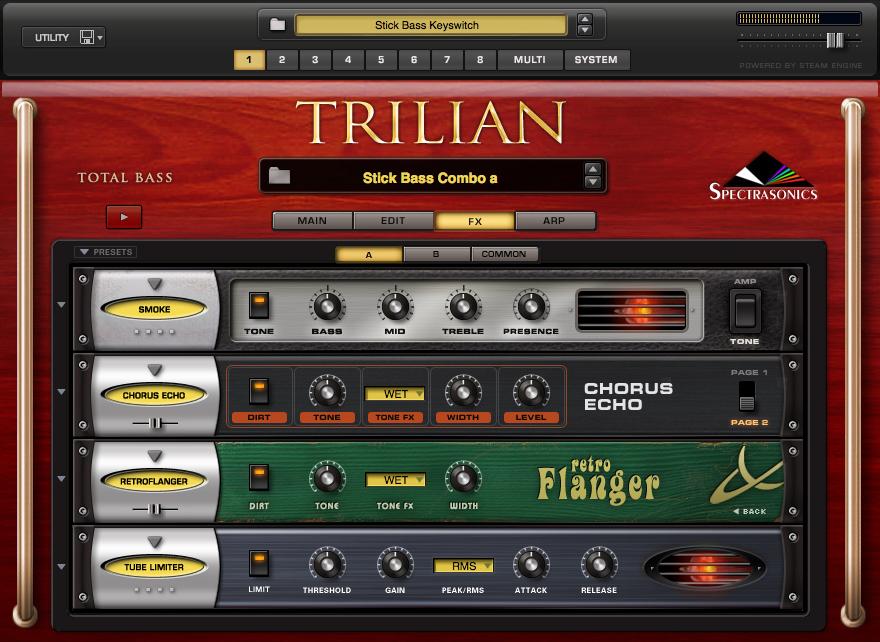 Spectrasonics – Trilian v1.4.3d + Library (UPDATES) OS X [AiR][dada]
249 MB
Open with Keka.
————————————————————————————-
Trilian is the total solution for Bass from Spectrasonics
Trilian is designed from the ground up to be the most versatile bass virtual instrument available today with a new level of expressive, real-time performance for acoustic and electric basses – plus cutting-edge synth bass tones with powerful editing and extraordinary sound quality. Trilian is the successor to Spectrasonics' award-winning Trilogy bass instrument, offering deeper control of musical expression and much greater flexibility of sound shaping. Trilian's 34GB library is 10-times the size of Trilogy and features all new acoustic, electric and synth basses.
Powered by next generation STEAM Engine technology, Trilian is the first instrument to feature core library integration with Spectrasonics flagship Omnisphere® synth – allowing Trilian's sounds to be used within the Omnisphere environment for further sound design and keyboard/bass splits.
————————————————————————————-
Requirements:
– Intel dual core processor or higher
– AU, VST 2.4 or higher, RTAS or AAX capable host software
– Audio Unit plugin requires host with support for "Cocoa" based plugins
– Native 64-bit and 32-bit on OSX
– 6GB of RAM or more if using the Sample File Server
Trilian Software 1.4.3d
Includes the following new enhancements:
– Support for Pro Tools AAX 64-bit platform.
– "All Spectrasonics" Directory (browse all Spectrasonics sounds without third party tagging interference.)
– Directory Menu Separator between Factory/User Libraries.
– Live and Stack dimming when not in use.
Includes fixes for the following:
– Interim support for sandboxed audio unit hosts (Garageband X/Logic X).
– Browser view mode crash in Pro Tools 11.
– Copy/paste layer not disabled on multi page.
– OS X Cursor problems.
– Waveshaper crash with high input levels.
– Layer link status saved in patch.
– Sustain 2 mode.
– Live mode dragged slot save/restore.
– Search field requiring multiple clicks.
– Mixer pan routing after part effects.
– Filter Modulation Aliasing.
– Filter preset menus interference.
– Multi browser steppers.
– Reference Guide link to online manual.
– Patch ratings can't be changed .
————————————————————————————-
Do not make money with this software…
Remember to BUY the stuff if you USE it.
————————————————————————————-
future-dada
————————————————————————————-
thepiratebay.se – 1337x.to – flashtorrents.org – fenopy.se
————————————————————————————-
MMXIV (08).
————————————————————————————-