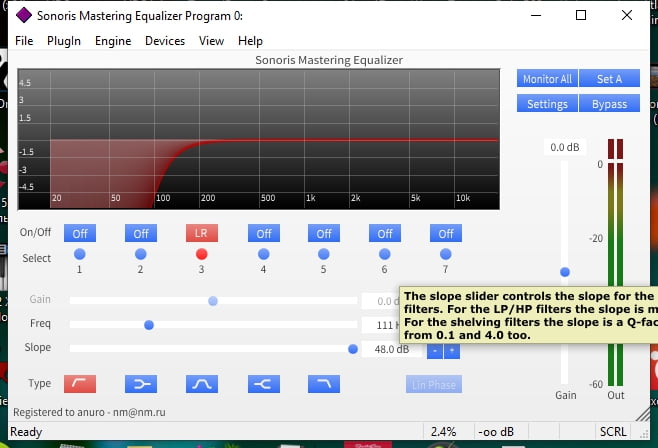 Year / Release Date : 05.2019
Version : 1.0.4.0
Developer : Sonoris
Developer site : sonorissoftware
Format : VST, VST3, RTAS, AAX, AU
Digit capacity : 32bit, 64bit
Tabletka : present
System requirements : VST, AAX, AU Host
Description : Sonoris Mastering Equalizer (SMEQ) is a parametric equalizer in VST, AU, AAX and RTAS formats for Windows and Mac. It has a selectable linear phase or minimum phase load for each range. The plugin is designed for mixing and especially for mastering, it has 7 lanes, includes lowpass, highpass, peaking and shelving filters.
SMEQ can be used to enhance or correct difficult material like vocal or instrumental soloists and groups, orchestral recordings and complex mixes without introducing undesirable color. The implementation of the linear phase SMEQ provides a transparent character and simply raises or lowers the frequency range without adding "sound". It does not change the picture and the depth of the original sound. In this way, you can enhance or weaken with a regular equalizer without any of these negative side effects.
The SMEQ linear phase algorithm is based on a technology called "back-to-back filtering", which has not yet been implemented on some high-end, expensive equalizers. The main advantage of this method is that IIR filters can be used instead of FIR filters, the latter are usually found in linear phase realizations. IIR filters are known for their more analog type of filtering and are also more efficient than FIR filters. The filters used in SMEQ are actually the same as in the Sonoris EQ, and also have the correct gain before Nyquist.
Each group can be created to handle stereo, L, R or (M) id and (S) ide channels. Handling the middle or additional information can be very useful in certain situations. In mastering, for example, it allows you to raise the centered vocals, leaving other instruments intact. Or to the center of the bass without losing the stereo image of everyone else. Adjustment is easy because SMEQ allows monitoring of LR or MS channels.
The plugin has a large graphic display that shows exactly what you get. The size of the plug can be changed to your liking by dragging the lower right corner.
Sonoris Mastering Equalizer has an automatic, as well as 2x, 4x or 8x manual upsampling mode. As the frequency increases, SMEQ has an even more accurate answer, especially at higher frequencies.