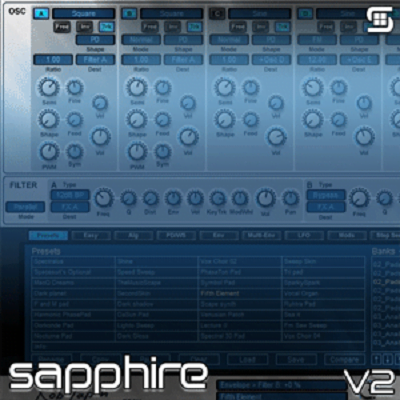 Publisher : Sonic Elements
Website : Nucleus-soundlab.com/products/vst-patches/sonic-elements/sapphire-ii-patches-for-rob-papen-blue.html
Format : SYNTH PRESET
Quality : 24 bit 44.1 kHz stereo
Description : Welcome to Sapphire II, Sonic Element a new patch for Rob Papen Blue. This is sound designer Sean Wallace in the follow-up to his Bitten by Sapphire soundset from the SoundLab core. Sapphire II seeks to build on the old and generalization of the splendor of the original Sapphire. Sapphire II pushes blue on its limits in modulation and generalization for a truly unique sound experience.
Sapphire II sonic arsenal varies from environment to VGM-Felix Yanov. Sounds differ from findings, fat, as complex dark keys and ethereal bliss – with rhythmic and harmonious feelings cast in every patch. "Sapphire" II has a mountain potential for any musical genre.
160 presets for Rob Papen's BLUE
Compatible with BLUE 1.7 and up Mod Wheel & Aftertouch Mapped

.yuzo_related_post img{width:149.5px !important; height:104px !important;}
.yuzo_related_post .relatedthumb{line-height:16px;background: !important;color:!important;}
.yuzo_related_post .relatedthumb:hover{background:#fcfcf4 !important; -webkit-transition: background 0.2s linear; -moz-transition: background 0.2s linear; -o-transition: background 0.2s linear; transition: background 0.2s linear;;color:!important;}
.yuzo_related_post .relatedthumb a{color:#303030!important;}
.yuzo_related_post .relatedthumb a:hover{ color:#8023dd}!important;}
.yuzo_related_post .relatedthumb:hover a{ color:#8023dd!important;}
.yuzo_related_post .relatedthumb:hover .yuzo__text–title{ color:#8023dd!important;}
.yuzo_related_post .yuzo_text, .yuzo_related_post .yuzo_views_post {color:!important;}
.yuzo_related_post .relatedthumb:hover .yuzo_text, .yuzo_related_post:hover .yuzo_views_post {color:!important;}
.yuzo_related_post .relatedthumb{ margin: 0px 0px 0px 0px; padding: 5px 5px 5px 5px; }
.yuzo_related_post .relatedthumb{
display:block!important;
-webkit-transition:-webkit-transform 0.3s ease-out!important;
-moz-transition:-moz-transform 0.3s ease-out!important;
-o-transition:-o-transform 0.3s ease-out!important;
-ms-transition:-ms-transform 0.3s ease-out!important;
transition:transform 0.3s ease-out!important;
}
.yuzo_related_post .relatedthumb:hover{
-moz-transform: scale(1.1);
-webkit-transform: scale(1.1);
-o-transform: scale(1.1);
-ms-transform: scale(1.1);
transform: scale(1.1)
}
.yuzo_related_post{
overflow:inherit!important;
}
jQuery(document).ready(function( $ ){
jQuery('.yuzo_related_post .yuzo_wraps').equalizer({ columns : '> div' });
});




[ad_2]