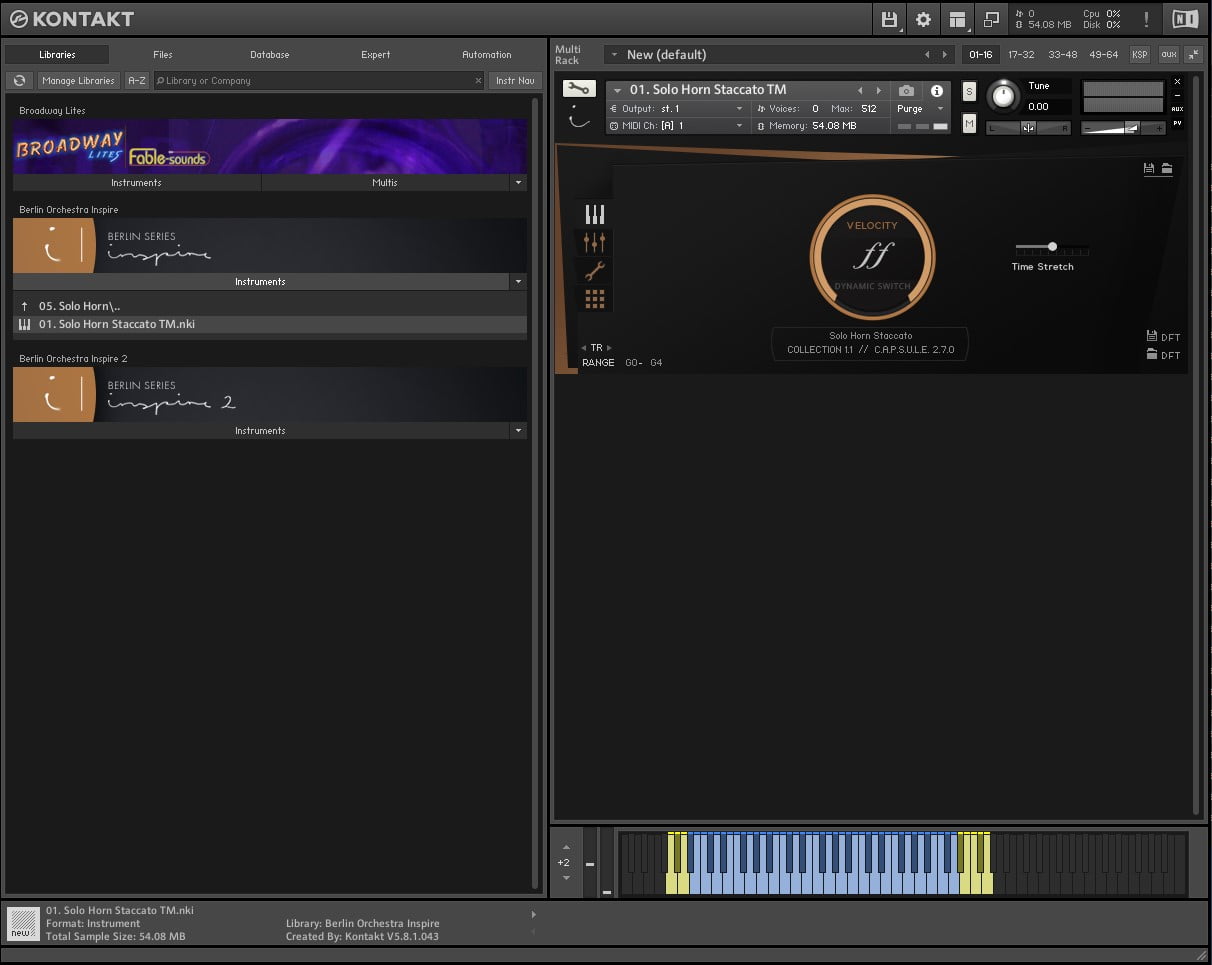 Publisher : Orchestral Tools
Website : Orchestral Tools
Format : KONTAKT
Quality : 24 bit 48 kHz stereo
---
---
Description : When musical ideas spread, it is important to be quick. That's why we developed a virtual orchestra that combines phenomenal sound with the capabilities of a quick writing tool.
The Berlin Inspire Orchestra is based on the Berlin series, which has been developed over the past 5 years. Today it is one of the largest and most detailed collections of orchestra pieces in the world, which is used by many composers around the world and in countless Hollywood productions.

Works with the free Kontakt Player or Kontakt 5.8.1 full
---
---
Additional Information
Recorded with world-class musicians from Berlin in the beautiful-sounding Teldex Scoring Stage, this collection of virtual orchestral instruments allows for the most believable-sounding MIDI productions.
With Berlin Orchestra Inspire we bring the sound and power of the Berlin Orchestra to smaller and mobile systems.

A Symphony Orchestra in one box:
Strings
– Whole Ensemble
– First Chairs
– High Strings 8va
– Low Strings 8va
– Violins I + II
Woodwinds
– Whole Ensemble
– Flutes + Clarinets 8va
– Bassoons + Clarinets 8va
– Solo Flute
– Solo Clarinet
Brass
– Whole Ensemble
– Muted Whole Ensemble
– Trumpets + Horns 8va
– Trombones + Tuba 8va
– Solo Horn
– Solo Trumpet
Percussion
– Essential Percussion Patch
– Timpani
– Marimba + Xylophone
– Glockenspiel
Grand piano
Symphonicharp

NOT TOO WET, NOT TOO DRY – JUST RIGHT
All instruments of Berlin Orchestra Inspire are recorded at their natural seating positions; articulations and instruments are in natural balance to each other. This is the best basic requirement to achieve a sonic impression where all the instruments are blending together to a fully orchestral body. Not too wet, not too dry – the perfect acoustics of the Teldex Scoring Stage allow to stay flexible for any kind of production.
The carefully merged microphone blend convinces with a powerful and shimmering sound.
Simple to use – right out of the box.
A FLASH OF INSPIRATION – YOUR ARRANGEMENT JUST MINUTES AWAY
Berlin Orchestra lnspire is a layout orchestra for quick and stunning results. Use Berlin Orchestra Inspire where ever you want to be creative – All you need is a single machine with 8GB of RAM and the free Kontakt Player.

HIGHLIGHTS:
– A Symphonic Orchestra
– Adaptive Legato
– Specifically Balanced Mix Mic Position
– Full Orchestra Patches
– Pre-Orchestrated Ensembles
– Solo Instruments
– Percussion Essentials Patch
– Grand Piano
– Symphonic Harp
– Recorded at the Teldex Scoring Stage
– Based on CAPSULE, the most powerful articulation management system for Kontakt
– 24Bit / 48KHz Patches