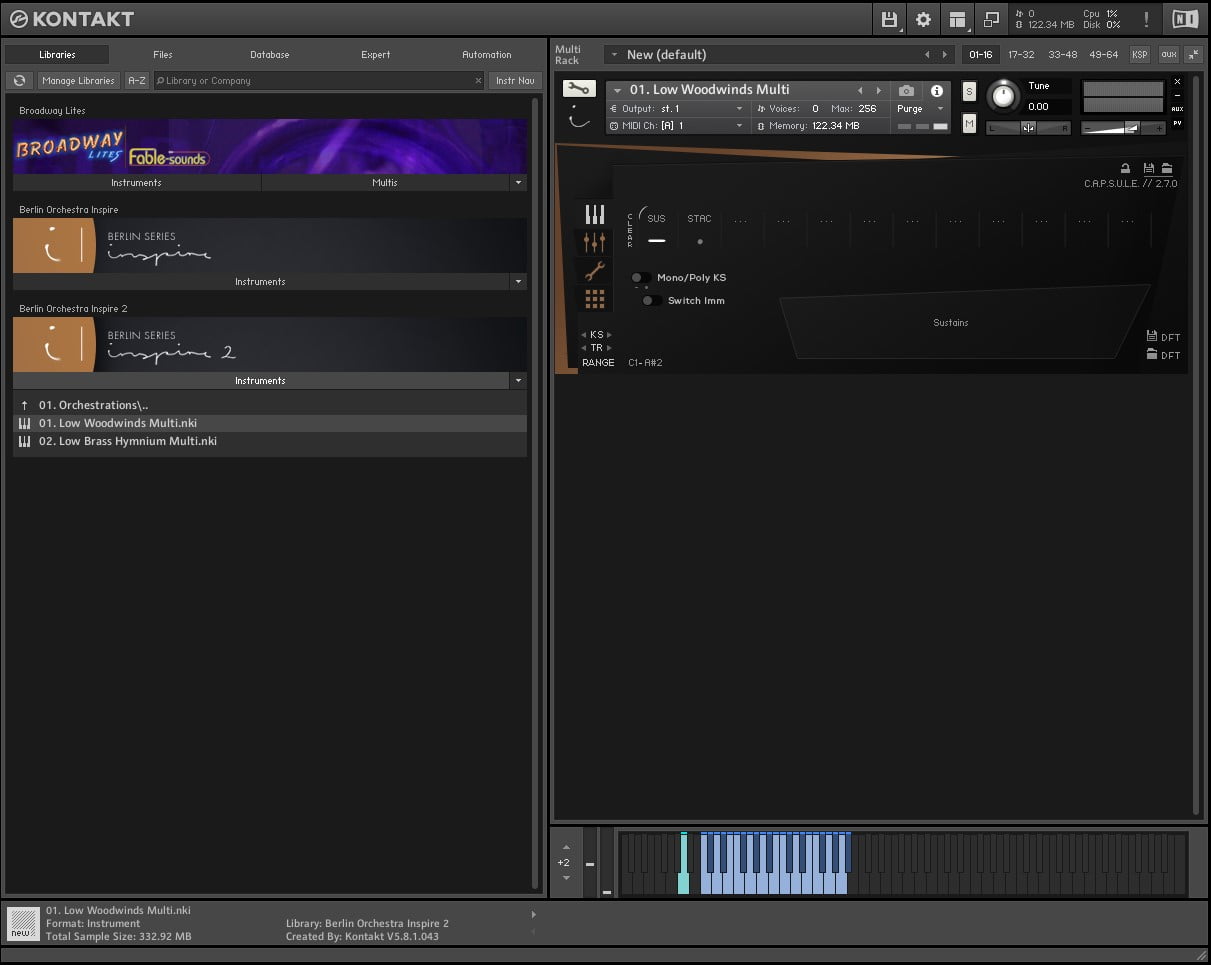 Publisher : Orchestral Tools
Website : Orchestral Tools
Format : KONTAKT
Quality : 24 bit 48 kHz stereo
---
---
Description : When inspiration strikes you, time matters.
Being as fast as ideas flow is what we created the Berlin Orchestra Inspire for.
After our tremendous success with the first release of this series, we are proud to present the Berlin Orchestra Inspire 2.
With Berlin Orchestra Inspire 2, you get access to a whole new world of selected orchestral colors from the Berlin series and our Metropolis Ark line. The collection is specially designed for atmospheric and emotional writing. It consists of two main types of tools:

Works with the free Kontakt Player and Kontakt 5.8.1
---
---
Additional Information:
First, we have a sections folder with individual orchestral sections and solo instruments. Here you can find different Flautando String Sections, Solo Strings, Solo Woodwinds, a Horn Ensemble as well as Percussion, Keys and a Harp Ensemble. As a highlight you will find a beautiful High Choir consisting of Women and Children.
In the Orchestrations folder, you have access to carefully mixed orchestral sections, which give you beautiful melodic and harmonic colors right out of the box.
We created stunning blends of our instruments for instant inspiration and common orchestral combinations.
Please find a detailed overview of the Berlin Orchestra Inspire 2 instruments in the Articulation List PDF.
There are those situations where you have to sketch out a full orchestral piece in a very limited time.
With our Inspire Range this is possible in an easy and instant way. The perfectly balanced sound of the Teldex Studio Berlin allows the focus on composing without spending time in adjusting the sound.
Everything sounds right – out of the box.
With it's resource friendly footprint, BOI2 is completely usable mobile on a single laptop. No matter if you use Berlin Orchestra Inspire 2 on its own or together with it's predecessor, you get access to a huge collection of standard and advanced orchestral sounds right at your fingertips.
All Instruments are balanced and pre-mixed in a single stereo mixdown channel! Berlin Orchestra Inspire 2 offers direct and easy access to orchestral scoring – Wherever Inspiration hits you, be prepared.

HIGHLIGHTS:
– A full Orchestra for atmospheric and emotional writing
– Flautando String Sections
– Pre-Orchestrated Ensembles
– Solo Instruments
– Solo Strings
– Choir & Keys
– Ressource Friendly Balanced Mix Mic Position
– Recorded at the Teldex Scoring Stage
– Based on CAPSULE, the most powerful Articulation Management System for Kontakt
– 24Bit / 48KHz Patches