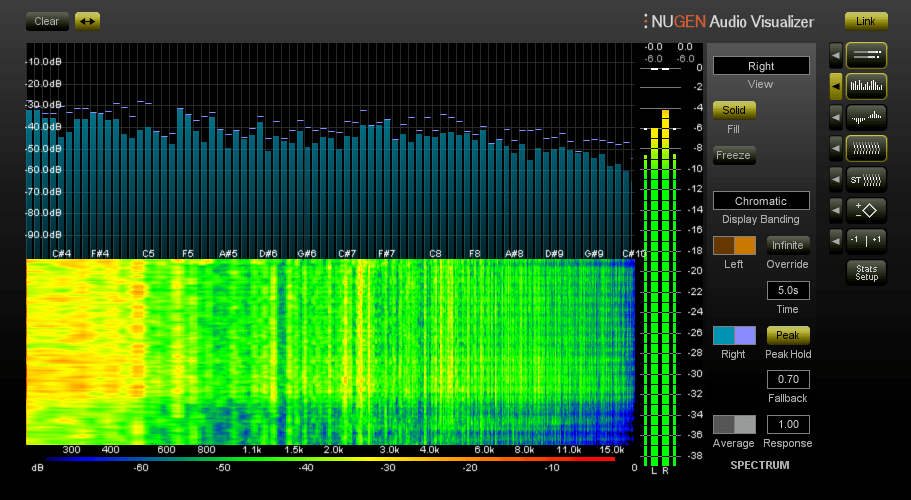 Visualizer 2
Audio Analysis Suite
Measure, Understand, Correct
Visualizer gives you audio analysis for quality audio production, with a scalable and flexible reference set of professional tools that let you work faster, avoid mistakes, repeat past success and understand the success of others.
Single Intelligent Window System
Visualizer's intelligent window facility lets you select multiple view combinations, automatically resizing and aligning windows to maximize legibility and cross referencing information across screens. No need to switch between plugins to get the combination of views you want. User configurable presets let you switch instantly between setups and interface sizes to build the workflow that suits you.
• Work more rapidly, minimizing mistakes
• Multi-view (compare multiple sources in the same plug-in)
• Difference view – see the difference between two input signals
• Fully resizable interface
• Repeat past success, and understand third party audio
• Measure objectively and meet distribution standards
• Avid HDX version
• Stand alone application version.
All the Analysis Options You'll Need
"Visualizer quickly became my swiss army knife for analyzing audio signals; it is easy to use, it is complete, and there are many little details that clearly show how much the developers understand the needs of audio engineers."
Robert Henke | Monolake.
"I can honestly say that within a day of receiving NUGEN Audio's Visualizer I was using it almost exclusively… All the audio analysis options you'll ever need."
Sound on Sound | Martin Walker.
Year / Date of Issue : 09.2017
Version : 2.0.4
Developer : NuGen Audio
Developer's website : NuGen Audio
Format : STANDALONE, VST, VST3, AAX, AU
Bit depth : 32bit, 64bit
Tabletka : present
System requirements : Mac OSX 10.6.x, 512 MB RAM
Windows XP or above, 512 MB RAM