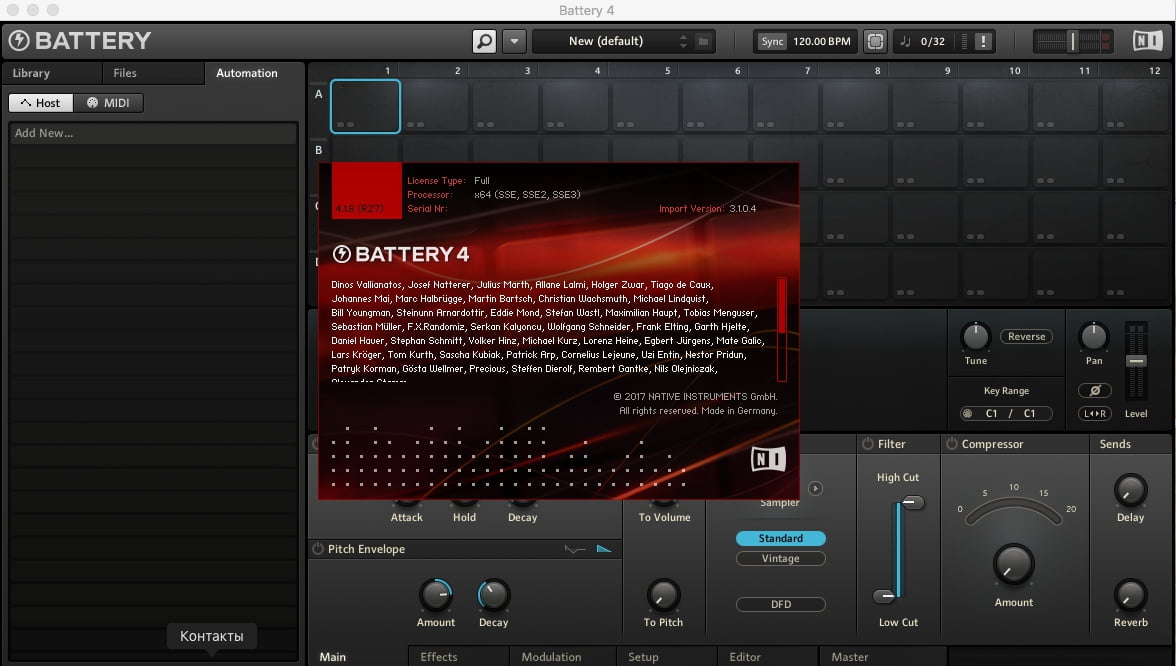 Year of manufacture : 2017
Version : 4.1.6
Developer : Native Instruments
Developer's website : Native Instruments
Platform : Intel
Format : STANDALONE, VSTi, AU
Language : English
Tablet : Replacement of files
System requirements : Mac OS X 10.7 or 10.8 (latest update)
Intel Core 2 Duo,
2 GB RAM (4 GB recommended)
Description : Native Instruments Battery is a professional drum sampler. Ubiquitous use of this sampler was made possible by low requirements for system resources, ease of use and compatibility with a huge number of sample formats. The highlight of Battery was a matrix, the dimension of which can be changed by the user, depending on the number of samples loaded (up to 128 cells). Thanks to the color coding of cells, the possibility of multiple choice, the adjustment of rows and columns of the matrix, the user has become even faster and more convenient to work with the contents and parameters of cells. The properties of Battery cells were supplemented with parameters such as articulation, humanization. Samples of each cell can be corrected for length / speed (Time Expand / Compress).
The factory library : The BATTERY 4 library focuses on the production of electronics and hip-hop, introducing 70 brand-new modern sets. All 143 sets are loaded instantly. Find your drum sound, drag it to the cell and start playing – an ultra-intuitive tag system allows you to quickly find the sounds you are looking for. BATTERY 4 is compatible with your samples, regardless of whether you use factory sounds or create your own. He even remembers the history for each cell separately – you can immediately see the path that led you to each sound, even after working with other cells.

Installation:
After installing the sampler, copy with the replacement from … to …:
1. from distributing Battery 4.component to / Library (or Libraries) / Audio / Plug-Ins / Components
2. from distributing Battery 4.vst to / Library (or Libraries) / Audio / Plug-Ins / VST
3. from the distribution of Battery 4.app in / Applications (or Programs) / Native Instruments / Battery 4
Logic

:
do this command:
xattr -cr / Library / Audio / Plug-Ins / Components / Battery 4.component
enter
then:
sudo codesign -f -s – / Library / Audio / Plug-Ins / Components / Battery 4.component
enter
rescan in logic
it works
Sponsored Links
New in version:
Added: Library favorites; it is now possible to "star" any kit or sample and later filter only for favorite content.
Added: Usage data tracking.
Fixed: Sample selection arrows now work as expected even when auto-load is enabled in the browser.
Fixed: No random sounds are triggered anymore when loading Battery with auto-load enabled.



[ad_2]