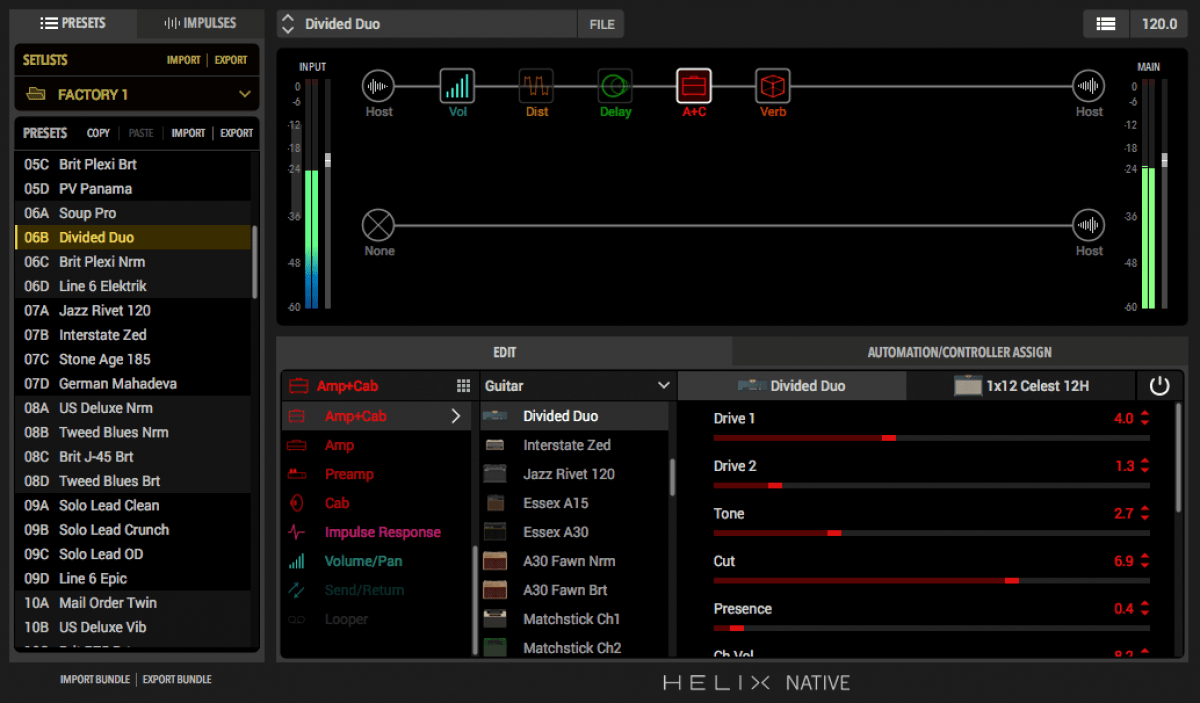 Year / Release Date : 21/07/2018
Version : 1.6.0
Developer : Line6
Developer site : Line6
Format : VST / VST3 / AAX
Digit capacity : 64bit
Tabletka : cured
System requirements : Win x64
Description : Helix Native is a recognized guitar effects processor in plugin format.
Helix® Native: Realizes the powerful and tonal authentic HX Modeling technology in the plugin. Like the hardware representatives of the family of guitar processors Helix – Helix Floor, Helix Rack and Helix LT, the Helix Native plug-in provides accurate reproduction of vintage and modern amplifiers, cabinets, microphones and effects, as well as signal routing and an intuitive user interface. The Helix Native plugin is designed not only for guitarists, but also for producers and sound producers, film / TV / game composers, electronic musicians, and anyone who wants to create new, exciting sounds and special effects. And the compatibility of the presets of the entire Helix family allows users of Helix hardware to transmit sounds created in the studio, simply by transferring the presets from their plug-ins to their Helix Floor, Helix Rack or Helix LT processors.
Created to inspire: The most popular models of amplifiers and effects. The Helix Native plugin provides an unlimited creative palette for inspiring tone creation, with over 60 amps, over 30 cabinets and a wide range of effects (over 100 effects). The interface provides a quick and intuitive workflow for editing tones, so you can instantly access the entire signal chain and quickly create your own settings. Helix Native also supports third-party impulses (IRs), offering even more flexibility.
Take your sounds to the stage: One-piece workflow and broad compatibility. Helix Native plugin supports wide compatibility with popular DAWs, offering powerful 64-bit performance on AAX and VST / VST3 platforms. It also integrates tightly with the Helix hardware, so you can transfer your presets between them.
New in version / Known issues:
Helix Native provides the same styling of HX amps and effects by the awards found in the best-selling Helix hardware guitar and Line 6 effects processors, resulting in a genuine tone of your favorite DAW.
Helix Native is available as a fully functional 15-day free trial that requires a Line 6 account.
New Amplifier Models (2)
Cali Texas Ch1, based on the pure channel MESA / Boogie® Lounstar
Placater Clean, based on * Friedman's clean channel BE-100
New Effects Models (3)
Distortion> Deranged Master (Mono, stereo), based on the * Dallas Rangemaster Treble Booster-ATTENTION! Like the real thing, this model will take your head off! Best in front of a distorted amplifier.
Distortion> Deez One Vintage (mono, stereo), based on * BOSS © DS-1 distortion pedal (classic Made in Japan version)
Distortion> Deez One Mod (Mono, Stereo), based on * BOSS © DS- pedal 1 distortion (Keely mod version)
* All product names are trademarks of their respective owners, which are in no way associated with Line 6.
New opportunities
Helix Native's MIDI bypass module now lets you bypass individual blocks using MIDI. Right-click (or Control-click) the desired block and from the drop-down menu select MIDI Bypass> MIDI In. Then click on the / Automation Controller Assign tab and select the desired CC #. Please note that there are a lot of target audios that Helix Native will ignore because they are reserved for the functionality of the Helix equipment. See the Helix Native Pilot Manual for more information.
MIDI Helix Native parameter control now allows you to control parameters via MIDI. In the inspector, right-click (or Control-click) the desired parameter and select Controller Assign> MIDI CC from the pop-up menu. Then click on the / Automation Controller Assign tab and select an option from the list. Setting MIDI CC #, Min and Max Values
Select MIDI snapshot — To select a snapshot in Helix Native, send it to MIDI CC # 69 message. A value of 0 will remind snapshot 1, a value of 1 will remind snapshot 2, a value of 2 will remind Snapshot 3, and so on
CopyPaste block between Helix Native and HX Edit / Native – the helix now allows you to copy and paste individual blocks between multiple instances of the plugin and HX Edit. Right-click (or Control-click) the desired block and select Copy. Then go to HX Edit and the signal flow view, right-click on the destination block (or an empty block space) and select Paste
Helix Native now allows you to copy and paste individual blocks after closing, and then reopening the plug-in window
Helix Native now allows you to copy and paste individual blocks between multiple instances.
Improvements / Changes
the latest HX Reverb models have been redesigned to make the sound noticeably wetter (see Known issues below)
When changing the time setting, Obsolete Delay models now show more organic behavior (for example, DL4 and Echo Pro)
Helix, Helix Rack / Control, Helix LT only: Variax Shuriken Bank names now appear in the Input> Multi and Input> Variax block without requiring connection to the Variax Workbench
windows plugin now loads faster
Many improvements under the hood
Error correction
DSP intensive presets with one or more Placater Amp + Cab, amplifier or preamp blocks can sometimes generate an error message – FIXED
Filter> Legacy> Obi Wah model mono (must be stereo) – assigned
Modulation> Legacy> Analog Chorus> The parameter Mode has been labeled "CH Vib" – FIXED
PitchSynth> Legacy> Smart Harmony> The key parameter was labeled "V1 key" – / FIXED
Attempting to import a very long Impulse Response can sometimes lead to Helix Native freezing – FIXED
Clearing all setlists and presets does not clear the preset names until the plug-in window is closed and again – FIXED
In some cases, tempo changes may not be properly recalled when Tempo is set behind Snapshot – FIXED
Moving the Merge> Mixer block to path B and then moving it back to its original position on the path and may cause an error message – BASIC
in some cases, the input path 2B can not be installed on the host – FIXED
Many other minor bug fixes, optimization and stability improvements.
Known Issues
As the new HX Reverb models have been redesigned to sound particularly "wetter," any existing user presets using these models will sound different. Although Helix and HX hardware has the ability to compensate for changes made to the model when restoring presets (and one of our goals is rarely if there are ever audible changes to existing user presets), improvements made to reverb units unfortunately cannot be compensated
* In ProTools, the Compare function loads only selected presets.
In Logic 10.4.1, after moving an instance of Helix Native to a different place on the channel strip, the comparison may sometimes be the opposite.
The function of comparing daws in switching between two previously loaded presets, rather than switching any changes made to the preset.
The processing unit cannot be moved between Split or the mixer and the other processing unit.
In logic, switches 13-16, Master Input / Output, and Snapshot index parameters are missing from the lane automation list.