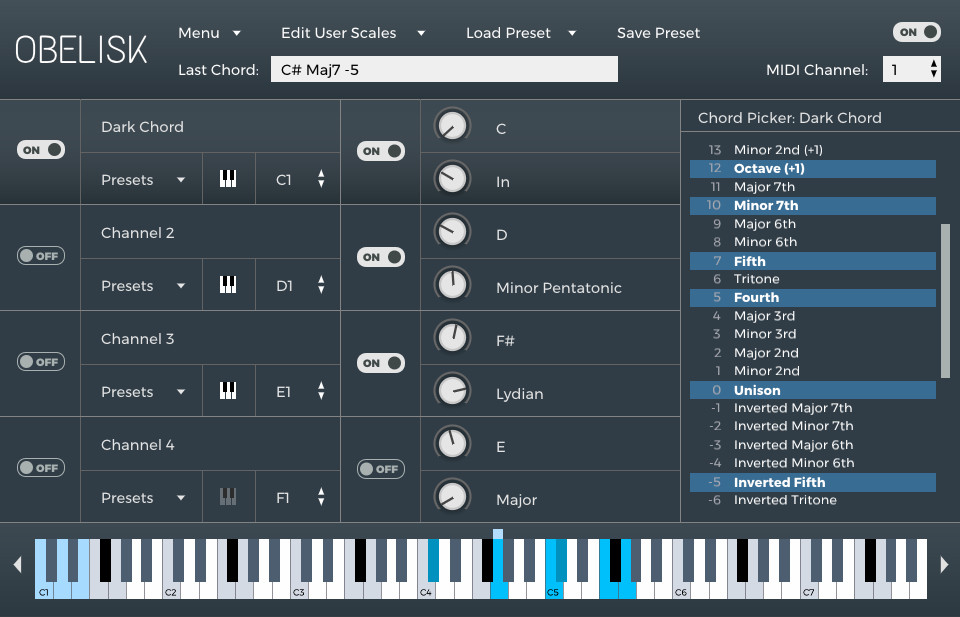 Year / Release Date : 07/20/2018
Version : 1.1.2
Developer : FrozenPlain
Developer website : frozenplain.com/products/obelisk/
Format : VSTi / VST2
Digit capacity : 32bit, 64bit
Tabletka : cured
System Requirements :
Windows Vista or above (32 or 64 bit)
Mac OSX 10.7 or above (64 bit)
Description : Obelisk is a MIDI instrument that makes it easy to experiment with harmony. Being only MIDI, it can connect to any synthesizer that you like. When you play, every note in Obelisk will be harmonized at intervals you choose. In addition, Obelisk can be configured to limit harmony within a given key and scale, which guarantees that it will fit all your music. In addition to the basic functions, Obelisk has many aspects designed for simple use, such as a scalable graphical user interface, many chord and gamma presets, and the ability to create your own chords or scales. Move the mouse pointer over the control for a moment, Obelisk will show tooltips explaining the control's function.
Key features:
Very easy to use, no music theory required.
Algorithm to limit chords within a key or scale.
Editable GUI.
Adjust each note of the chord and scale.
Dynamically switch or automate chord changes.
Choose the behavior of the retrigger – either hold the note (for the pads), or initiate it every time.
A huge selection of chord and gamma presets – for example, you can limit your chords within the blues or Persian frets.
Add. Information : Works with Logic X or VST2 host (for example: Cubase, Ableton Live, Reaper, FL Studio, Studio One, Cakewalk Sonar, Bitwig, or many others)