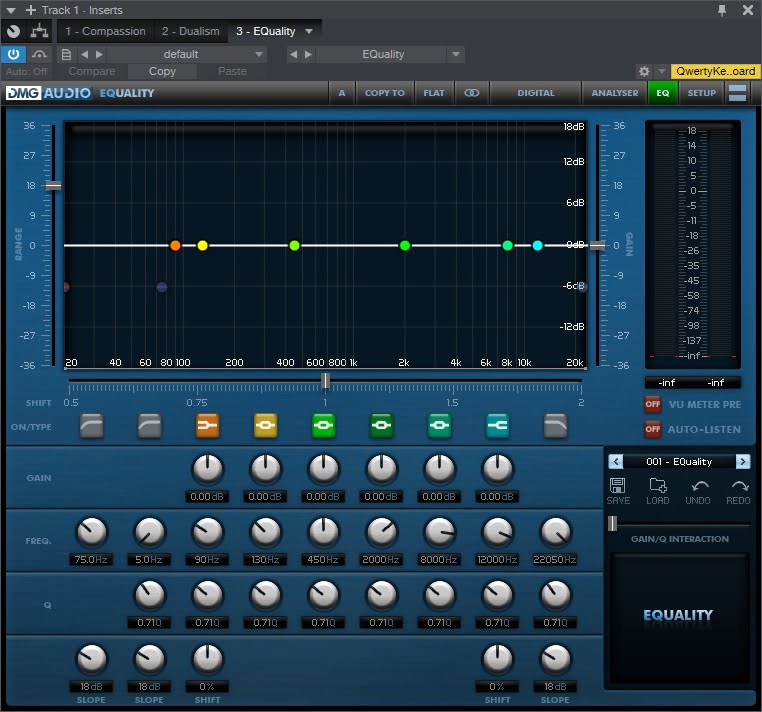 Year / Release Date : 05.2019
Version : 2019.5.21
Developer : DMG Audio
Developer website : DMG Audio
Format : VST, VST3, RTAS, AAX * (* MOD)
Digit capacity : 32bit, 64bit
Tabletka : cured
System requirements : Microsoft Windows Vista, Windows 7, 8 or 10 (x86 or x64)
Description : Plugin set consisting of:
DMG Audio Compassion 1.18 is a full-featured processor for the dynamic processing of any audio material. Behind this interface is probably the most flexible dynamic engine ever created.
DMG Audio Dualism 1.08 is a powerful tool for working with stereo signals, including a comprehensive audio visualization system. Used as a final stage in mixing and mastering. Dualism provides absolute mastery in stereo space.
DMG Audio EQuality 1.32 – the highest quality EQ. Optimized for low CPU usage. Line, Analog and Minimum Phase Modes for the master channel and the rest of the mixer buses. Unique Digital + mode for incredible results.
DMG Audio EQuick 1.14 is an upgraded, state-of-the-art equalizer with low CPU usage and high sound quality.
DMG Audio EQuilibrium 1.57 – Flexible EQ suitable for all professional needs. Audio engine with very low CPU consumption. Precise digital curves. Fully customizable interface. Advanced routing and grouping. High precision analyzer. Up to 32 lanes. Q up to 36dB. And many other fitch.
DMG Audio Essence 1.06 – the most powerful and transparent De-Esser in the world! It is much more than just a vocal de-esser; This is a flexible sub-group processor that can reach and discreetly control any element in the mix. For the first time in the audio history of software, Essence provides the power of a full mix de-esser with all the adaptability and intricacies of the equipment.
DMG Audio Expurgate 1.04 – Expurgate Virtual Gate / Expander.
DMG Audio Limitless 1.07 – Multi-Band-Compressor-Limiter-Clipper
] DMG Audio Multiplicity v1.02 is a versatile multiband dynamic processor that provides flexible processing within up to 8 lanes. Thanks to multiband compression, expansion, gating and dynamic equalization, the plugin will give you a level of control that cannot be compared with anything else.
DMG Audio PitchFunk 1.13 – effects processor. The basis of PitchFunk is a feedback system with a pitch shifter, a filter, a fade line and a gain stage. All this can be modulated and directed in various ways. PitchFunk provides full control over a powerful arsenal of insane effects.
TrackComp 1.0.3 – a dynamic processor that uses simulation modeling of four classic analog hardware compressors and has an original design
TrackControl 1.0.2 – Panorama and stereo image control in a track (including in M ​​/ S mode). M / S encoding and decoding. Inversion phase, the ability to swap channels. HP filter. Delay.
TrackDS 1.0.2 – Psychoacoustically optimized processor for controlling sibilance. Dual band EQ in side chain, flexible crossover control system.
TrackGate 1.0.2 – Unique gate / expander algorithms. Noise detector for automatic gate operation. Models of classic hardware gates. Very fast attack. Existence of an external side chain to control the gate. MIDI control. Dual band equalizer in the side chain.
TrackLimit 1.0.2 – Low latency peak limiter. Independent processing of transients and other dynamic content. Suppress mezhsamplelovy peaks. Transparent sound.
TrackMeter 1.0.2 – Multifunctional spectrum analyzer. Display Modes: Octave, 1 / 3rd Octave and 1 / 12th Octave. 2D and 3D spectrograms. Tools for stereo analysis (phase meter, correlometer, etc.). The third-octave RMS analyzer. Spectral-phase analyzer. Chromatic Tuner.
Display history of short-term loudness and histogram according to ITU1770. Supports loudness measurement as per ITU1770 / EBU r128 / ATSC A / 85.