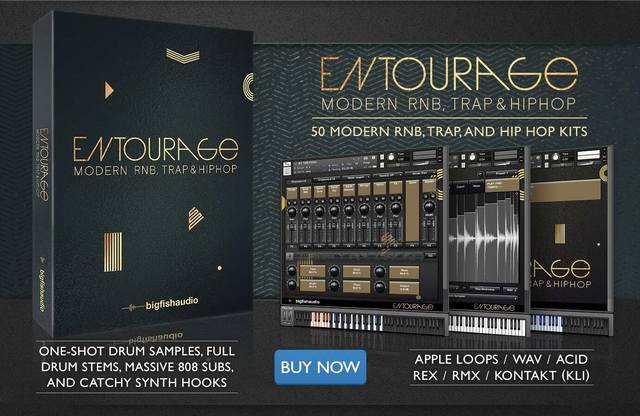 Publisher : Big Fish Audio
Website : www.bigfishaudio.com
Format : WAV, REX, AIFF, KONTAKT
Quality : 24 bit | 44.1 kHz | stereo
---
Description  :
Entourage: Modern RnB, Trap and Hip Hop captures the very essence of modern RnB sound, traps and hip hop. This massive library of 50 building kits provides every element you need to create hit tracks from scratch, and enlarge existing tracks with the perfect ingredients. Whether you need single-shot drum samples and full drum stems or massive 808 submarines and catchy synthesizer hooks, Entourage has everything you need to get your work done quickly, easily and flexibly.
Content :

MULTI FORMAT
Each audio file has been expertly cut and edited to loop perfectly, and has been recoded in the highest quality 24-bit rate to ensure absolutely top quality end results.
If you work primarily with Apple products, be sure to utilize the extra loop tagging functionality in Garageband and Apple Logic as well as Apple's proprietary time-stretching and pitch bending algorithms.
If you're working inside Protools, Cubase, Fruity Loops, Ableton Live, Sony ACID, or any other DAW on the market, the Acidized WAV files are the perfect fit for time stretching and pitch bending capabilities.
The Acidized WAV files can also be used as standard WAV files in almost any music tool in production today.
Beat-makers and artists who love sampled melodic slices work well with our REX / RMX format that takes advantage of all the powerful programming found in Stylus RMX and the Dr.
Octo REX player in Propellerheads Reason.
KLI 3.0 Series
The KLI 3.0 Series allows you to quickly arrange and mix tracks in our Kit Combo Patches and make completely original drum tracks with our custom drum patches that include both multi-track drum loops and one-shot samples.
Libraries in the KLI Series (Kontakt Loop Interface) include a custom interface for tweaking loops and sounds beyond what was previously possible.
Each loop is given its own patch, and can be extensively edited by manipulating the various slices of the loop.
In addition, groups of loops that play together have been given their own patch as well making it easy to quickly arrange and mix loops on the fly.
Each patch in the Kontakt player will automatically sync with your DAW's host tempo, making integration with your production seamless.
KLI 3.0 PATCHES
Kit Combos – Each patch contains all the loops from the main body of the track to create quick and easy arrangements.
Modulation Keys are located in the C0-C1 octave range, and loops start at C2 on the keyboard.
Sliced ​​Loops – Each loop from the product has been given its own patch and can be edited extensively using the "loop fx" interface. The full loop can be triggered at C0. The loop can be played backward at D0. Individual slices start at C1 on the keyboard.
Single Instruments – These patches include full menus of each group of instruments arranged by kit.
For example, all the Synths from the entire product can be found in the patch called "Synths.nki". (Loops start at C2 on the keyboard)
Drum Kits – These patches include all multi-track drum loops (starting on C2) and all single hits (starting on C4), giving you complete access to create your own custom drum parts.
Drum Menus – These patches include all multi track drum loops arranged by kit piece (starting at C2 on the keyboard).
If you are looking for the perfect kick or snare loop, don't sift through every kit, this is your one-stop patch.
FX Suite – Each patch includes a suite of group-assignable FX to shape the sound and processing of the sample groups individually utilizing the powerful Kontakt audio BUS system.
Demo Patch – One patch is included containing each kit's full mix file for easy previewing.
MULTI-FORMAT VERSION
Apple Loops:
• 5.15 GB Total Content
• 1,363 Apple Loop Files
Acidized WAV:
• 5.23 GB Total Content
• 1,363 Acidized WAV Files
REX:
• 2.28 GB Total Content
• 1,018 REX Files
KLI 3.0 SERIES VERSION
• You must have a FULL version of Kontakt 5.5.1 to use this product.
• 5.37 GB of content
• 1,029 Total Kontakt Patches
• 50 Kit Combo Patches
• 68 Drum Kits Patches
• 19 Drum Menu Patches
• 21 Single Instrument Patches
• 870 Sliced ​​Loop Patches
• 1 Kit Demo Patch
---