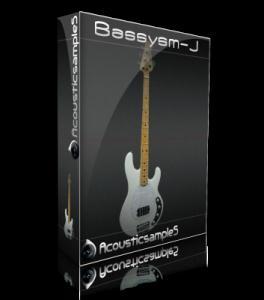 The Bassysm-J bass is a four strings Musicman Stingray bass with roundwound strings.
At the bottom of the interface, you can control the behavior of the instrument:
– Play mode: You can choose the play mode on the kontakt interface:
normal, legato, hammer or slide (see the mapping section and listen to the audio examples on the website, they use a lot of hammers and slides).
-String mode: You can choose if you want to use the open strings or not.
– Reset button: resets all the parameters to the default value.
– Fretnoise: defines the volume of the fret noises, note that it will also affect the slides samples.
-Hand noise: defines the volume of the left hand you do when you play on a real bass just before playing a note.
-Release: defines the volume of the release samples.
– Bass and treble: a simple equalizer that you can find on a lot of basses.