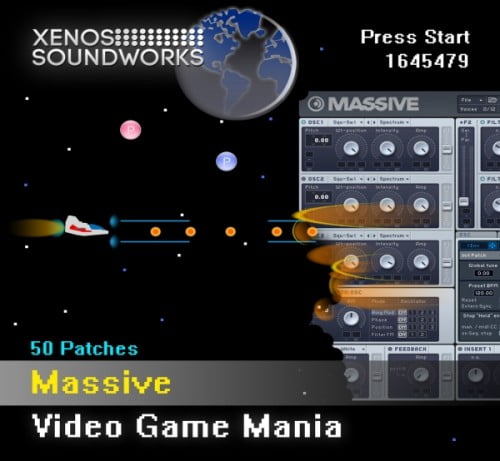 50 preset retro old 8-bit video games, bass, bit virtual synthesizer NI Massive.
'Videogame Mania For NI Massive' is a fine collection of 50 authentic retro Chiptune style patches for Native Instruments Massive, in both KSD and NMSV file formats. This soundset contains classic SID arps, authentic videogame sound effects, gritty 8-Bit basses and quirky 8-Bit leads.
Macro Controls have been assigned in each patch for maximum versatility and tweakability.

About The Producer:
Bryan "Xenos" Lee has worked as a sound designer for many popular names such as Cakewalk, Rob Papen, Image-Line, Camel Audio, ReFX and many more. He is also very active in developing his own startup company, Xenos Soundworks.
• AR Alien Planet
• AR Cascading 5ths
• AR Critters
• AR Funk SID
• AR Press Start
• AR Standard SID Arps
• BA 8-Bit Dubstep
• BA Dance SID
• BA Hard Sync
• BA Lo-Fi Triangle
• BA Pulse Bass
• BA PWM Bass
• BA Quantized Envelopes
• BA Silver SID
• BA Wavescan
• DR Commando Snare
• DR Noise Hits N Hats
• DR Noise Kick N Snare
• DR SID Kick
• DR SID Snare
• FX BOOM!
• FX Coin (E4)
• FX Collect The Dots
• FX Defender
• FX Frogger Jump
• FX Grab The Mushroom (G4)
• FX High Score
• FX Let's Play Tetris
• FX Mario Jump
• FX Pause Button
• FX Pipe Spelunker
• FX Play With Squares
• FX Play With Triangles
• FX Top Gun Crash
• LD 8-Bit Lead
• LD Chunky PWM
• LD Double Dragon
• LD Mario's Macros
• LD Metroid Intro Screen
• LD Phat VGM
• LD Pitfall 2600
• LD Plucked Chips
• LD Popcorn Spring
• LD Quantum Bits
• LD Quantum PWM
• LD Raw Square
• LD Smooth PWM
• LD Stereo Lead
• LD Textured Bells
• LD Zelda Intro