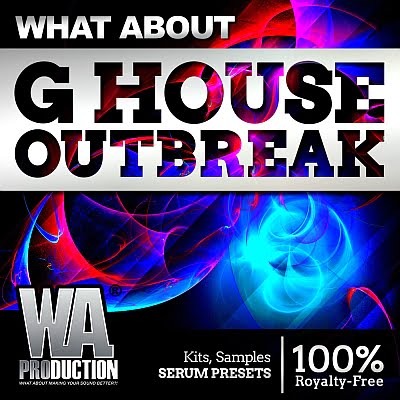 Publisher : WA Production
Website : Waproduction-Samples
Format : MIDI, WAV, ABLETON, SERUM
Quality : 24 bit 44.1 kHz stereo
Description : G House Outbreak is a completely new package presented by WA Production in the hope that you guys will make one of the most amazing tracks of G House that will ever be created! As always, our team of amazingly talented sound engineers worked endlessly on this package for all producers of any genre of EDM, so that you could crash the charts with this fantastic package!
G House, also known as Gangsta House, is a combination of old-school hip-hop and modern dance rhythms, with a characteristic powerful bass line, pitch-down vocals and short, torn melodies. This mixture of genres is an explosive mash that allows producers to have a vast field of activity in the music industry. G House was a genre that was developed in 2015, a genre in which there are also percussion elements that bring a completely new unique sound.
We know that this package has everything you need to help the producer thrive in the industry and help them to be at the top of the charts. G House Outbreak is a package that can easily spark a spark of creativity and passion in the eyes of the user and bring joy to listeners.
• 40 Serum Presets + 5 Bonus Presets
• 3 Ableton Templates
• 3 Construction Kits
• 15 Fx
• 20 Bass Loops
• 20 Synth Shots
• 80 Drum Samples
Plugins

are required for use in ABLETON projects:
VolumeShaper4
Serum
iZotope Ozone 6 Imager

.yuzo_related_post img{width:149.5px !important; height:104px !important;}
.yuzo_related_post .relatedthumb{line-height:16px;background: !important;color:!important;}
.yuzo_related_post .relatedthumb:hover{background:#fcfcf4 !important; -webkit-transition: background 0.2s linear; -moz-transition: background 0.2s linear; -o-transition: background 0.2s linear; transition: background 0.2s linear;;color:!important;}
.yuzo_related_post .relatedthumb a{color:#303030!important;}
.yuzo_related_post .relatedthumb a:hover{ color:#8023dd}!important;}
.yuzo_related_post .relatedthumb:hover a{ color:#8023dd!important;}
.yuzo_related_post .relatedthumb:hover .yuzo__text–title{ color:#8023dd!important;}
.yuzo_related_post .yuzo_text, .yuzo_related_post .yuzo_views_post {color:!important;}
.yuzo_related_post .relatedthumb:hover .yuzo_text, .yuzo_related_post:hover .yuzo_views_post {color:!important;}
.yuzo_related_post .relatedthumb{ margin: 0px 0px 0px 0px; padding: 5px 5px 5px 5px; }
.yuzo_related_post .relatedthumb{
display:block!important;
-webkit-transition:-webkit-transform 0.3s ease-out!important;
-moz-transition:-moz-transform 0.3s ease-out!important;
-o-transition:-o-transform 0.3s ease-out!important;
-ms-transition:-ms-transform 0.3s ease-out!important;
transition:transform 0.3s ease-out!important;
}
.yuzo_related_post .relatedthumb:hover{
-moz-transform: scale(1.1);
-webkit-transform: scale(1.1);
-o-transform: scale(1.1);
-ms-transform: scale(1.1);
transform: scale(1.1)
}
.yuzo_related_post{
overflow:inherit!important;
}
jQuery(document).ready(function( $ ){
jQuery('.yuzo_related_post .yuzo_wraps').equalizer({ columns : '> div' });
});