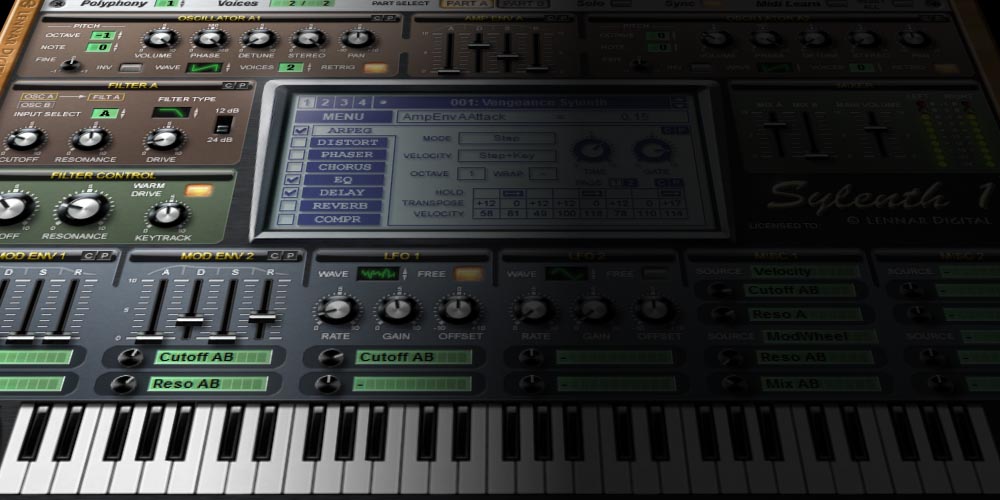 Acid Drops is a sound designers / producer duo formed by Matteo Mazzella and Michele Santacatterina. Inspired by the sound of many different artists like Afrojack, Crookers, Justice and Skrillex, this awesome soundset is here to thrill your Sylenth2 with the latest Dirty Dutch bleeps, Fidget wobbles, NuDisco dirty leads, Dubstep and Complextro hooks. Do not miss this another great Vengeance release!
Requirements: at least version v2.2.0 of Sylenth Plugin
– 128 high quality Electro / Dirty Dutch / Dub / Complextro sounds, programmed by Acid Drops
– Only authentic and club-approved patches, modern and "up to date" to rock the clubs
– Some bonus MIDI files with melodies
– Many re-creations of famous sounds
– Modwheel assignment and FX settings for every preset
– Sorted by categories (Leads, Synths, Bass, Pads, Arps, FX etc.)
01 ARP Blackout FX / Arp
02 ARP Commodore Arp 128
03 ARP Daft Funk Arp
04 ARP Gonzo Arp / Seq
05 ARP Its raining men Arp
06 ARP Lady Gaga Sound Arp
07 ARP Lazy Pitch Arp
08 ARP SuperLuigi Arp / Seq
09 ARP Willy & Beep Beep Arp
10 BS Acoustic Bass Bass
11 BS Bass or not to Bass Bass
12 BS Chookie Elektro Bass Bass
13 BS Cool Bass Bass
14 BS Dada Sausage Bass
15 BS Day N Night Bass
16 BS Deep Bass Bass
17 BS Dirrrty Electro Bass Bass
18 BS Dist Electro Bass Bass
19 BS El Ektro Bass
20 BS Electro Pro Bass
21 BS Electro Pump Bass
22 BS Elektro Square Bass
23 BS Fidget Wobble Bass
24 BS Girls Noize Bass
25 BS Growth Hormone Bass
26 BS Hail to the Sub Baby Bass
27 BS House is a feeling Bass
28 BS Huge Booty Bass
29 BS Italo Bass Bass / Seq
30 BS Jvzam's Prophecy Bass
31 BS La Festa Festa Festa Festa Bass
32 BS Metallic Glide Bass
33 BS Rigamonti's Fired Up Bass
34 BS Satisfaction Bass
35 BS Show me Hate Bass
36 BS V as Vengeance Bass
37 BS Water of Nazareth Bass
38 BS Wobble down Bass
39 BS Yes We Truly Love Crookers Bass
40 FX Acid Drops Sweep FX / Sweep
41 FX Alien Drone FX
42 FX Boing FX
43 FX Chopped FX
44 FX Decepticons FX
45 FX Fuck da Police FX
46 FX Here we Go FX / Sweep
47 FX Jumpy FX
48 FX Laser Combat FX
49 FX Plastic Bitch FX
50 FX Sea FX
51 FX Sweepppy FX / Sweep
52 FX Welcome FX
53 FX Whooper Menu FX
54 FX Yahii FX
55 LD 80s Sunglasses Lead
56 LD 2012 Lead
57 LD A Cross the Banks Lead
58 LD Afrojack in my House Lead
59 LD And Justice for All Lead
60 LD Bang the Klebb Lead
61 LD Baroccos Lead
62 LD Dark Allies Lead
63 LD Dirty Beat Synth Lead
64 LD Dirty Dutch Lead
65 LD Dirty Dutch 2 Lead
66 LD Dirty Dutch 3 Lead
67 LD Dirty Dutch 4 Lead
68 LD Dirty Dutch 5 Lead
69 LD Dirty Dutch 6 Lead
70 LD Dirty Pitch Lead
71 LD Dirty Touch Lead
72 LD Dist Epic Lead Lead
73 LD Distorted Guitar Lead
74 LD Fake Oboe Lead
75 LD Fuckin 80s Lead
76 LD Gaga Drops Acids Lead
77 LD Get Far Lead
78 LD Ghost in the Shell Lead
79 LD Guetta or Garraud Lead / Bass
80 LD Hardcore Vibes Lead
81 LD Heavy Reese Lead
82 LD Je T'aime Lead
83 LD Lead Me Lead
84 LD Like a G6 Lead / Bass
85 LD LoveStep Lead
86 LD MILF Lead
87 LD Mum mum mum mah Lead / Pad
88 LD Neon Disco Lead
89 LD NuDisco Lead Lead
90 LD Oh Fuck!
Its Dirty Dutch!
Lead
91 LD Pendulum Lead
92 LD Phra + Bot Lead
93 LD Precotto Sound Lead
94 LD Prodigy Lead
95 LD Progressive Chord Lead / Pluck
96 LD Reset!
can see boobies Lead / FX
97 LD Rock n Roll Lead
98 LD SHM Lead Lead
99 LD Skrilled Lead / FX
100 LD Slumber86 Lead
101 LD TheBee 303 Lead
102 LD This is Phrappuccino Lead
103 LD Vintage Analog Lead
104 LD War on the Saints Lead
105 LD Warp Lead
106 LD We love Tiesto Lead
107 LD Whos your mommy Lead
108 LD Wobble up Lead / FX
109 PD Aggressive Flow Pad
110 PD Ancient Religion Pad
111 PD Aoki not Steve Pad
112 PD Chord it Pad
113 PD Francypess Pad
114 PD Mass Effect Pad
115 PD Moroder Chord Pad
116 PD Reflect on yourself Pad
117 PD Sawy Teeth Pad
118 PD Sputnik Pad
119 PD Trance Maniac Pad
120 PD Trancy Relax Pad
121 PL All you need is Ears Pluck
122 PL Amsterpluck Pluck
123 PL Deadcat Pluck
124 PL Minimal Maphia Synth Pluck
125 PL Minimal Progression Pluck
126 PL My Tap is On Pluck
127 PL Progressive Bell Pluck
128 PL SoundAcademy Pluck