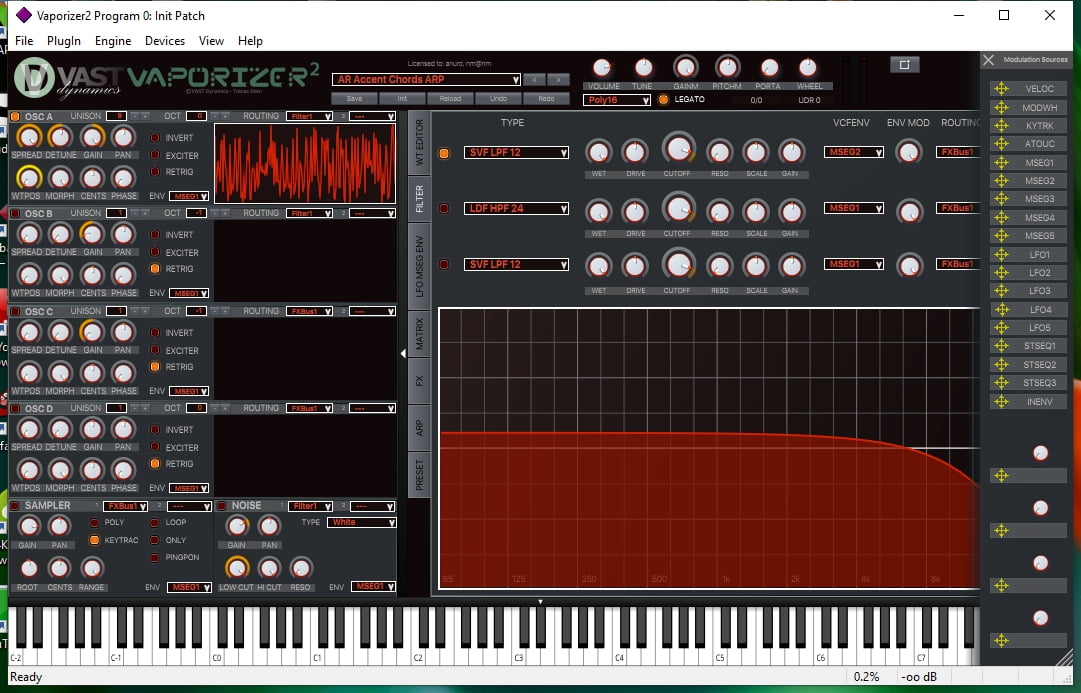 Year / Release Date : 06/02/2019
Version : v2.4.1
Developer : VAST Dynamics
Developer's site : vast-dynamics
Format : VSTi, VSTi3
Bit : 32bit, 64bit
Tabletka : Ne required
System Requirements : Windows 7 +
Description : The Vaporizer2 synthesizer offers impressive features.
Vast Dynamics Studio released the Vaporizer2 Hybrid Tabular Wave Synthesizer. The developers promise that the tool has powerful capabilities and is not demanding on the computer processor, even in cases where hundreds of oscillators work simultaneously.
Vaporizer2 combines a tabular-wave additive / subtractive synthesizer and sampler, and can work in both polyphonic and mono modes. The synthesis engine offers four independent stacks of oscillators of 6 pieces each. The signal of the oscillators can be freely routed, and they can be connected together – if you wish, the user can make 24 oscillators sound in unison.
The engine allows you to freely edit frequencies, draw your own waves and tie their work to the grid. At the same time, users can download tables from other synthesizers, for example, Xfer Serum and Icarus. The synthesizer is equipped with a filter section consisting of more than 30 types of processing: FM, PWM, Harmonic Morphed / Reduced, Low Pass / High Pass / Band Pass / Comb / Formant and so on.
The effects section consists of reverb, delay, equalizer, chorus, flanger, compressor, bitcrasher, limiter, phaser, combined filter. In addition, the synthesizer has three LFOs, an envelope section, a built-in arpeggiator, three step sequencers with synchronization of work parameters with DAW. As for the sampler, it can work with audio files in .WAV, .AIF, .OGG, .MP3 formats.

Specifications:
State-of the art wavetable engine with four independent alias-free wavetable oscillator banks with up to 24 oscillator unison.
Low system CPU resource usage – even with more than 1.000 oscillators playing.
Groundbreaking wavetable editor with a vast number of editing possibilities including frequency shift, smooth, clean, bend and bloat for single-cycles, parts of single-cycles or even whole wavetables.
Easy-to use wavetable draw mode with smooth Bezier curves and snap to grid function.
Mix-in, amplitude modulate, interpolate or normalize wavetable cycles.
Generate FM, PWM, harmonic morphed / reduced, low pass / high pass / band pass / comb / formant filtering and even hard sync wavetables out of an arbitrary single cycle waveform.
Morphing and phase shifting of wavetable cycles.
Import and change standard (Serum, Icarus) format wavetables – also simply via drag and drop.
Additive synthesis section that allows to freely edit all harmonics and phases in real-time.
Sampler section (wav / aiff / ogg / mp3) with loop points, loop start modulation and key tracking.
Resample samples to wavetables with pitch detection.
Intelligent polyphonic portamento / glissando (you need to hear it!).
Mono legato mode or polyphonic 4/16 voice modes.
Three effects busses including 4 x oversampling and mono cutoff to preserve a clean low end.
10+ highly parameterizable effects including reverb, delay, chorus, flanger, bitcrush, eq, compressor, limiter, flanger, phaser, comb filter and more.
All effect times and durations can be synced to DAW.
State of the art filter section (30+ different types) with 4 x oversampled LPF (biquad, state variable and diode ladder implementations) plus high pass, all pass, band pass, notch, shelf, comb and scream filters – all with resonance.
Very steep filter curves for punchy basses.
Real-time filter response display.
Innovative audio routing system for all sound generators, filters and effect busses.
Five freely editable MSEG envelopes with loop function.
Five LFOs (per voice – means up to 80 LFOs in total) with smooth generation optimized for lowest frequencies with ramp and phase that can be set per voice or global – can be synced to the DAW.
Built-in arpeggiator that is freely editable and supports polyphonic modes and hold.
Three step sequencers that can be synced to the DAW.
All parameter knobs / sliders automatable.
Comes with a daily growing number of presets – free regular updates on the website.
Easy to use and intuitive user interface that is freely scalable and resizable even up to 4k and more with many drag and drop features.
Life-long free update policy.
Plus: the sound is stunning.
New in Version:
Usability improvements in wavetable editor: dropdown boxes for edit mode, grid, frequency domain edit functions
New featue: editing frequency domain bins in multi selection (multiple wavetable positions simultaneously)
Added sample and hold waveform in wavetable editor