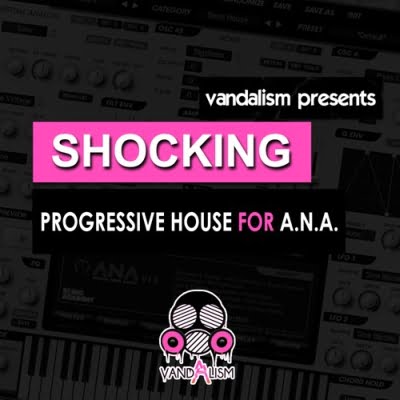 Publisher : Vandalism Sounds
Website : vandalism-sounds.com/shocking-progressive-house-for-ana.html
Format : SYNTH PRESET
Description : 'Shocking Progressive House For ANA' is a long-awaited set of sounds with modern sound of ultra quality and freshness. This collection is intended for manufacturers who want to create fantastic melodies and hypnotize their audience with amazing presets, the sound of which captures and amazes. With this soundtrack you can easily stand out among others. These sounds are modern and they have a factor that makes them better than any other progressive sounds used in the work. Listen to the demo and feel the difference from power, attention to detail and synthesis skills!

• 64 Sonic Academy ANA Presets
• 28 x Lead Sounds
• 12 x Bass Sounds
• 12 x Synth Sounds
• 07 x Pluck Sounds
• 05 x Chord Sounds
• ModWheel Assigned
• 100% Royalty-Free
• Requires: Sonic Academy ANA 1.5+

.yuzo_related_post img{width:149.5px !important; height:104px !important;}
.yuzo_related_post .relatedthumb{line-height:16px;background: !important;color:!important;}
.yuzo_related_post .relatedthumb:hover{background:#fcfcf4 !important; -webkit-transition: background 0.2s linear; -moz-transition: background 0.2s linear; -o-transition: background 0.2s linear; transition: background 0.2s linear;;color:!important;}
.yuzo_related_post .relatedthumb a{color:#303030!important;}
.yuzo_related_post .relatedthumb a:hover{ color:#8023dd}!important;}
.yuzo_related_post .relatedthumb:hover a{ color:#8023dd!important;}
.yuzo_related_post .relatedthumb:hover .yuzo__text–title{ color:#8023dd!important;}
.yuzo_related_post .yuzo_text, .yuzo_related_post .yuzo_views_post {color:!important;}
.yuzo_related_post .relatedthumb:hover .yuzo_text, .yuzo_related_post:hover .yuzo_views_post {color:!important;}
.yuzo_related_post .relatedthumb{ margin: 0px 0px 0px 0px; padding: 5px 5px 5px 5px; }
.yuzo_related_post .relatedthumb{
display:block!important;
-webkit-transition:-webkit-transform 0.3s ease-out!important;
-moz-transition:-moz-transform 0.3s ease-out!important;
-o-transition:-o-transform 0.3s ease-out!important;
-ms-transition:-ms-transform 0.3s ease-out!important;
transition:transform 0.3s ease-out!important;
}
.yuzo_related_post .relatedthumb:hover{
-moz-transform: scale(1.1);
-webkit-transform: scale(1.1);
-o-transform: scale(1.1);
-ms-transform: scale(1.1);
transform: scale(1.1)
}
.yuzo_related_post{
overflow:inherit!important;
}
jQuery(document).ready(function( $ ){
jQuery('.yuzo_related_post .yuzo_wraps').equalizer({ columns : '> div' });
});




[ad_2]