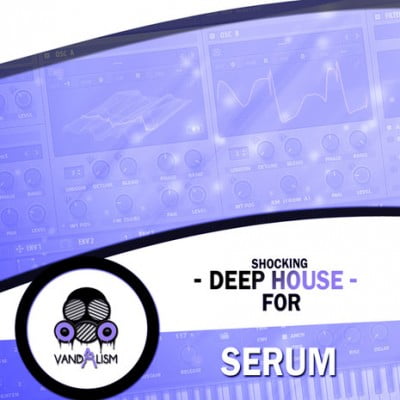 Publisher : Vandalism
Website : www.producerloops.com/Download-Vandalism-Shocking-Deep-House-For-Serum.html
Format : SYNTH PRESET
Quality : 24 bit 44.1 kHz stereo
Description : Vandals brought us a little food dip house.
The sound is as always high, juicy and warm!
"Shocking Deep House For Serum" brings you warm, expertly crafted and up-to-date sounds for Deep House & Future House. This compilation provides you with deep basses, vintage synths, rich pads, old school plucks, wide pianos, summer guitars and some nice arps and sequences. All of this brings you a soundset of full quality patches and instant ideas. It is an innovative soundbank that provides you with custom wavetables and noise.
These were written by artists such as ZHU, Sharam, Alok, Dusky and RIO. It is the very first soundset that brings you really modern deep vibes!

Product Details:
• 15 Lead Sounds
• 17 Bass Sounds
• 16 Synth Sounds
• 3 Pluck Sounds
• 3 Arp Sounds
• 2 Piano Sounds
• 2 Guitar Sounds
• 5 Pad Sounds
• 1 FX Sound
• 1 Sequence Sound
• 4 Macro Controls Assigned
• ModWheel Assigned
• 100% Royalty-Free

Requirements:
This sound requires Xfer Records Serum v.1.11b3 or higher.

.yuzo_related_post img{width:149.5px !important; height:104px !important;}
.yuzo_related_post .relatedthumb{line-height:16px;background: !important;color:!important;}
.yuzo_related_post .relatedthumb:hover{background:#fcfcf4 !important; -webkit-transition: background 0.2s linear; -moz-transition: background 0.2s linear; -o-transition: background 0.2s linear; transition: background 0.2s linear;;color:!important;}
.yuzo_related_post .relatedthumb a{color:#303030!important;}
.yuzo_related_post .relatedthumb a:hover{ color:#8023dd}!important;}
.yuzo_related_post .relatedthumb:hover a{ color:#8023dd!important;}
.yuzo_related_post .relatedthumb:hover .yuzo__text–title{ color:#8023dd!important;}
.yuzo_related_post .yuzo_text, .yuzo_related_post .yuzo_views_post {color:!important;}
.yuzo_related_post .relatedthumb:hover .yuzo_text, .yuzo_related_post:hover .yuzo_views_post {color:!important;}
.yuzo_related_post .relatedthumb{ margin: 0px 0px 0px 0px; padding: 5px 5px 5px 5px; }
.yuzo_related_post .relatedthumb{
display:block!important;
-webkit-transition:-webkit-transform 0.3s ease-out!important;
-moz-transition:-moz-transform 0.3s ease-out!important;
-o-transition:-o-transform 0.3s ease-out!important;
-ms-transition:-ms-transform 0.3s ease-out!important;
transition:transform 0.3s ease-out!important;
}
.yuzo_related_post .relatedthumb:hover{
-moz-transform: scale(1.1);
-webkit-transform: scale(1.1);
-o-transform: scale(1.1);
-ms-transform: scale(1.1);
transform: scale(1.1)
}
.yuzo_related_post{
overflow:inherit!important;
}
jQuery(document).ready(function( $ ){
jQuery('.yuzo_related_post .yuzo_wraps').equalizer({ columns : '> div' });
});