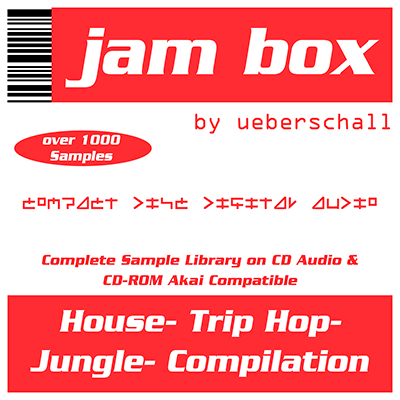 Publisher: Ueberschall
Website: Ueberschall
Year: 1997
Format: WAV
Quality: 16 bit 44.1 kHz stereo
---
Description: Jam Box – a selection of samples from the personal collection of top producer and DJ Mousse T. The library has everything that a musician may need to write tracks in the style of house, jungle and trip-hop: drum loops, vocal samples, effects, instrument sounds and synthesizers – a total of 1600 samples. The library has been converted from AKAI to WAV format.
Original Description :
1600 great sounds !!!
The House-, Jungle-, Trip Hop- Compilation.
These sounds come from the personal library of top-producer and DJ Mousse T (e.g. Quincy Jones, Backstreet Boys, Ann Nesby, Ruffneck, Bootsy Collins). This is a special tool containing Drumloops, Vocals, 3-D-Loops, Instrument-Licks and more. 320 Drum- and Percussion-Loops, 370 Vocals, Adlibs, Shouts. Bass-, Guitar-, Brass-, Sax-Licks. Pianos, Organs, Rhodes, Synthesizers. Pads. Strings. Effects Breaks Special 3-D-Vocals, 3-D-Percussion-Loops & -Samples. 250 Drum- & Percussion-Samples.
This CD contains everything that producers and DJs need to create a complete house-, jungle- or trip hop song.
The sampler is the main instrument for remixers. Mousse T has stacks of them. On this CD are more than 1600 samples for you to choose from to make a complete production. A lot of sounds are recorded without any effect (e.g. Adlibs & Spoken Vocals). Here you have the complete freedom for your mix (reverb, chorus, delay, etc.).
The unique spatial effect of the RSS-3-D-Samples is very impressive – by both using speakers or headphones. They have a wide dynamic range. It wasn´t changed to keep the spatial effect at full range.
---