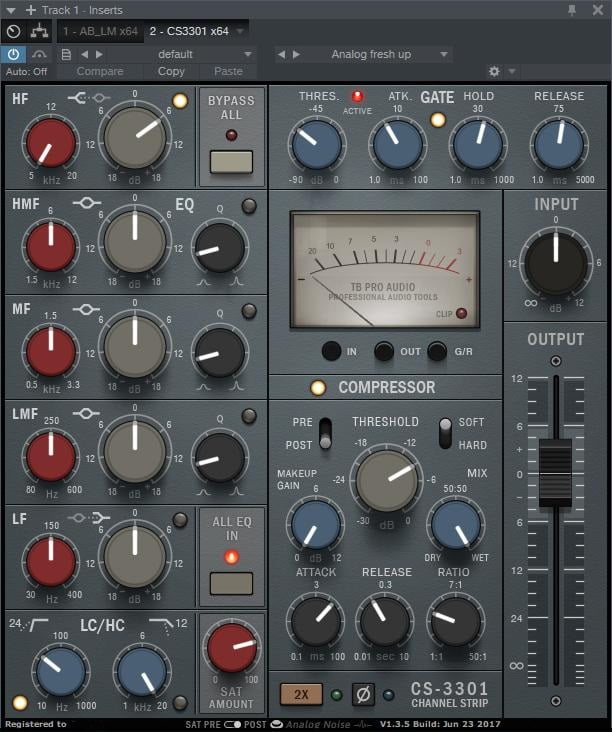 TBProAudio.AB_LM.v1.4.7

– gain control that allows you to compare and match the volume levels with the sample in the FX chain (AB comparison).

The plugin will be useful in situations when mixing or mastering, when it will be necessary to quickly determine the effect of a plug-in (FX) or even a complex FX circuit on the sound.

TBProAudio.CS-3301.v1.3.5

–

console

plug-in with gate, equalizer, compressor, saturator and oversampling.

TBProAudio.dEQ6.v1.1.4

– 6-band stereo / MS dynamic equalizer with high-quality oversampling and an accurate spectrum analyzer.

TBProAudio.GainRider.2.v1.0.3

– allows you to monitor all aspects of the amplification process and gives a detailed visual feedback when processing the signal for perfect information!

TBProAudio.gEQ12.v1.3.9

– 12-band stereo / MS graphic equalizer with an accurate spectrum analyzer and a minimum / linear phase mode.

TBProAudio.Impress.v1.9.8

– broadband stereo compressor including side-chang, pre-filtering and advanced oversampling.

The purpose of the tool was to cover a wide range of application of the compression application with modern intelligence and mastering.

TBProAudio.LA.xLimit.II.v1.2.3

– is an improved wide-band stereo limiter that includes detection of ISP and oversampling.
Year / Date of Issue : 06.2017
Version : June 24, 2017
Developer : TBProAudio
Developer's site : tb-software.com
Format : VST, VST3, RTAS, AAX
Digit : 32bit, 64bit
Tabletka : present
System requirements : Windows XP or newer, * – modified AAX work only @ AudioUTOPiA release ProTools