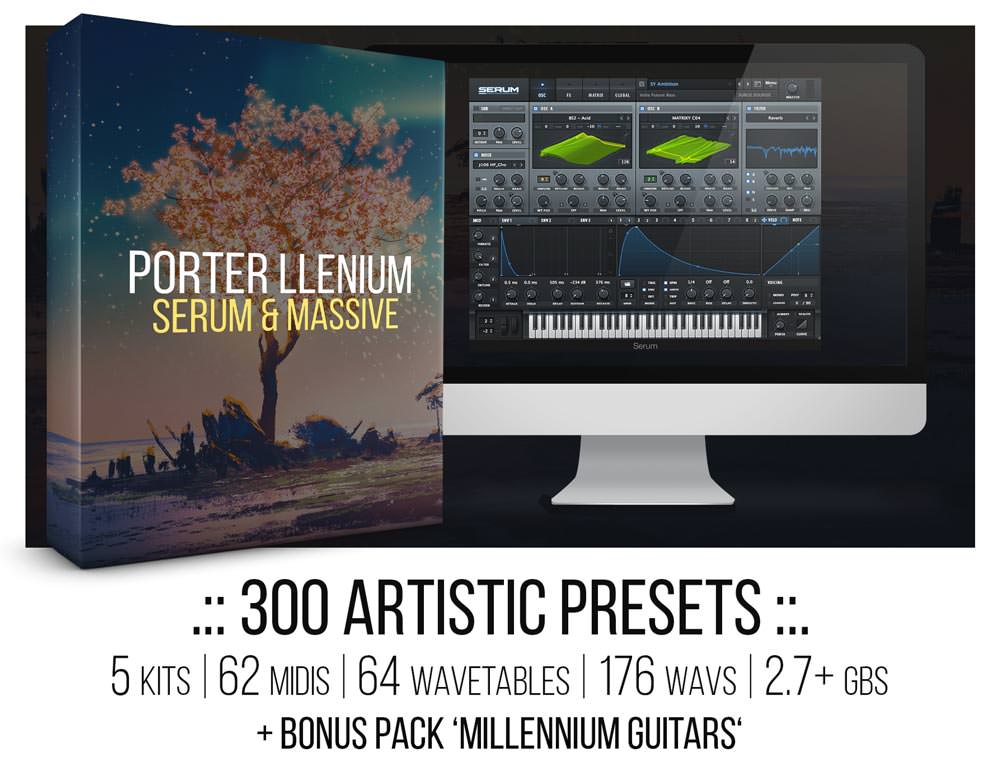 Publisher: Surge Sounds
Website: Surge Sounds
Format: SERUM 1.214+, MASSiVE 1.3+, WAV, MIDI
Quality: 24 bit 44.1 kHz stereo
---
Description: 180 Ether Presets for Xfer Serum and 120 Emotional Presets for NI Massive + WAV, MIDI Files
This package puts innovative sound design in your hands, giving you the ability to take your mixes to the next level. The concept for this collection was inspired by Bass Music innovators such as Porter Robinson & Illenium. We decided to reveal the secrets of how they create their unique sound.
This soundbank provides 180 etheric presets for Xfer Serum and 120 emotional presets for NI Massive, all of which have been expertly crafted to transcend current creative boundaries. As a bonus, we've included the Millennium Guitars Kit, which contains 30 phenomenal guitar presets with wavetables created from Les Paul, Stratocaster & Telecaster recordings through multiple guitar amps. As far as we know, no one has done this before for virtual synthesizers.
Content :
• Format: WAVs / MiDis / Synthesizer VSTi Presets
• 180 x Presets For (Xfer Records Serum)
• 021 x (Basses) Sounds
• 004 x (Guitars) Sounds
• 016 x (Keys) Sounds
• 034 x (Leads) Sounds
• 024 x (Pads) Sounds
• 021 x (Plucks) Sounds
• 030 x (Synths) Sounds
• 030 x Surge Sounds Millennium Guitars:
• 005 x (Acoustic) Sounds
• 018 x (Clean) Sounds
• 004 x (Distortion) Sounds
• 003 x (Overdrive) Sounds
• 004 x (Macros On Every Preset)
• 064 x Xfer Records Serum (Custom Wavetables)
• Requirements: Xfer Records Serum v1.214 + or higher.
• 120 x Presets For (Native Instruments Massive)
• 025 x (Basses) Sounds
• 031 x (Synths) Sounds
• 002 x (FXs) Sounds
• 002 x (Keys) Sounds
• 027 x (Leads) Sounds
• 006 x (Pads) Sounds
• 001 x (Piano) Sound
• 026 x (Plucks) Sounds
• 008 x (Macros On Every Preset)
• Requirements: Native Instruments Massive v1.3 + or higher.
• 005 x Construction Kits – (Including: Stems / Loops, MIDIs, VSTi Presets Files)
• 005 x Mixed & Mastered FullMix / Preview Demos
• 176 x Individual (.WAVs) Stems / Loops Files
• 062 x Individual (.MIDIs) Files
• 056 x Individual (.VSTi Presets) Files
• 663 x Files In Total
• Key And Tempo-Labelled
• 44.1kHz 24-Bit High Quality
• Compatible With All DAWs
• PC & Mac Compatible
• 100% Royalty-Free
---