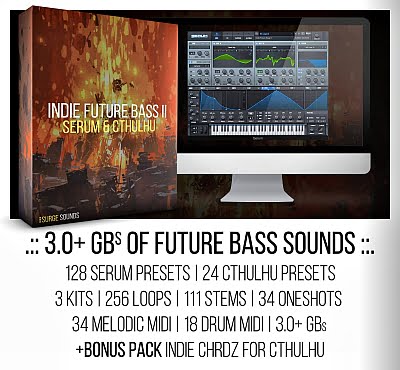 Publisher: Surge Sounds
Website: surgesounds
Format: MIDI, WAV, CTHULHU 1.195+, SERUM 1.242+
Quality: 24 bit 44.1 kHz stereo
---

Description: Surge Sounds presents Indie Future Bass II! A brand new release full of innovative presets for Xfer Serum and Cthulhu. Kits, stems, loops, shots, MIDI and more. This Future Bass package has been specifically designed to support your creativity.
Our goal at Surge Sounds is to provide you with the most advanced and innovative sounds that will have real value for your future production.
The concept of this collection was inspired by Future Bass innovators such as Flume, Petit Biscuit, Gramatik & Ramzoid. It was designed to compete with the current trends of top charts. These first-class sounds will attract new ideas that push creative boundaries.
This collection contains 128 innovative Future Bass presets for Serum that will take your tracks to places they have never been to.
The package also contains 92 customizable wave tables from bass, vocoders, strings and pianos to acoustic and electric guitars and more. With 4 macros on each preset, you can always stay in your creative zone, customizing to suit your artistic sound.
In addition, this release includes 3 sets, 256 powerful loops and 111 top-notch stems, 52 exciting melodic and MIDI drum loops and 34 crisp drums. Future Bass samples are ready to use so you can immerse yourself in them and give you an edge in the music scene.
We have specially developed the special package Cthulhu – Indie CHRDZ. You will find 24 creative presets for Cthulhu with 4 octave chords on each preset. This is an average of 50 chords per preset! We used white and black keys with 1200 plus chords in all 12 keys. Major, Minor, Suspended 2 and 4, add 9 and 11, 6th and 7th chords
Creating Future Bass Chord progressions has never been easier! We are sure that this release will revitalize your creative juices and will be a great addition to your sound collection!

Content :
• Format: (.WAVs) & (.MIDIs) & (.Synthesizer VSTi Presets)
• 128 x (.Synthesizer VSTi Presets) For (Xfer Records Serum)
• 035 x (Synths) Sounds
• 026 x (Leads) Sounds
• 022 x (Basses) Sounds
• 019 x (Plucks) Sounds
• 012 x (Pads) Sounds
• 005 x (Keys) Sounds
• 003 x (ARPs) Sounds
• 005 x (FXs) Sounds
• 001 x (Piano) Sound
• 004 x (Macros On Every Preset)
• 092 x (.Synthesizer VSTi Custom Wavetables) For (Xfer Records Serum)
• Requirements: Xfer Records Serum v1.242 + or higher.
• 003 x Construction Kits – (Including: • (No-SC / Dry) (.Stems / Loops), • (.Drum One-Shots) Samples, • (.MIDIs) Files)
• 003 x Mixed & Mastered FullMix / Preview Demos – (.WAVs)
• 111 x Individual (.WAVs) (.Stems) Samples Files:
• 075 x (WET / DRY) (Melodic) Stems:
• 018 x (Synths)
• 018 x (Basses)
• 016 x (Leads)
• 008 x (Vocal Chops)
• 006 x (Pads)
• 006 x (Plucks)
• 002 x (Pianos)
• 001 x (FX)
• 030 x Drum Stems:
• 003 x (Full Drums)
• 003 x (Kicks)
• 003 x (Drum Fills)
• 003 x (Hi-Hats)
• 003 x (Snares)
• 003 x (Claps)
• 003 x (Percussions)
• 002 x (Crashes)
• 002 x (Sticks)
• 002 x (Foleys)
• 001 x (Roll)
• 001 x (Snap)
• 001 x (Crackle)
• 006 x FX Stems:
• 003 x (FXs)
• 002 x (Risers)
• 001 x (Ambience)
• 256 x Individual (.WAVs) (.Loops) Samples Files:
• 179 x (WET / DRY) (Melodic) Loops:
• 046 x (Basses)
• 044 x (Synths)
• 036 x (Leads)
• 034 x (Vocal Chops)
• 008 x (Plucks)
• 006 x (Pads)
• 004 x (Pianos)
• 001 x (FX)
• 072 x Drum Loops:
• 014 x (Full Drums)
• 010 x (Percussions)
• 008 x (Kicks)
• 008 x (Hi-Hats)
• 006 x (Drum Fills)
• 006 x (Snares)
• 005 x (Claps)
• 004 x (Foleys)
• 003 x (Crashes)
• 003 x (Sticks)
• 002 x (Crackles)
• 002 x (Snaps)
• 001 x (Roll)
• 001 x FX Loop:
• 001 x (Ambience)
• 034 x Melodic (.MIDIs) Loops:
• 009 x (Synths)
• 009 x (Basses)
• 007 x (Leads)
• 003 x (Pads)
• 003 x (Plucks)
• 002 x (FXs)
• 001 x (Piano)
• 018 x Drum (.MIDIs) Loops:
• 003 x (Kicks)
• 003 x (Hats)
• 003 x (Snares)
• 003 x (Claps)
• 002 x (Percussions)
• 001 x (Roll)
• 001 x (Snap)
• 001 x (Foley)
• 001 x (Stick)
• 701 x Files In Total
• Key And Tempo-Labelled
• 44.1kHz / 24-Bit High Quality
• Compatible With All DAWs
• PC & Mac Compatible
• 100% Royalty-Free

…… :::::: BONUS PACK – Indie CHRDZ :::::: ……
• 0024 x (.Synthesizer VSTi Presets) For (Xfer Records Cthulhu)
• 0050 x Chords Per Preset
• 1200 x Total Chords Across 12 Keys
• Major – Minor – Suspended 2 And 4 – Add 9 And 11 – 6Th And 7Th Chords
• User Guide
---