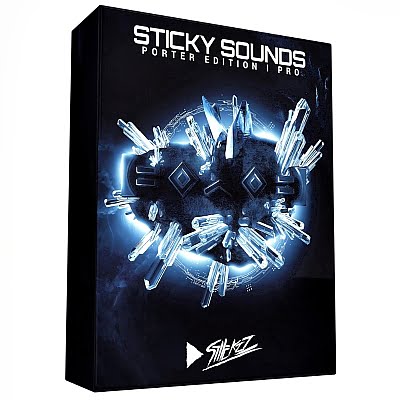 Publisher : StiickzZ
Website : StiickzZ
Format : WAV, ABLETON 10+, FL STUDIO 12+, SERUM 1.214+
Quality : 32 bit 44.1 kHz stereo
Description : Simply beautiful … This is the only way to describe the music of Porter Robinson. His incredibly melodic sounds create an insanely emotional impact with every song. It is for this reason that we created this soundbank to give you access to some of the most incredible sounds for creating emotional and melodic but powerful tracks.
Sounds: Porter's beautiful sounds are not the only thing that makes his songs sound so incredible. Having an ideal combination of energetic but soft drums is the key to creating melodic and emotional tracks that make listeners feel the track! Since the drums are important, we decided to assemble this package of samples with all the necessary drum sounds that you will need!
Projects : Having access to the samples and presets of the artist, already gives you a huge advantage. However, access to project files inspired by his songs gives you the opportunity to reverse his mixes. We created six project files inspired by some of his biggest tracks to give you the opportunity to immerse yourself in the project files and learn how to create some of your favorite compositions by Porter Robinson.
• An ideal tool for starting work in a new genre.
• Learn mixing, mastering, layering, sound design and arrangement. Remember these methods and use them in your projects!
• Save your favorite samples, presets, effect chains and effect presets to use in your future projects.
• Reverse the entire process of creating a project. Take notes to remember all sorts of nuances and tricks!
• 50 x Presets For (Xfer Records Serum)
• 14 x (Chords) Sounds
• 11 x (Basses) Sounds
• 09 x (Synths) Sounds
• 07 x (Leads) Sounds
• 04 x (Pads) Sounds
• 03 x (Plucks) Sounds
• 02 x (Guitars) Sounds
• 10 x (Xfer Records Serum Noises)
• 12 x (Xfer Records Serum Wavetables)
• PC & Mac Compatible
• 65 x Drum Loops And Samples:
• 15 x Kicks
• 15 x Claps And Snares
• 15 x Percussions
• 05 x Rides
• 05 x Crashes
• 05 x Hi-Hats – (Open)
• 05 x Hi-Hats – (Closed)
• 05 x Uplifters
• 05 x Downlifters
• 05 x Impacts
6 Project For FL Studio And Ableton
Copy the preset folder to C: Users USERNAME Documents Xfer Serum Presets Presets
with noises in C: Users USERNAME Documents Xfer Serum Presets Noises
with tables in C: Users USERNAME Documents Xfer Serum Presets Tables

.yuzo_related_post img{width:149.5px !important; height:104px !important;}
.yuzo_related_post .relatedthumb{line-height:16px;background: !important;color:!important;}
.yuzo_related_post .relatedthumb:hover{background:#fcfcf4 !important; -webkit-transition: background 0.2s linear; -moz-transition: background 0.2s linear; -o-transition: background 0.2s linear; transition: background 0.2s linear;;color:!important;}
.yuzo_related_post .relatedthumb a{color:#303030!important;}
.yuzo_related_post .relatedthumb a:hover{ color:#8023dd}!important;}
.yuzo_related_post .relatedthumb:hover a{ color:#8023dd!important;}
.yuzo_related_post .relatedthumb:hover .yuzo__text–title{ color:#8023dd!important;}
.yuzo_related_post .yuzo_text, .yuzo_related_post .yuzo_views_post {color:!important;}
.yuzo_related_post .relatedthumb:hover .yuzo_text, .yuzo_related_post:hover .yuzo_views_post {color:!important;}
.yuzo_related_post .relatedthumb{ margin: 0px 0px 0px 0px; padding: 5px 5px 5px 5px; }
.yuzo_related_post .relatedthumb{
display:block!important;
-webkit-transition:-webkit-transform 0.3s ease-out!important;
-moz-transition:-moz-transform 0.3s ease-out!important;
-o-transition:-o-transform 0.3s ease-out!important;
-ms-transition:-ms-transform 0.3s ease-out!important;
transition:transform 0.3s ease-out!important;
}
.yuzo_related_post .relatedthumb:hover{
-moz-transform: scale(1.1);
-webkit-transform: scale(1.1);
-o-transform: scale(1.1);
-ms-transform: scale(1.1);
transform: scale(1.1)
}
.yuzo_related_post{
overflow:inherit!important;
}
jQuery(document).ready(function( $ ){
jQuery('.yuzo_related_post .yuzo_wraps').equalizer({ columns : '> div' });
});




[ad_2]