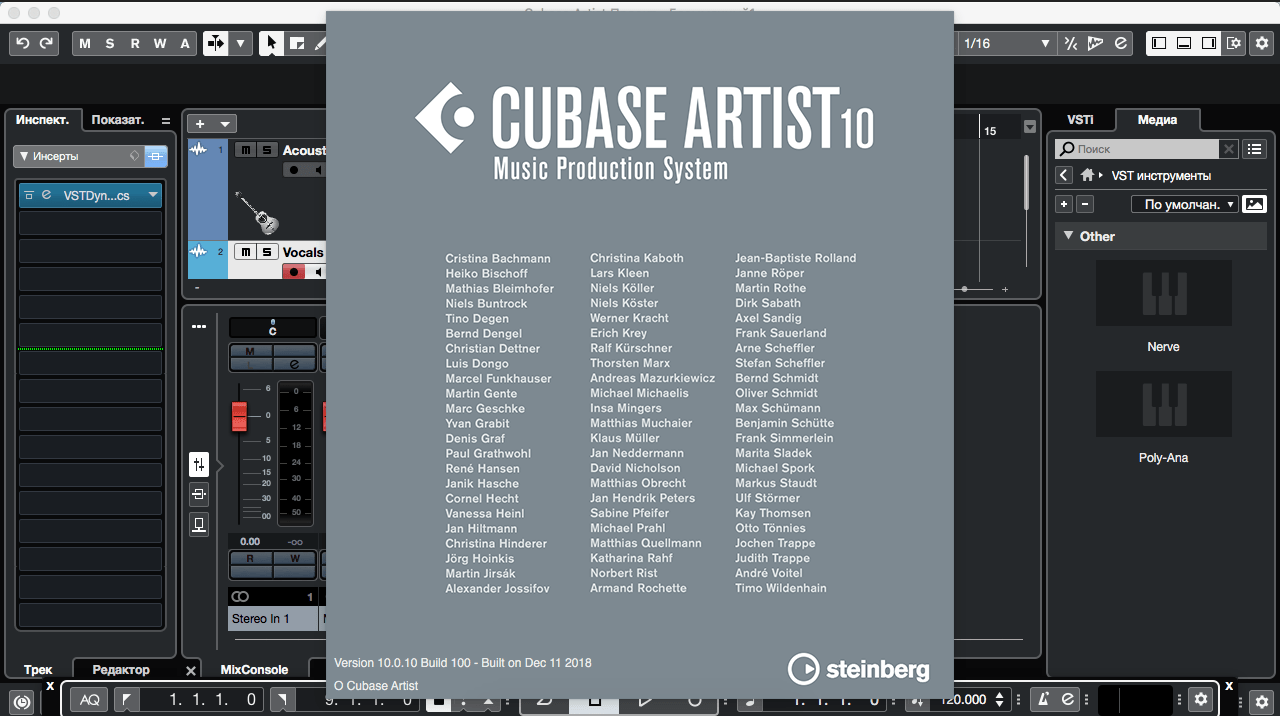 Year of manufacture : 11.12.2018
Version : 10.0.10 build 100
Developer : Steinberg
Developer site : steinberg
Platform : iNTEL
Interface language : Russian (default) + multilanguage
Tablet : The program is treated (put and work)
System requirements : OS X 10.11 / macOS 10.12 / macOS 10.13
4 GB RAM (8 GB or more recommended)
1366 x 768 display resolution (1920 x 1080 recommended)
Description : The Steinberg Cubase Artist 10 Digital Workstation (DAW) provides authors and performers with a wide range of functions and MIDI tools needed to create, mix and edit music.
DAW allows you to work with a wide range of plug-ins, automatically controlling their compatibility at launch. For impeccable recording quality meets the mixing engine with support for 32-bit and 64-bit sound. Delay Monitor Latency Monitor allows you to quickly and easily find out the size and location of the delay in the system.
The program now supports high resolution displays for Apple computers.

EASY iNSTALL version means that:
– You do not need to download something, make a backup copy of your license, receive trial keys, copy, transfer or replace something or do something else like that.
Installation:
– First, view the attached small video
– Double click to install the program
– Choose what you need
– Wait until the installation is complete
– REBOOT
– Done
PS In some rare cases, the installation may stall on checking packages.
This happens because the script translates the time for 50 years ahead, makes the trial license an automaton and sets the correct time back.
In this case, you just need to force reboot and that's it.