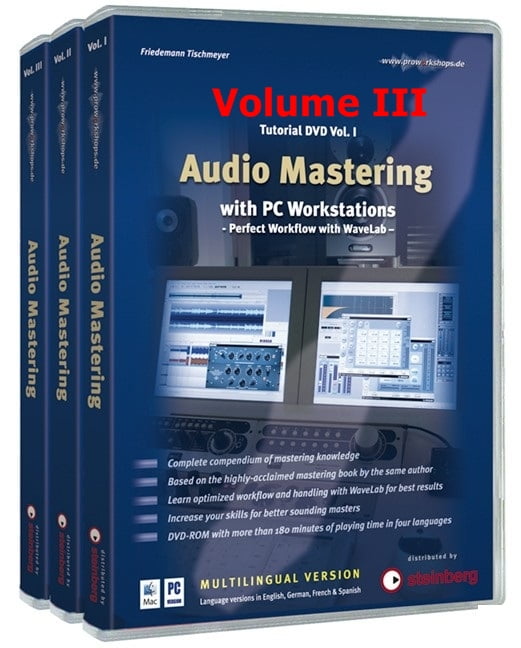 Hamburg/Frankfurt, March 28 2007 – Steinberg Media Technologies GmbH is pleased to announce a new DVD-ROM tutorial series that offers a complete guide to digital audio mastering. The new three-part series covers almost every aspect of producing a great-sounding professional master, and provides both digital audio essentials and expert techniques, supported with practical examples throughout. Audio Mastering will be available in Q2 2007.
"This series offers one of the most complete step-by-step tutorials on audio mastering in digital environments that are available today," states Frank Seidel, Steinberg's Product Manager for Audio Mastering. "This series opens up areas of mastering and digital audio technology in a very accessible way to anyone who wants to produce their own masters, and offers an immense resource of detailed knowledge for both newcomers and experienced engineers."
Audio Mastering offers a complete, authoritative library of mastering knowledge, all the way from fundamental principles behind digital audio through to highly specialized mastering techniques and strategies. Using Steinberg's industry-standard WaveLab 6 mastering software as its reference application, Audio Mastering also provides practical examples that make the expert knowledge and techniques contained easily accessible.
Year of manufacture : 2007
Language : English
Video codec : H.264
Video : 1024 x 460, 2.226 (~ 20: 9), 602kbps, 13,491frms
Audio : mp4a: MPEG-4 AAC LC, 48000Hz, 192 kb / s tot, stereo (2/0)