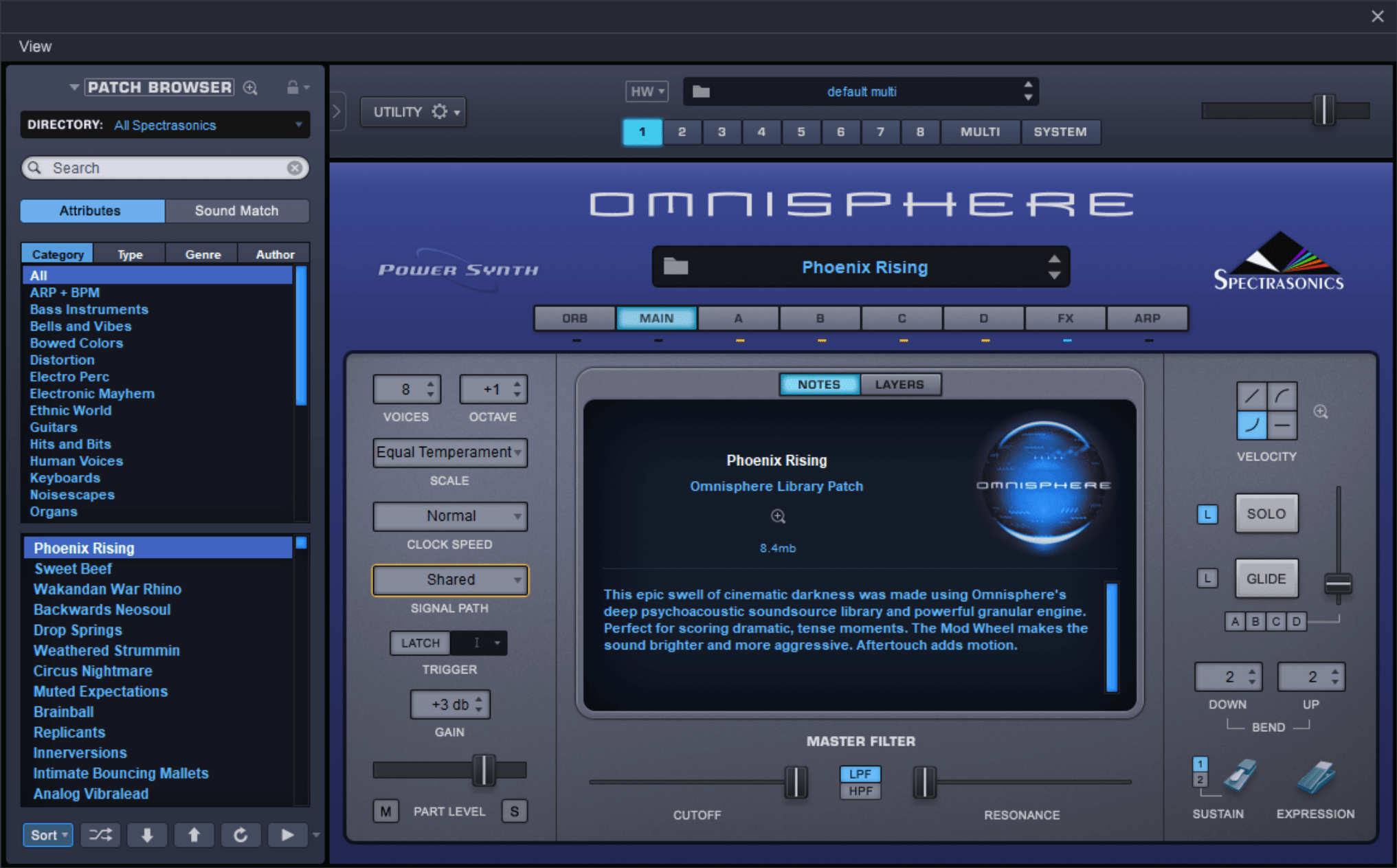 Year / Date of Release : 04.06.2020
Version : 2.6.3c
Developer : Spectrasonics Developer
site : Spectrasonics
Format : STANDALONE / VSTi / AAX / AUi
Bit depth : 64bit
Tablet : Patch
System requirements :
Microsoft Windows 7 or higher
OS X 10.11 El Capitan or higher
---
Description : Omnisphere® – Spectrasonics' flagship synthesizer – is an instrument of extraordinary power and versatility. The best artists around the world rely on Omnisphere as their primary source of sound inspiration. This award-winning software combines many different types of synthesis into one amazing-sounding instrument that will spark a lifetime of exploration.
Includes the following features and fixes:
Fixes issues with host automation parameters in Logic Pro 10.5

Fixes bug where existing automation assignments were deleted after Unlearning an automation assignment

Fixes bug where new automation IDs were incorrectly assigned after Unlearning an automation assignment

Fixes intermittent crash when opening saved Logic Pro X projects on macOS 10.15

Fixes issue where Omnisphere could freeze Live 10.1 on macOS 10.15

Fixes crash when deleting a track containing Omnisphere in Reason

Improved Authorization process and GUI layout
---
Solving the problem of flying activation after rebooting on MACOS Catalina :

The net.spectrasonics.V6.plist file contains the Challenge Code, it is located in the following path / Users / username / Library / Preferences / net.spectrasonics.V6.plist, and the Library folder in the user folder is empty, therefore that the contents are hidden, so you need to run Batchmod and click File, in the explorer that opens inside, you need to click "CMD" + "SHIFT" + ".", it will show hidden folders, and then select the file and put two missing checkboxes under the "W" in Batchmod (write), launch the DAW in it, launch Omnisphere, activate it, it enters the code into the net.spectrasonics.V6.plist file there, by the way, you can compare it with what the keygen gave you, initially before you give it access rights to another,after entering your code with write permissions into Omnisphere, it changes to yours and after the reboot it does not ask for activation anymore.
---