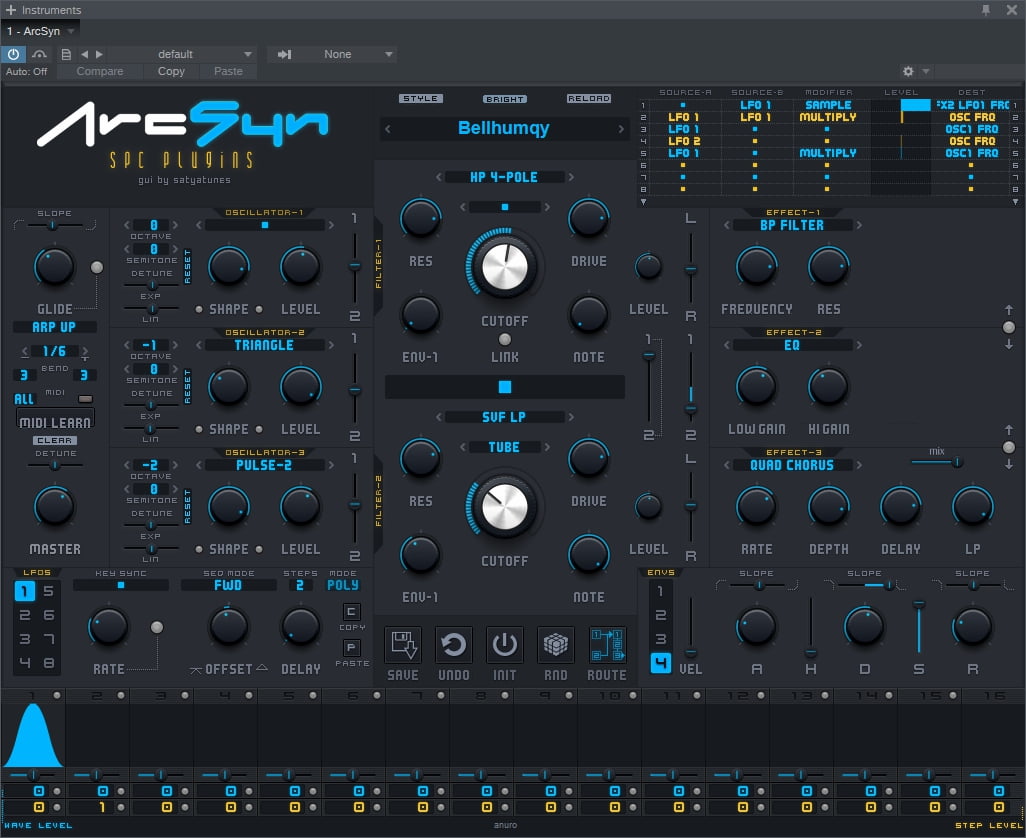 Year / Date of Issue : 04/13/2018
Version : 2.1.2
Developer : SPC Plugins
Developer's website : SPC Plugins
Format : VSTi, AU
Bit depth : 32bit, 64bit
Tabletka : present
System requirements : VST 2.4 host program, SSE-enabled CPU, Windows XP or newer, Mac OS X 10.6 (Snow Leopard) or newer
Description : ArcSyn from SPC Plugins is a virtual synthesizer that modulates analog machines, which is not based on any specific vintage equipment, but successfully reflects the essence of this era.
Most importantly, ArcSyn sounds great. This synthesizer is a purist and it does not mix different types of synthesis with samples. ArcSyn uses signal synthesis. "All waveforms are generated from scratch". On board more than 70 unique wave forms. There are several LFO and arranger that can be used to create the order of 16 signals. In addition, users will find ADHSR, two routing modes (Series and Parallel) and a matrix mode with 16 slots. There are many modular filters and modifiers for expanding the sound madness.
There is a function Randomiser, which quickly generates patches. This is one of the best ways to discover the perfect sound. In less than a minute, you can create more than a hundred patches. Of course, most of them will be "not very", but there is a great opportunity that at least one will be explosive. Each synthesizer must have this function. ArcSyn also has an excellent preset manager.
ArcSyn is an excellent virtual synthesizer, capable of sounding from silky to coarse rumble. In the right hands, any genres will only benefit from this VSTi. It produces everything from cream pads and textures to piercing planks. Flexible modulation capabilities make ArcSyn ideal for genres that use textures, pads and drones.

Sponsored Links