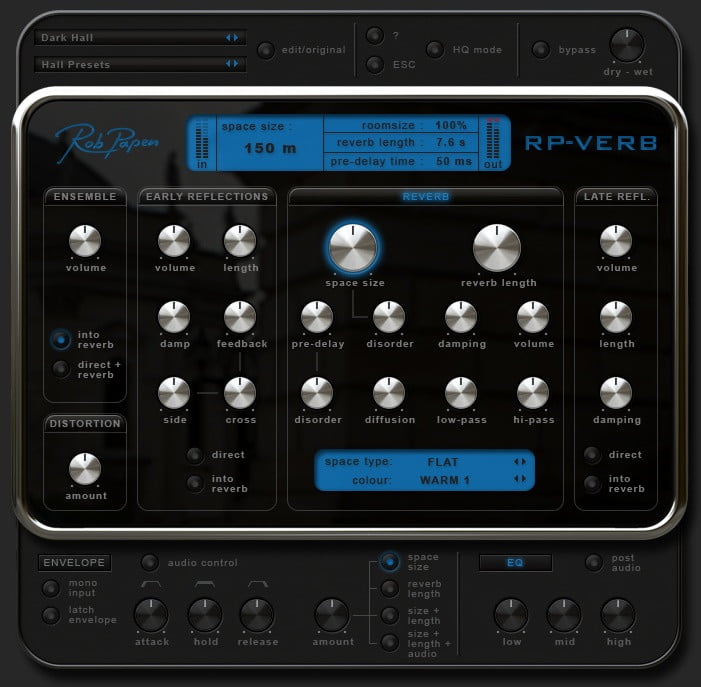 Rob Papen – RP-VERB v.1.5.1g OS X [HEXWARS][dada]
86 MB
RP-Reveb + RP-Delay
————————————————————————————-
SUPPLiER : HEXWARS
CRACKER : HEXWARS
PACKAGER : HEXWARS
DATE : 05-01-2015
NUMBER : HW-073
TYPE : CRACKED
PLATFORM : MacOSX VST/AU
PROTECTiON : 2MUCHSHiT2LiST
————————————————————————————-
RP-VERB
You've spent hours on your track? Working and reworking every part to bring your musical vision to life. And you know that the quality of your reverb can be the difference between the rich sounding mix you're after and one that comes off as flat and artificial.
Face it: When it comes to pristine, authentic reverb, it's the algorithm that counts. RP-Verb is the fruit of Rob Papen's decades-long study of reverb and endless hours of exploring, testing, and tweaking by Rob and Jon Ayres. The result is exactly what you would expect: a stunning, musical reverb that brings unmatched dimension and fullness to your mixes.
But if you're thinking that this sound quality must come at the cost of usability, fear not RP-Verb has a straightforward, intuitive interface that puts all the most essential parameters right at your fingertips. And like all Rob Papen plug-ins, it inspires right out of the box with spot-on presets that range from intimate venues to abstract, surreal spaces.
RP-DELAY is a unique delay which is heavily focused on some very special features,
including brand new fx routing!
For instance, the sound reverser can reverse the input, while simultaneously reversing one of the delay lines.
The reverse sound can also be triggered with your keyboard, generating totally new sounds, and sending them into the reverser with its own filter and distortion!
You can have 6 delay lines with 8 active multi-mode? filters all operating at once in each of several delay models. Of course, we included basic delay models like a simple mono delay and a stereo delay, but also a tape-sound delay which allows you to change tape length without any clicks. The delays, filters, and reverser can all be modulated by the built-in modulators. There are 4 modulation sequencers, 4 LFO's, and 4 envelopes, complete with several trigger options!
————————————————————————————-
MiSSiNG iN ACTiON . . . . . . . . .
————————————————————————————-
GREETZ!
ALL PRESENT, PAST & FUTURE TEAMS AND iNDs
WHO MADE AUDiO WAREZ HiSTORY
————————————————————————————-
SUPPORT GOOD DEVS WHO DON'T TORTURE USERS
WiTH SHiTTY PROTECTiONS AND BUY WHAT YOU USE AND LiKE!
NFO v.1.1 – 09.2014
– C0ME T0 THE DARK SiDE –
– HEXWARS –
————————————————————————————-
future-dada
————————————————————————————-
1337x.to – demonoid.pw – isohunt.to – kickass.so – flashtorrents.org
btdigg.org – torrentz.eu
————————————————————————————-
MMXV (01).
————————————————————————————-