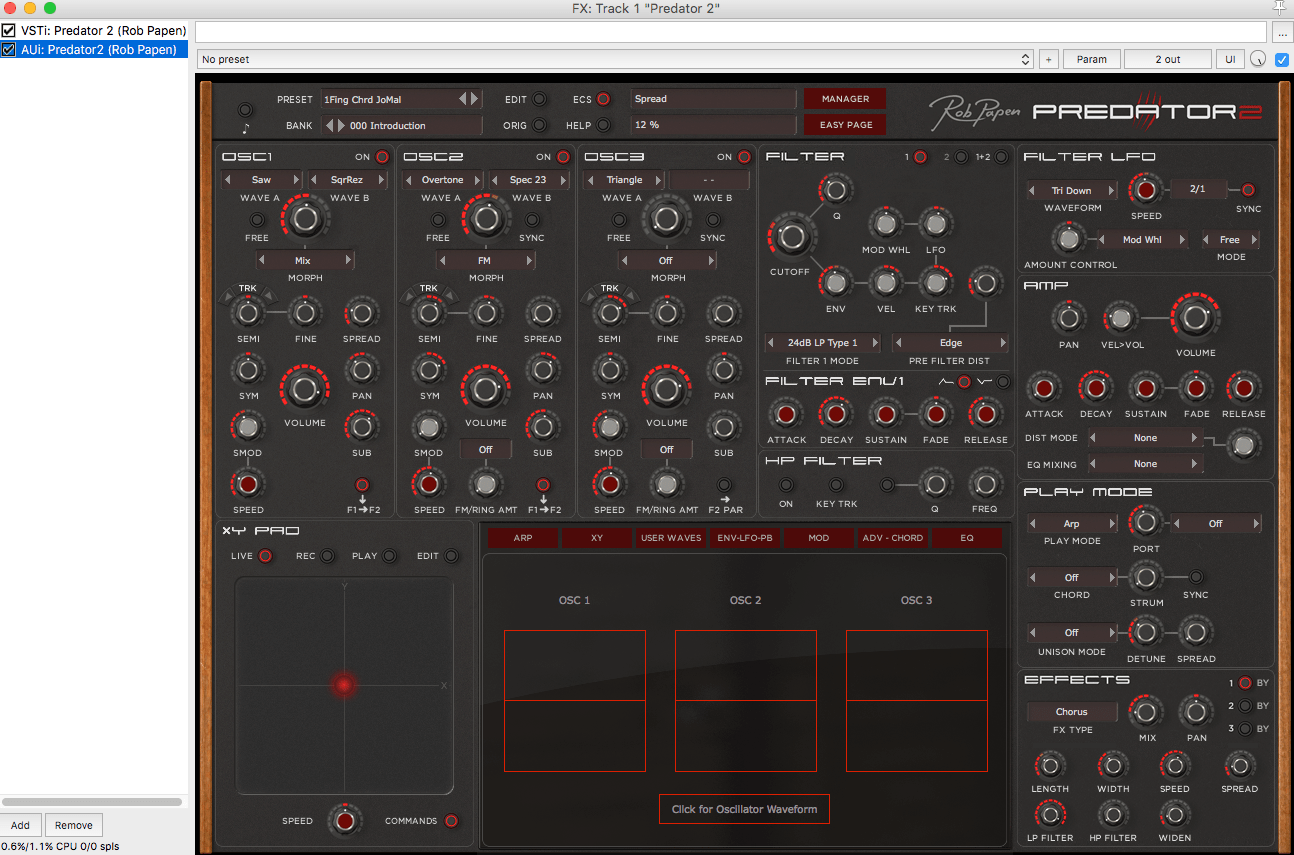 Year of release : 2018
Version : 1.0.4a
Developer : Rob Papen
Developer site : Rob Papen
Platform : iNTEL
Format : VSTi, AUi
Interface language : English
Tablet : Program treated (Put and work)
System requirements : Mac: 32 & 64 bits AU, VST for OSX 10.6 or higher
Description : Predator 2 is the successor to the legendary synthesizer, which inspired many artists / composers and was captured on many music tracks. As before, it combines inspirational presets and advanced features that make it the main synthesizer for contemporary music making. The user interface has been redesigned, so that almost all the main controls are visible on the screen, which makes it incredibly easy to use. Predator 2 also includes an Easy Page for users who don't like to see too many controls.
Sponsored Links
New in version:
Latest additions and or fixes :
– New screen selectors in the mid lower section.
– Gray up and down buttons (instead of red ones)
– New 'Big Screen' selector in the 'USER WAVES' screen and 'Normal View' selector.
– Changed Quantum
– Improved routing info.
– Improved 'Bank Manager' lay out with more presets visual.
– LFO Speed ​​display shows a menu when sync is on
– Increased number of menus having arrows
– Osc Display (if double click resets it)
– LFO Display (double click resets it)
– Right click on tune in Arp brings up entry box
– Mod set to correct page with drag & drop
– Right click in chord brings up entry box
– EQ Double click resets band to default settings
– Readout in Wave screen when using shaping
– New modulation destinations:
"High Pass Filter Q", "Unison Detune", "Unison Spread", "Unison Delay", "Vel> Volume",
"Velocity Shape", "Drift", "Arp Speed", "Arp Note Length", "Arp Swing", "Arp Vel / Key",
"Arp Slide", "XY Smooth", "Attack Shape", "Dec / Rel Shape",
"Osc 1 Phase", "Osc 2 Phase", "Osc 3 Phase".
– With 'semi' as target. Changing amount of semi jumps (semi) in semi steps
can it be values ​​between semi values.
– If the 'arp' is turned on the XY jumps to the 'free' mode.
The ARP is turned on.
If you're playing a music program.
This is the timing of the timing.
– Drag and drop. If you have a modular screen (XY, Envelope, LFO)
that you can drag and drop from the upper part.
– If this is the right mouse menu, this modulation page / sections
opens in the lower mid section. So if you address something to the XY, that the XY page opens.
– New userwave sets called: Dr.Who, Summer Waves, Mind Boggle, Wave Age, Live Stream.
– Total of 359 New presets:
002 EDM & Dance 01 [11 new]
003 Synth 01 [17 new]
004 Trance & PsyTrance 01 [31 new]
008 Ambient 01 [28 new]
030 Daksha SFX 01 [64 all new]
030 TONAL AXiS 01 [50 new]
030 JoMal 03 [32 new]
030 Oddiction 01 [128 all new]