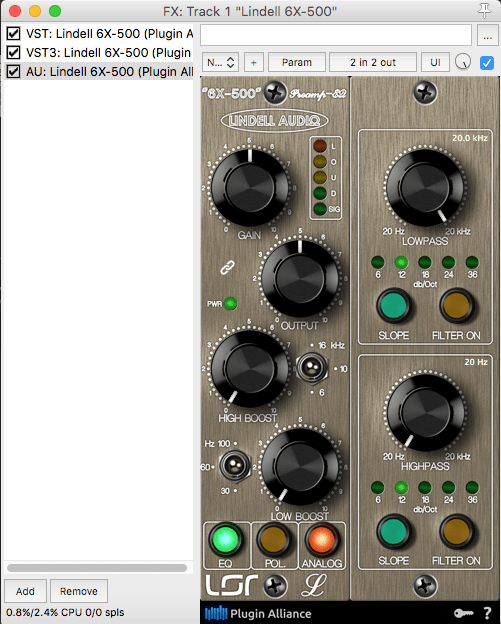 Year of manufacture : 2016
Version : 1.1.0
Developer : Plugin Alliance
Developer's website : Plugin Alliance
Platform : iNTEL
Format : VST, VST3, AU
Language : English
Tablet : Keigen (requires a Windows emulator)
System requirements : Mac OSX 10.9.5 or higher
Intel CPU only (we recommend at least 2 GHz)
Display resolution: 1440 x 900 px / 1280 x 960 px or higher
Description : A set of amazing plug-ins for mastering and processing your sound, from the company Plugin Alliance.
Contents :
254E v.1.2.0 – is an emulation of the classic FET-compressor Neve 2254E
6X-500 v.1.2.0 – single-channel preamplifier and passive two – band equalizer. The preamplifier is a completely discrete design, based on Lindell's hybrid amplifier.
7X-500 v.1.2.0 – single-channel compressor / limiter. It is based on the FET circuit (FET), which incorporates several new and unique features, such as a high pass filter in the control circuit and the Mix Knob to produce a mix of the original and processed signals (parallel compression). The 7X-500 is Lindell Audio's view of the classical sound of the 1176 compressor. The 7X-500 compressor can be soft, and maybe a rock and roll monster when using a compression ratio of 100: 1.
ChannelX v.1.2.0 – includes just three amazing plug-ins – limiter 7X-500, equalizer PEX-500 EQ and preamplifier 6X-500
PEX-500 v.1.2.0 – the development of Lindell Audio, based on the magic classical scheme of equalizers Pultec. The equalizer has 15dB amplification for getting the sweetest sound of the tops and a very dense, panic sound when working with the low-frequency range.
TE-100 v.1.0.0 – Emulation of the unique rare one of the most popular tube equalizers in the history of recording UE-100 Universal Equalizer®.

Sponsored Links