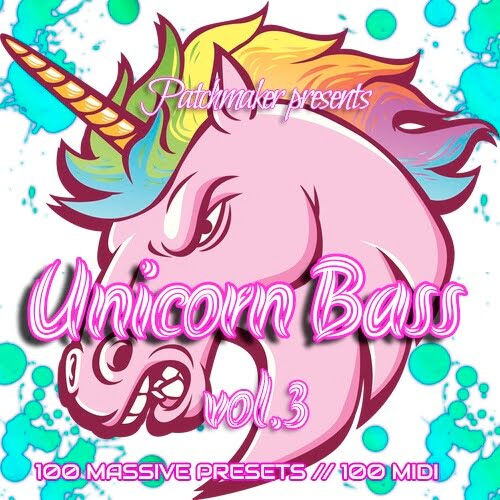 Publisher : Patchmaker
Website : freshsound.ru/presets/1651-patchmaker-presents-unicorn-bass.html
Format : SYNTH PRESET
Quality : 24 bit 44.1 kHz stereo
Description : If you're looking for the right ingredients for your next release. Patchmaker is proud to present "Unicorn Future Bass Vol.3" preset pack! Mixing the best of the future, bass, dubstep and trap, this collection of high-grade sounds has all of you need to take your tracks to the next level. This set is from magnificent tracks from San Holo, Flume, Marshmello, and others! Inside you will find future bass leads, dubstep wobbles, trap basses and a lot more!
This pack contains 100 Massive presets and 100 MIDI files created by professional sound designer.
Also, this pack has bonus files that were used in the demo. Check out the demo for the quality of these presets and get your copy today!
* NOTE: You will need Massive version 1.5 or higher to be able to use these presets
* NOTE: The preview contains drum sounds and sound effects for illustrative purposes only- No drums included.
100 Massive presets
8 Bass
27 Leads
4 Pads
13 Wobbles
11 Plucks
28 Syn
8 SFX
100 Midi Files – 50 Mono & 50 Polyphonic

.yuzo_related_post img{width:149.5px !important; height:104px !important;}
.yuzo_related_post .relatedthumb{line-height:16px;background: !important;color:!important;}
.yuzo_related_post .relatedthumb:hover{background:#fcfcf4 !important; -webkit-transition: background 0.2s linear; -moz-transition: background 0.2s linear; -o-transition: background 0.2s linear; transition: background 0.2s linear;;color:!important;}
.yuzo_related_post .relatedthumb a{color:#303030!important;}
.yuzo_related_post .relatedthumb a:hover{ color:#8023dd}!important;}
.yuzo_related_post .relatedthumb:hover a{ color:#8023dd!important;}
.yuzo_related_post .relatedthumb:hover .yuzo__text–title{ color:#8023dd!important;}
.yuzo_related_post .yuzo_text, .yuzo_related_post .yuzo_views_post {color:!important;}
.yuzo_related_post .relatedthumb:hover .yuzo_text, .yuzo_related_post:hover .yuzo_views_post {color:!important;}
.yuzo_related_post .relatedthumb{ margin: 0px 0px 0px 0px; padding: 5px 5px 5px 5px; }
.yuzo_related_post .relatedthumb{
display:block!important;
-webkit-transition:-webkit-transform 0.3s ease-out!important;
-moz-transition:-moz-transform 0.3s ease-out!important;
-o-transition:-o-transform 0.3s ease-out!important;
-ms-transition:-ms-transform 0.3s ease-out!important;
transition:transform 0.3s ease-out!important;
}
.yuzo_related_post .relatedthumb:hover{
-moz-transform: scale(1.1);
-webkit-transform: scale(1.1);
-o-transform: scale(1.1);
-ms-transform: scale(1.1);
transform: scale(1.1)
}
.yuzo_related_post{
overflow:inherit!important;
}
jQuery(document).ready(function( $ ){
jQuery('.yuzo_related_post .yuzo_wraps').equalizer({ columns : '> div' });
});




[ad_2]