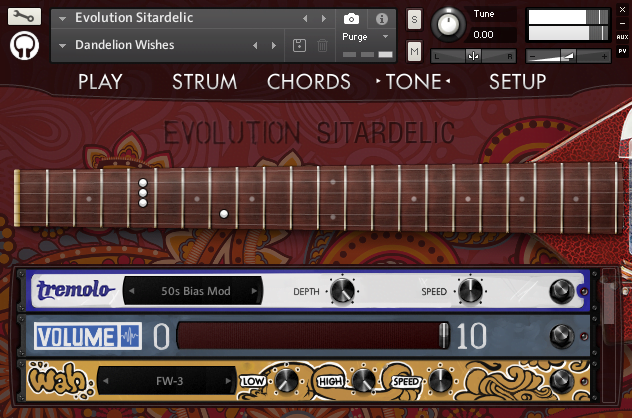 The electric sitar was introduced in the late 60's, imitating the sound of a traditional sitar by using a special bridge and resonance strings. Undoubtedly a specialty instrument, the electric sitar is typically used in classic rock and modern jazz/fusion styles of music. The model we sampled for Evolution Sitardelic has a semi-hollow pine body with a masonite top, Brazilian rosewood fretboard, and classic "lipstick" single-coil pickups. Its full octave of drone strings add extra resonance and body to the tone of the guitar.
We developed this library in collaboration with Rosewood Recording Company, one of Utah's most venerable recording studios. Guy Randle, the owner and recording engineer at Rosewood Recording Company, incorporates analog audio equipment to skillfully sculpt and emphasize the rich tonal qualities of the guitar.
For the sampling session, Guy Randle worked with Rich Dixon, an award-winning session guitarist, international performer, and jazz theory/improvisation educator.
Evolution Sitardelic comes with a robust guitar effects engine, including a vast collection of modeled guitar pedals. Additionally, you have selectable guitar cab sizes with several options for microphones and mic placement. All together, you have a comprehensive guitar effects suite at your fingertips without external guitar effect processors necessary to get amazing-sounding tones.
But don't just take our word for it, let your ears decide.
Publisher: Orange Tree Samples
Format: KONTAKT
Quality: 24-bit 48 kHz stereo