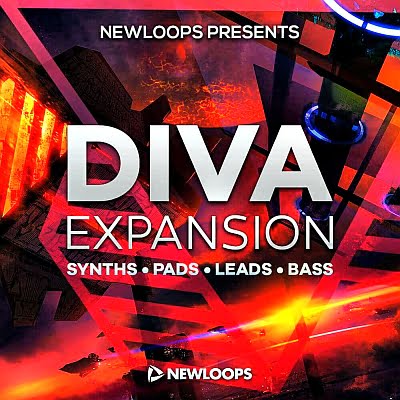 Publisher : New Loops
Website : New Loops
Format : SYNTH PRESET U-He Diva v1.4 +
Description : 76 powerful and inspiring presets for Diva, containing the best classic analog and modern digital sounds.
Musical and practical sounds : Each patch in this sound bank has been carefully created for use in music, but here you will not find any crazy effects or strange noises – you will find a wide selection of musical sounds that will be an excellent starting point for your own songs.
Vintage analog : With 76 new presets, Diva Expansion covers a number of classic and vintage sounds, including gorgeous kinetic pads and drones, warm analog basses, old school chords and FM bells, brass synthesizers, beautiful filtered keyboards and arpeggios and similar characteristic sounds.
Modern digital sounds : Diva Expansion is not all analog presets. You will also find sounds that are perfect for EDM and modern electronic music, including massive digital leads, tropical plaques, metal bass and wobblers, Supersaw, aggressive stubs, plus many new and unique sounds!
Multi-genre : Diva Expansion is suitable for any genre of electronic music, including cinematography and soundtracks, Ambient and Chill, Electronica and Techno, EDM, Trap, Hip Hop, Drum and Bass, House, Trance and many others.
• 76 x Presets For (U-He Diva)
• Warm Vintage Sounds
• Modern EDM Sounds
• Plucks, Leads, Keys, Chords, Arps, Sequences, Pads, Brass, Basses
• Modwheel Assign On Each Patch
• Level Matched
• PC & Mac Compatible
• 100% Royalty-Free
• Requirements: U-He Diva v1.4 + or higher.

.yuzo_related_post img{width:149.5px !important; height:104px !important;}
.yuzo_related_post .relatedthumb{line-height:16px;background: !important;color:!important;}
.yuzo_related_post .relatedthumb:hover{background:#fcfcf4 !important; -webkit-transition: background 0.2s linear; -moz-transition: background 0.2s linear; -o-transition: background 0.2s linear; transition: background 0.2s linear;;color:!important;}
.yuzo_related_post .relatedthumb a{color:#303030!important;}
.yuzo_related_post .relatedthumb a:hover{ color:#8023dd}!important;}
.yuzo_related_post .relatedthumb:hover a{ color:#8023dd!important;}
.yuzo_related_post .relatedthumb:hover .yuzo__text–title{ color:#8023dd!important;}
.yuzo_related_post .yuzo_text, .yuzo_related_post .yuzo_views_post {color:!important;}
.yuzo_related_post .relatedthumb:hover .yuzo_text, .yuzo_related_post:hover .yuzo_views_post {color:!important;}
.yuzo_related_post .relatedthumb{ margin: 0px 0px 0px 0px; padding: 5px 5px 5px 5px; }
.yuzo_related_post .relatedthumb{
display:block!important;
-webkit-transition:-webkit-transform 0.3s ease-out!important;
-moz-transition:-moz-transform 0.3s ease-out!important;
-o-transition:-o-transform 0.3s ease-out!important;
-ms-transition:-ms-transform 0.3s ease-out!important;
transition:transform 0.3s ease-out!important;
}
.yuzo_related_post .relatedthumb:hover{
-moz-transform: scale(1.1);
-webkit-transform: scale(1.1);
-o-transform: scale(1.1);
-ms-transform: scale(1.1);
transform: scale(1.1)
}
.yuzo_related_post{
overflow:inherit!important;
}
jQuery(document).ready(function( $ ){
jQuery('.yuzo_related_post .yuzo_wraps').equalizer({ columns : '> div' });
});




[ad_2]