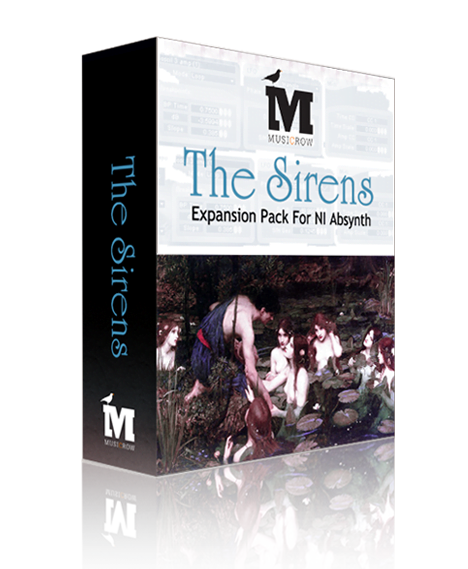 Publisher : Musicrow
Website : mcrow.net/product/sirens-expansion-pack-ni-absynth/
Format : SYNTH PRESET
Description : The sound designer Noam Gingold will lead you into the fascinating world of sound and magic, filled with vocals, textures and beauty. Put your hands on the keyboard. Close your eyes. Listen to the sirens singing. Turn your ABSYNTH into a charming vocal machine!
200 beautiful inspiring and highly playable sounds for instant use
Based on vocal recordings of four female vocalists
500MB of high resolution 24bit / 96khz samples
All samples were meticulously processed using top quality analog & digital processors
Sophisticated and useful mod wheel assignments

.yuzo_related_post img{width:149.5px !important; height:104px !important;}
.yuzo_related_post .relatedthumb{line-height:16px;background: !important;color:!important;}
.yuzo_related_post .relatedthumb:hover{background:#fcfcf4 !important; -webkit-transition: background 0.2s linear; -moz-transition: background 0.2s linear; -o-transition: background 0.2s linear; transition: background 0.2s linear;;color:!important;}
.yuzo_related_post .relatedthumb a{color:#303030!important;}
.yuzo_related_post .relatedthumb a:hover{ color:#8023dd}!important;}
.yuzo_related_post .relatedthumb:hover a{ color:#8023dd!important;}
.yuzo_related_post .relatedthumb:hover .yuzo__text–title{ color:#8023dd!important;}
.yuzo_related_post .yuzo_text, .yuzo_related_post .yuzo_views_post {color:!important;}
.yuzo_related_post .relatedthumb:hover .yuzo_text, .yuzo_related_post:hover .yuzo_views_post {color:!important;}
.yuzo_related_post .relatedthumb{ margin: 0px 0px 0px 0px; padding: 5px 5px 5px 5px; }
.yuzo_related_post .relatedthumb{
display:block!important;
-webkit-transition:-webkit-transform 0.3s ease-out!important;
-moz-transition:-moz-transform 0.3s ease-out!important;
-o-transition:-o-transform 0.3s ease-out!important;
-ms-transition:-ms-transform 0.3s ease-out!important;
transition:transform 0.3s ease-out!important;
}
.yuzo_related_post .relatedthumb:hover{
-moz-transform: scale(1.1);
-webkit-transform: scale(1.1);
-o-transform: scale(1.1);
-ms-transform: scale(1.1);
transform: scale(1.1)
}
.yuzo_related_post{
overflow:inherit!important;
}
jQuery(document).ready(function( $ ){
jQuery('.yuzo_related_post .yuzo_wraps').equalizer({ columns : '> div' });
});