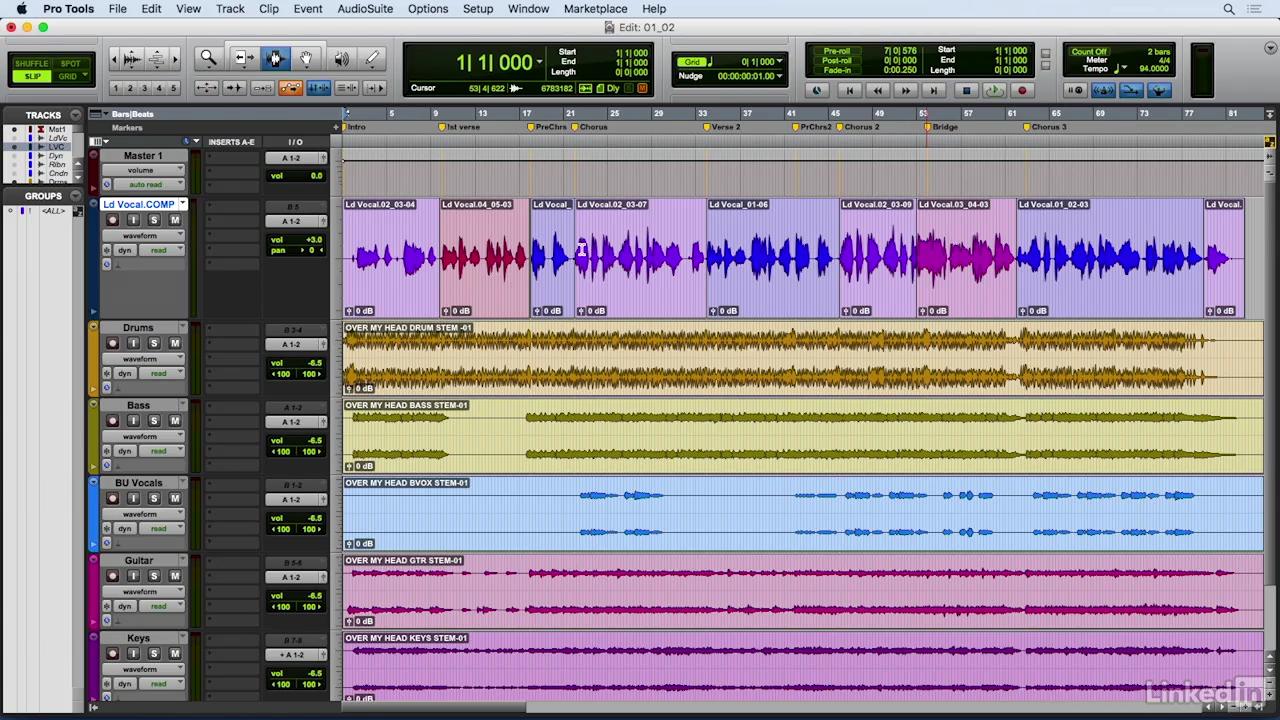 Year of release : 2016
Manufacturer : Lynda.com
Manufacturer Website : www.lynda.com/Pro-Tools-tutorials/Vocal-Production-Techniques-Editing-Mixing-Pro-Tools/490923-2.html
By : Scott Hirsch
Duration : 02:06:00
Type of handing out material : Video Tutorial
Language : English

Vocals are one of the most critical pieces of any song. No other instrument has as much power or influence. But almost every vocal track can benefit from some post-production. Vocal Production Techniques introduces editing and mixing techniques for the most popular DAWs. This course focuses on Pro Tools.
Audio engineer Scott Hirsch starts with comping the vocals—combining the best performances into one final vocal master take. He explains how to edit out breaths and other noises and fabricate a doubling effect for additional texture and vibe, and then brings in some plugins into the mix—Antares Auto-Tune, Melodyne, and iZotope—to tune vocals and create more interesting soundscapes. In the "Mixing" chapter, Scott enhances the sound of the vocals with EQ, compression, reverb, delay, and automation, adding life and motion to the song. The final track demonstrates everything you can do to maximize the effectiveness of vocals with Pro Tools.
Introduction
Welcome 1m 38s
What you should know before watching this course 55s
Using the exercise files 53s

1. Post-Production Editing
Comping takes 6m 58s
Editing breaths, mouth noise, and pops 9m 47s
Doubling vocals in post-production 3m 49s
Using Antares Auto-Tune nondestructively 5m 4s
Creating harmonies with Melodyne 3m 25s
Experimenting with iZotope's Stutter Edit 7m 24s

2. Mixing Vocals
Processing vocals with EQ 18m 30s
Processing vocals with compression and limiting 11m 46s
Applying multiband compression for more focused dynamics control 6m 34s
De-essing a vocal track 6m 52s
Using reverb send to enhance vocals 7m 22s
Using delay effects to enhance vocals 8m 46s
Using modulation effects to enhance vocals 6m 22s
Layering multiple vocal tracks together 9m 28s
Automating vocal levels 4m 9s
Automating FX 6m 30s
Conclusion
Next steps 40s
Example files : present
Video Format : MP4
Video : AVC, 1280×720, 16: 9, 30.000 fps, ~ 241 Kbps
Audio : AAC, 48.0 KHz, 320 Kbps, 2 channels