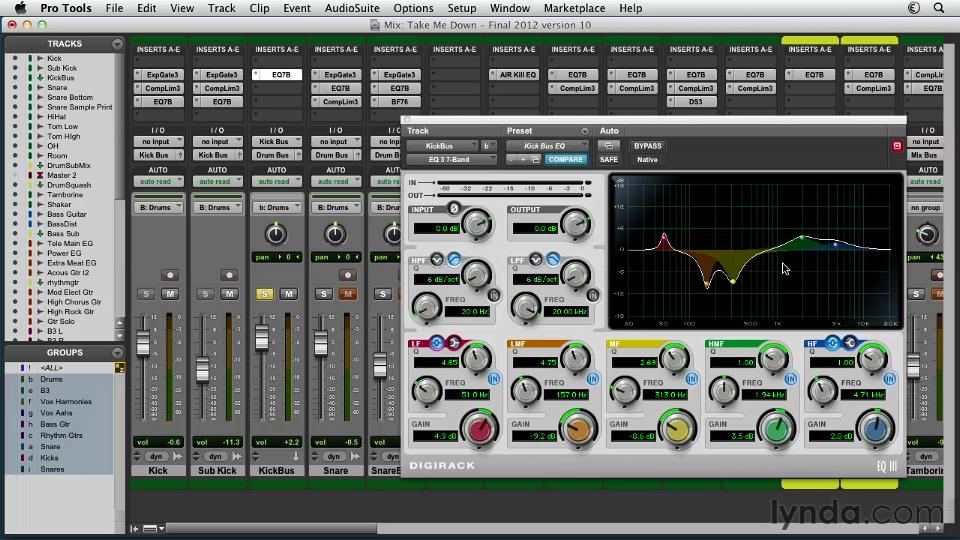 Year of release : 2014
Manufacturer : Lynda.com
Manufacturer Website : www.lynda.com/Pro-Tools-tutorials/Pro-Tools-Mixing-Mastering/95249-2.html
Posted by : Brian Lee White
Duration : 10:32:00
Type of handing out material : Video Tutorial
Language : English

Description : After recording and editing, use the lessons from Pro Tools Mixing and Mastering to create the final mix and wizard for your project. Avid's certified expert and professional mix engineer Brian Lee White covers all the main mixing tools every producer and engineer should know: from using an equalizer to add clarity to compression and limiting to control the dynamics and increase track levels in the mix. The course emphasizes the importance of creating a solid information plan and setting up a studio before starting any work in Pro Tools. Throughout the course, Brian will provide you with his ideas, inspiration, and studio secrets from more than 10 years of professional practice to help you become an excellent sound producer.
After taking a few minutes, you can take your project. Bottom Bottom tracker within the mix method. The Proof. Throughout the course, you're a better mixer.
Topics include:
What is mixing? Exploring the past, present, and future
Mixing "in the box"
Setting up monitors in the studio
Stay organized with labels, memory locations, and window configurations
Working with the Pro Tools Mixer
Building mix
Using volume mix
Correlation and Contrast
Audio track
Working with compressors and dynamics processors
Using sound
Adding reverb and delay to create depth in a mix
Working with limiting and multiband compression during the mastering process
Dealing with plug-in delay and latency in a mix
Using the tools to add clarity, punch, and width to a mix
Recording and editing automation to add drama and excitement
Using clip based heading and heading

Add. Information : This is an update to the Lynda.com – Pro Tools Mixing and Mastering course, released on February 12, 2014. Several new lessons have been added.
Content
0. Introduction 12m 57s
Welcome

NEW

1m 15s
What is mixing?
The past, present, and future 4m 38s
Exploring strategies for mixing and mastering 5m 47s
Using the exercise files 1m 17s
1. Preparing to Mix 47m 4s
Mixing "in the box" 4m 45s
Setting up the studio: monitors 6m 24s
Setting up the studio: acoustics 6m 42s
Staying organized: 11m 42s labeling tracks and clips
Staying organized: memory locations and window configurations 9m 28s
Managing system resources during mixdown 8m 3s
2. Working with the Pro Tools Mixer 48m 42s
Introducing the Pro Tools mixer 3m 19s
Understanding mixer signal flow 3m 55s
Using inserts and plug-ins 8m 54s
Working with plug-in settings 5m 57s
9m 5s using sends and creating effects
Submixing with aux tracks 6m 4s
Using groups while mixing 5m 32s
Using master faders effectively 5m 56s
3. Mixing Tools and Strategies 18m 12s
Conceptualizing the mix and making a plan 6m 17s
Adjusting volume 7m 49s
Knowing when to process: mix problems vs.
mix solutions 4m 6s
4. Understanding and Using EQ (Equalization) 43m 54s
Understanding the mechanics of sound 3m 21s
Learning the basics of EQ: frequency-specific level control 3m 3s
Using DigiRack EQ 3 6m 42s
Exploring EQ strategies in mixing: correcting vs.
creating 7m 19s
A working example: kick drum and bass 8m 22s
A working example: filtering loops 6m 2s
Exploring mixing tips and tricks: EQ 9m 5s
5. Understanding and Using Dynamics Processors 1h 23m
Understanding dynamics and dynamic range 1m 48s
Working with dynamics processors 2m 41s
Using the DigiRack Dyn 3 compressor / limiter 8m 36s
Balancing and shaping track dynamics 2m 42s
Using gates and expanders 8m 26s
Using de-essers to eliminate sibilance 6m 52s
A dynamics workflow example: vocal 12m 21s
A dynamics workflow example: drums 12m 19s
10m 11s Exploring mixing tips and tricks: dynamics
Building parallel, or upward, compression 7m 40s
Reviewing dynamics concerns: How much is too much?
2m 45s
Using Avid Channel Strip 7m 26s
6. Mixing with Reverb, Delay, and Other Time-Based Effects 59m 21s
Depth and width 3s 49s using time-based effects
Exploring DigiRack D-Verb 15m 48s
Using the DigiRack delays 11m 10s
Mixing with reverb 11m 28s
Mixing with delays 10m 40s
Exploring mixing tips and tricks: creating mix depth 6m 26s
7. Introducing the Pro Tools Creative Collection 15m 14s
Working with the Creative Collection 7m 18s
Building distortion and saturation 7m 56s
8. Automating the Mix 56m 48s
Understanding automation 4m 10s
Recording real-time automation moves 9m 0s
Viewing and editing automation 13m 12s
Using clip gain 9m 59s
Automating plug-ins 9m 34s
Exploring automation strategies for mixing 10m 53s
9. Putting It All Together 39m 22s
Understanding the characteristics of a great mix 6m 23s
Working with a reference track 7m 51s
Avoiding common pitfalls 10m 59s
Building healthy mixing habits 3m 23s
10s 46s crafting your mix from start to finish
10. Mastering in Pro Tools 1h 6m
Understanding mastering 5m 13s
Working with general mastering strategies 9m 5s
Using maximizing track level 12m 6s
Working with multiband compression 5m 34s
Bouncing the mix 8m 4s
Understanding sample rate, bit depth, file formats, and dither 9m 0s
Metering with DigiRack Phase Scope 7m 46s
Compressing audio for the web 10m 0s
11. Additional Topics 1h 19m
Evaluating plug-in processors 6m 3s
Analog-style effects effectively 11m 45s
Setting up side chains 7m 27s
Master bus processing 11m 6s
Creating and using mix templates 10m 35s
Dealing with plug-in delay and latency 12m 28s
Drum sample replacing 12m 59s
Setting pan depth in Pro Tools 6m 39s
12. Pro Tools 11 Addendum 1h 0m
Mixing in Pro Tools 11: What's new

NEW

4m 36s
Understanding the AAX 64-bit plugin format

NEW

8m 31s
Configuring the Pro Tools 11 Playback Engine

NEW

8m 36s
Using new metering options in the mixer

NEW

7m 16s
Working with advanced metering options

NEW

8m 18s
Mixing shortcuts in Pro Tools 11

NEW

5m 40s
Printing a mix using Offline Bounce

NEW

7m 6s
Advanced Offline Bounce workflows

NEW

10m 51s
13. Conclusion 21s
Thank you and goodbye 21s
Example files : present
Video Format : MP4
Video : AVC, 960×540, 16: 9, 15.000 fps, ~ 187 Kbps
Audio : AAC, 48.0 KHz, ~ 160 Kbps, 2 channels