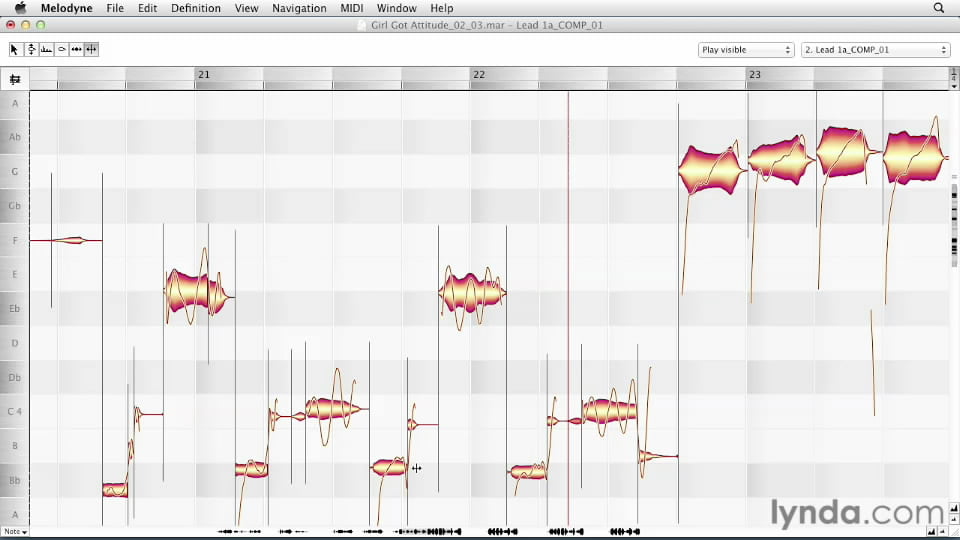 Year of release : 2012
Manufacturer : Lynda.com
Manufacturer site : www.lynda.com/Melodyne-tutorials/Melodyne-Advanced-Techniques/108884-2.html
Posted by : Skye Lewin
Duration : 03:17:00
Type of handing out material : Video Tutorial
Language : English
Description : In this course, producer and engineer Sky Levin reveals techniques used by professional musicians and producers to get the best-sounding results with Melodyne. The course covers digital audio workstation (DAW) and session preparation, and shows how to perform rhythm correction and altitude correction on the lead and backing vocals. It also includes lessons on importing and exporting tracks between the DAW and the standalone version of Melodyne, as well as using Melodyne as a plug-in via ReWire, and through the Melodyne Bridge. Skye also shows how to use a MIDI keyboard to change the pitch of a recorded Melodyne performance, and how to use the MIDI instrument as a trigger for audio recording.
In this course, he received his best-sounding results from Melodyne. It's a bit of a funk. It includes the track of the tracker and the standalone version of the Melodyne, as well as the plug-in through the ReWire, and the Melodyne Bridge. It also shows how to use it.
Topics include:
– Preparing for a standalone Melodyne workflow
– Setting up a session
– Using a live editing approach for vocal correction
– Batch correcting vocals
– Correcting the pitch and rhythm of vocals
– Creating new background parts
– Adding special effects
– Revising an edit in Melodyne Studio
– Changing the tempo of your audio
Many thanks to the qaucwayp user who provided this video!

Content:
0. Introduction 2m 44s
Welcome 1m 23s
Using the exercise files 56s
What you should know before watching this course
1. Preparing to Work in Melodyne 26m 6s
Setting Melodyne preferences and keyboard shortcuts 4m 28s
Utilizing Melodyne with your digital audio workstation (DAW) through Melodyne Bridge 6m 42s
Utilizing Melodyne with your DAW through ReWire 6m 9s
Using Melodyne in a standalone workflow 8m 47s
2. Editing the Lead Vocals 1h 3m
Editing the lead vocal 2m 5s
Exploring the live editing approach 9m 49s
Using the "separate first" approach 9m 31s
Correcting pitch automatically 10m 48s
Correcting lead vocal pitch 13m 16s
Correcting lead vocal rhythm 9m 34s
Finishing up the lead vocals 8m 55s
3. Correcting Harmony and Background Vocals 1h 11m
Correcting background vocal pitch 9m 56s
Correcting background vocal rhythm 11m 1s
Correcting harmony vocal pitch 18m 2s
Correcting harmony vocal rhythm 13m 6s
Creating new background parts 3m 50s
Creating effects using the Pitch Modulation tool 13m 44s
Creating effects using the Formant tool 1m 24s
4. Bringing the Audio Back to the DAW 6m 31s
Exporting your edits from Melodyne 3m 17s
Import your edits into the DAW 3m 14s
5. Additional Uses 26m 31s
Revising your edit 5m 47s
Making further edits using the Melodyne plug-in 3m 17s
Using Direct Note Access (DNA) 5m 55s
Changing the tempo of your audio 1m 35s
Using Melodyne with instruments 2m 1s
Using MIDI to edit or perform a recording 5m 47s
Using Melodyne to trigger an instrument 2m 9s
6. Conclusion 36s
Goodbye 36
Example files : present
Video Format : MOV
Video : AVC, 960×540, 16: 9, 30.000 fps, ~ 719 Kbps
Audio : AAC, 48.0 KHz, ~ 96.0 Kbps, 2 channels