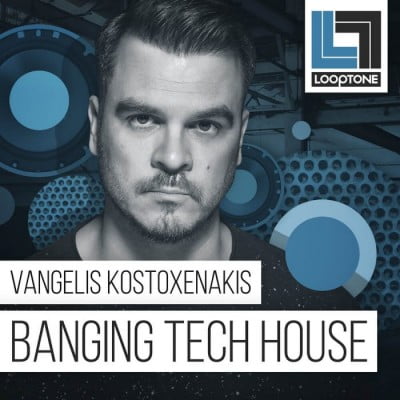 Publisher : Looptone
Website : loopmasters.com
Format : WAV
Quality : 24 bit 44.1 kHz stereo
Description : Our latest offer of rich sound is an exclusive kit from the producer. Ideal for those with a bad case of analog passion, this choice of sounds from Tech House sounds is the work of rising star Vangelis Kostoxenakis. Not for weak hearts, this collection is tough and full of energy.
Working on his name and number of pseudonyms (including Phatjak, Angel Stoxx & Breaking Toys), VK has steadily built a convincing reputation by releasing his works on some of the most influential House music labels (Moon Harbor, Suara, Snatch! Klong, Toolroom and Food). His creative production with a unique style saw that he became a recitivist in the charts of Beatport, and with the help of radio 1 and support from Annie Mac. Without following the fashion and trends, VK simply produces the music he loves and does it very well.
The collection of VKs sounds is simply sublime, they all have weight and density, you immediately feel that these are solid sound loops that have an unmistakable feeling of pure quality.
97 Music loops
126 Drum loops
135 Drum Top loops
125 Bass loops
54 fx loops

.yuzo_related_post img{width:149.5px !important; height:104px !important;}
.yuzo_related_post .relatedthumb{line-height:16px;background: !important;color:!important;}
.yuzo_related_post .relatedthumb:hover{background:#fcfcf4 !important; -webkit-transition: background 0.2s linear; -moz-transition: background 0.2s linear; -o-transition: background 0.2s linear; transition: background 0.2s linear;;color:!important;}
.yuzo_related_post .relatedthumb a{color:#303030!important;}
.yuzo_related_post .relatedthumb a:hover{ color:#8023dd}!important;}
.yuzo_related_post .relatedthumb:hover a{ color:#8023dd!important;}
.yuzo_related_post .relatedthumb:hover .yuzo__text–title{ color:#8023dd!important;}
.yuzo_related_post .yuzo_text, .yuzo_related_post .yuzo_views_post {color:!important;}
.yuzo_related_post .relatedthumb:hover .yuzo_text, .yuzo_related_post:hover .yuzo_views_post {color:!important;}
.yuzo_related_post .relatedthumb{ margin: 0px 0px 0px 0px; padding: 5px 5px 5px 5px; }
.yuzo_related_post .relatedthumb{
display:block!important;
-webkit-transition:-webkit-transform 0.3s ease-out!important;
-moz-transition:-moz-transform 0.3s ease-out!important;
-o-transition:-o-transform 0.3s ease-out!important;
-ms-transition:-ms-transform 0.3s ease-out!important;
transition:transform 0.3s ease-out!important;
}
.yuzo_related_post .relatedthumb:hover{
-moz-transform: scale(1.1);
-webkit-transform: scale(1.1);
-o-transform: scale(1.1);
-ms-transform: scale(1.1);
transform: scale(1.1)
}
.yuzo_related_post{
overflow:inherit!important;
}
jQuery(document).ready(function( $ ){
jQuery('.yuzo_related_post .yuzo_wraps').equalizer({ columns : '> div' });
});