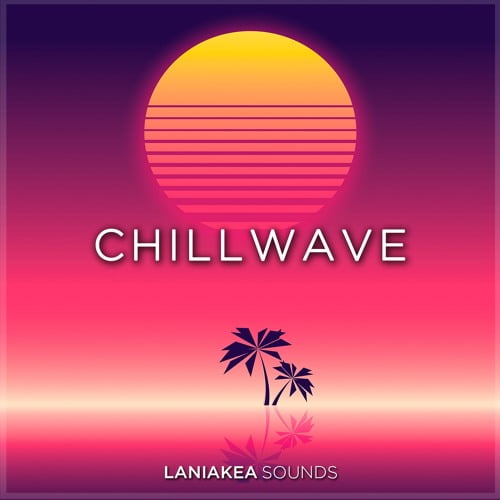 Publisher : Laniakea Sounds
Website : ProducerLoops
Format : WAV, SPiRE 1.1.12+
Quality : 24 bit 44.1 kHz stereo
Description : Laniakea Sounds – Chillwave is a collection of cooling rhythms and vintage synthesizers created for the producers of the genres Synthwave, Vaporwave and Indie Dance. This package is 100% royalty free, so you can freely use it in your studio.
"Laniakea Sounds – Chillwave" was released by Michal Ostafin and includes 182 MB of content with loops, single samples and presets for the synthesizer. This sample package comes in 90-100 BPM tempo and has an ideal selection of slow-tempo drums, vintage basses, lush synthesizers and some 8-bit vocal effects.
• Format: WAVs / Synthesizer VSTi SoundBank
• 032 x Music Loops:
• 010 x (Bass Loops)
• 022 x (Synth Loops)
• 020 x Full Drum Loops
• 023 x Top Drum Loops
• 009 x Vocals:
• 004 x Vocals – (Dry)
• 005 x Vocals – (Wet)
• 012 x FX:
• 007 x (FX)
• 005 x (Static Noises)
• 036 x (One-Shots) Samples:
• 007 x (Kicks)
• 022 x (Percussions)
• 007 x (Snares)
• 020 x VSTi Presets For (Reveal Sound Spire)
• Key And Tempo-Labeled
• 44.1kHz 24-Bit High Quality
• Compatible With All DAWs
• PC & Mac Compatible
• 100% Royalty-Free
Method 1

:
Copy the bank file to C: Users NAME AppData Roaming RevealSound Banks and then select the bank of interest in the tool menu -> select bank
Method 2

:
In the tool itself: menu -> import bank (specify in the window where the bank file is located) and then menu -> select bank choose the bank of interest

.yuzo_related_post img{width:149.5px !important; height:104px !important;}
.yuzo_related_post .relatedthumb{line-height:16px;background: !important;color:!important;}
.yuzo_related_post .relatedthumb:hover{background:#fcfcf4 !important; -webkit-transition: background 0.2s linear; -moz-transition: background 0.2s linear; -o-transition: background 0.2s linear; transition: background 0.2s linear;;color:!important;}
.yuzo_related_post .relatedthumb a{color:#303030!important;}
.yuzo_related_post .relatedthumb a:hover{ color:#8023dd}!important;}
.yuzo_related_post .relatedthumb:hover a{ color:#8023dd!important;}
.yuzo_related_post .relatedthumb:hover .yuzo__text–title{ color:#8023dd!important;}
.yuzo_related_post .yuzo_text, .yuzo_related_post .yuzo_views_post {color:!important;}
.yuzo_related_post .relatedthumb:hover .yuzo_text, .yuzo_related_post:hover .yuzo_views_post {color:!important;}
.yuzo_related_post .relatedthumb{ margin: 0px 0px 0px 0px; padding: 5px 5px 5px 5px; }
.yuzo_related_post .relatedthumb{
display:block!important;
-webkit-transition:-webkit-transform 0.3s ease-out!important;
-moz-transition:-moz-transform 0.3s ease-out!important;
-o-transition:-o-transform 0.3s ease-out!important;
-ms-transition:-ms-transform 0.3s ease-out!important;
transition:transform 0.3s ease-out!important;
}
.yuzo_related_post .relatedthumb:hover{
-moz-transform: scale(1.1);
-webkit-transform: scale(1.1);
-o-transform: scale(1.1);
-ms-transform: scale(1.1);
transform: scale(1.1)
}
.yuzo_related_post{
overflow:inherit!important;
}
jQuery(document).ready(function( $ ){
jQuery('.yuzo_related_post .yuzo_wraps').equalizer({ columns : '> div' });
});