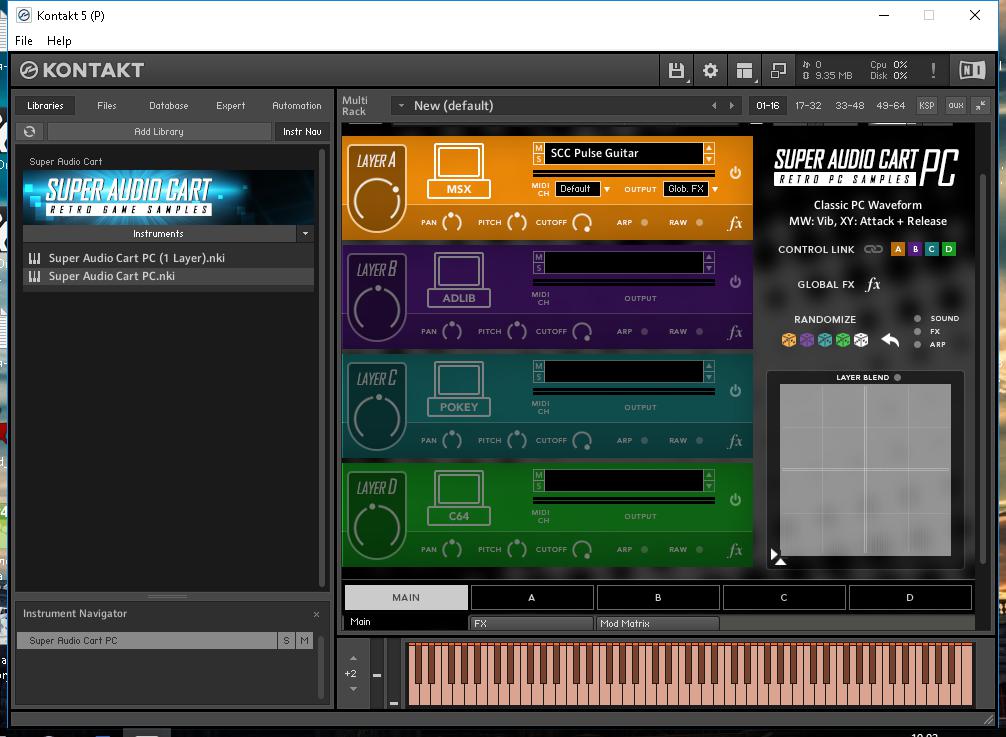 The most complete set of sounds of retro computers. The library is based on the success of "Sounds of Eternity" and it's the legendary sound equipment of the 80's and 90's with unprecedented accuracy and powerful synthesis.
While the original Super Audio Cart was aimed at home video game systems, the Super Audio Cart PC perfectly conveys the legendary sounds of classic computer sounds. In those early days, before the creation of multi-gigabyte hard disks and audio quality CD-ROMs, many ways of generating and playing audio were developed, allowing to create truly unique and memorable tones. We offer eight sound sets with a total of more than 1000 authentic patches!
From the digital FM synthesis of the AdLib sound card to the MSX computer, from the wonderful lo-fi multisamples of Amiga to the dirty synthesis of Atari's POKEY – Super Audio Cart PC accurately reproduces a wide range of tones.
All sounds can be used unprocessed to create authentic electronic music from the chipon, or they can be layered in our incredibly powerful 4-component synthesizer for endless tuning, inspiration and sound design! To demonstrate all that you can do with these waveforms in our engine, we created a bank of more than 150 modern and re-interpreted sounds to inspire you to creativity.
…… ::::::: CONTENT ::::::: …….
• Eight Legendary Computer Systems.
• AMGA, Tracker, POKEY, MSX, C64.
• ADLIB, AEGIS, WINGROOVE.
• Over 8.000 Samples.
Over 1.100 Snapshots.
• Retro Waves And Multisamples.
• Meticulous Editing To Preserve Authenticity.
• Recorded Using Actual Hardware.
……. ::::::: FEATURES ::::::: …….
• Four independent Sound Source Layers.
• Integrated Sound Source Browser.
• Over A Dozen Filter Models.
• 5 FX Racks With 8 Modules Each.
• Poly Arpeggiator, Gate, Sequencer.
• 64-Slot Modulation Matrix.
• Full NKS Compatibility: Komplete Kontrol & Maschine.
• Compatible With The FREE Kontakt Player.
……. ::::::: REQUiREMENTS ::::::: …….
• Kontakt OR Kontakt Player Version 5.5.2 Or Higher.
• 4GB of Disk Space.
• 2GB RAM (4GB Recommended).
• 2008 Or Later Processor.
5.5. Of Kontakt.
If You Can not Run That Version – You Will Not Be Able To Load This Library.
Publisher

: Impact Soundworks
Website

: Impact Soundworks
Format

: KONTAKT 5.5.2