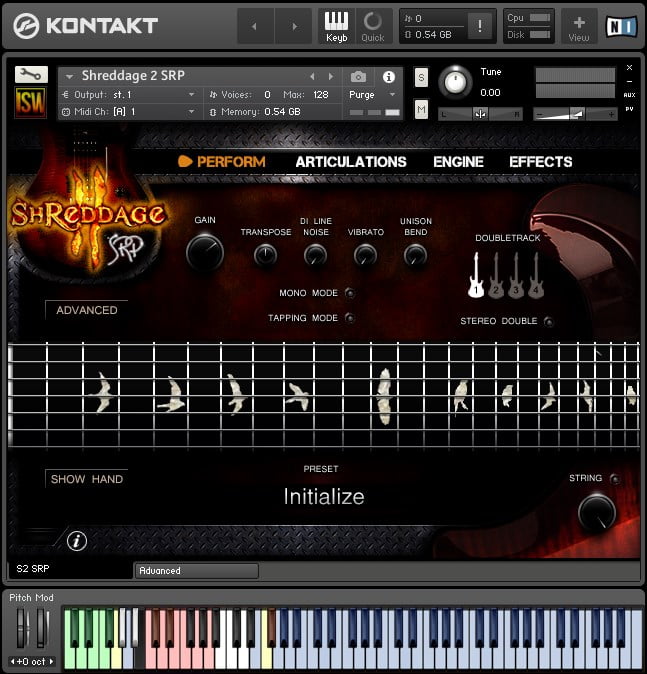 Shreddage 2 SRP adds a new American-made 7-string guitar to the Shreddage series, with all-new recordings performed by one of today's brightest upcoming talents: Jules Conroy, better known as the YouTube starFamilyJules7x! Best known for his blistering rock & metal covers of classic video game music, as well as the metal soundtrack to the megahit 'Crypt of the Necrodancer', Jules badass style brings a new and unique sound to our Shreddage line.
As with 2015's IBZ expansion, Shreddage 2 SRP uses our very latest script engine with intelligent real-time performance, custom articulation mapping, built-in FX rack, and dozens of advanced options. All crucial techniques are here, from hard sustains and powerchords to pinch harmonics, tremolo, and true fingered vibrato. In total, SRP comes with over 13,000 samples and up to ELEVEN (!!!) layers of palm mutes. (Because with metal, eleven is always better than ten.)
Of course, the tone of a guitar is just as important as how you play it, and the tone of Shreddage 2 SRP fits squarely between the dark, full sound of the original S2 and the thin, biting timbre of IBZ. This makes SRP a surprisingly versatile and powerful choice for genres beyond just rock & metal!
Whether you're creating mega-thick quad-tracked metalcore rhythms, doom chords, blazing solos, or emotional lead parts, Shreddage 2 SRP is an excellent addition to your virtual instrument arsenal.
Content:
Legendary American guitar sound
Brutal 7-string Drop-G tuning
Over 15,000+ 24-bit samples
Well-rounded and flexible DI tone
Up to 8x RR variations per note
Up to 11 layers of palm mutes
All crucial articulations
Features:
Multiple picking modes/behaviors
Double and quad-tracking capabilities
Virtual fretboard display with deep tweaking
Custom-built FX rack with amp + cab sim
Hi-gain FX presets for instant gratification
Completely customizable mapping
New ADVANCED tab to go under-the-hood
KONTAKT PLAYER compatible
Requirements:
Kontakt OR Kontakt Player version 5.3.1 or higher.
6GB Disk Space
3GB RAM Required
2007 or later processorYour system must also meet the requirements for version 5.5.2 of Kontakt. If you cannot run that version, you will not be able to load this library.