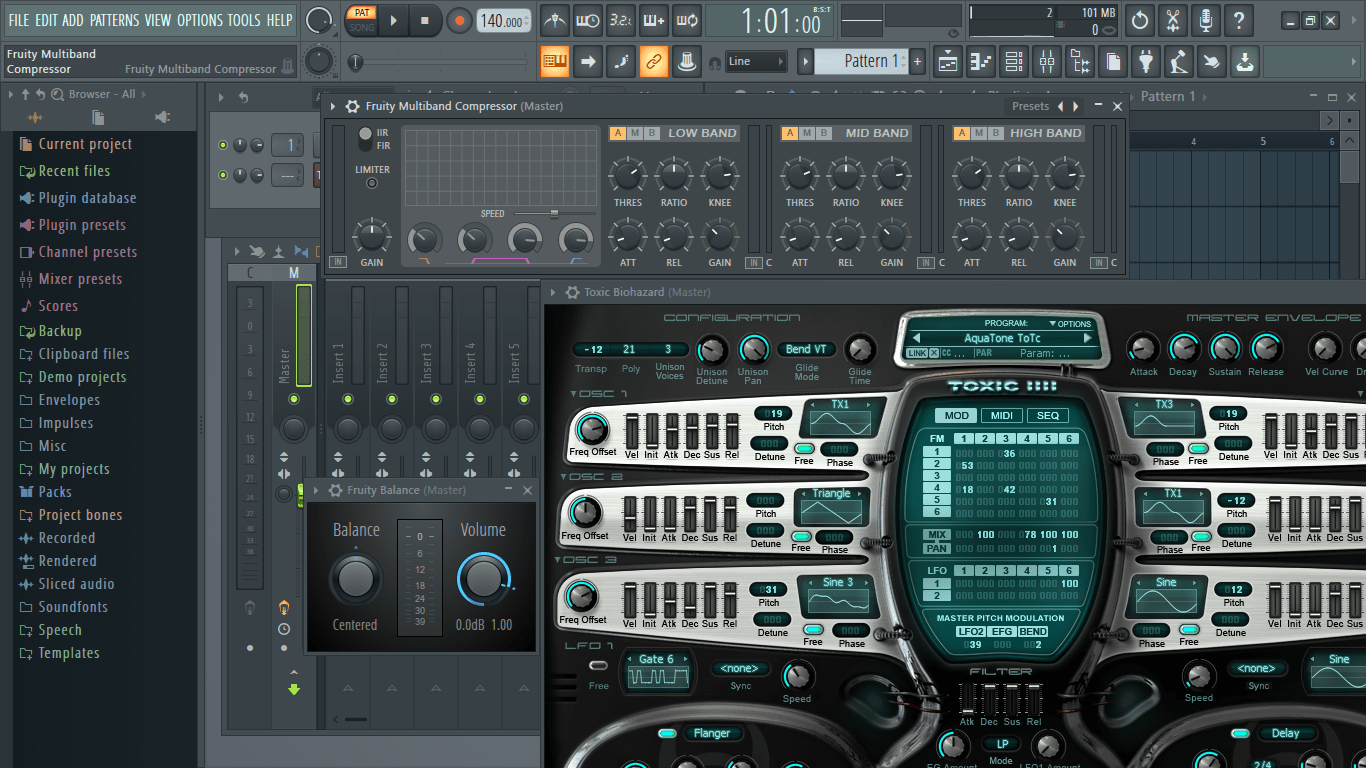 03/28/2019 Torrent updated : Bug fixes
Year / Release Date : 27.2.2019
Version : 20.1.2.887
Developer : Image-Line
Developer site : image-line
Digit capacity : 32bit, 64bit
Interface Language : English
Tabletka : present
System requirements : Windows 10 / 8.0 / 8.1 / 7
4GB free disk space
4GB of RAM or higher recommended
Soundcard with DirectSound drivers. ASIO / ASIO2 compatible required for audio recording (FL Studio installs with generic ASIO4ALL drivers)
Description : Image-Line FL Studio Producer Edition is a new version of the world's best program for creating your own music, with its help you can create your own tracks of any style, also record vocals, reduce it, edit, cut, change and millions of different functions for work with sound.
It is a complete music software, which is more than 14 years of innovative developments. Everything you need in one package to compose, arrange, record, edit, mix. FL Studio is the fastest way from your brain to speakers.
Now the program interface is easy to scale for any screen resolution of your monitor. New, more convenient installation, sorting and launching VST plug-ins and tools. In the browser, new tabs and categories, as well as the ability to delete content with the right mouse button.

28.3.2019
Fixed the bug in the previous patch: FL Studio 64bit (FL64.exe) can go into trial mode (during trial) during rendering.
20.1.2.887
20.1.2.887

This is a maintenance update focusing mainly for bug fixes and some other commonly requested adjustments to the new 20.1 workflow updates.
---
20.1.2.877
Changes
(are common)
Adding an instrument or soundtrack no longer switches from pattern to song mode
"Separate from instrument track" is renamed and can also link a channel to a new instrument track.
Removed (deleted) presets from plugin databases by default, since there are selected options for this
Removing plugins now requests confirmation (since there is no cancellation)
Missing plug-ins and examples – New window when opening a project file, providing additional information.
A playlist – "Group with a specified track" automatically colors the track if its parent instrument is a tool track or an audio track.
Track mode — an option (right-click on the channel button) "Unassign an instrument from the instrument track" to disconnect channels with instrument tracks
Automation – initialized controls are now displayed in a separate folder in the "Current Project" section of the browser.
Ogun – added new Ogun presets that were previously available only through the download manager
Harmor – Olbaid presets added to Harmor
Wave Candy – automatic mode change when window size is disabled by default
(MacOS)
GUI FPS Performance Improvements
Input control is disabled when audio device is disabled to prevent feedback
Fixes
(are common)
Adding tool tracks does not use a unique name.
Automation and audio clips cannot be selected on the selection panel when they are archived in CR
Automation clips abbreviate names when not needed
Can't display mixer track if name is very long
Emergency opening of the NewStuff project in FL 64bit
The tool track overwrites the existing circuit after deleting another tool track.
The volume control of the main toolbar is automatic
The template selector sometimes shows the wrong template after deletion.
PR: the cutting tool does not work correctly at 1/6 step
Predicted size for audio export is incorrect if mono export is selected.
Automating the recording of events after a pattern can lead to incorrect tempo automation.
Resetting a mixer track will reset the delay compensation values ​​manually for all tracks.
When you select an audio clip, the Audio tab is not selected in the selection panel.
The timing of the start of the clip is inverted when the time knob is at zero
Control Panel: high CPU usage, doing nothing
DirectWave: deleting samples in the zone grid does not always replace existing zones
Edison, Slicex and other plugins: wave / envelope editor buttons do not show tooltips
Fruity Soft Clipper, Transient Processor: GUI Optimization
Plucked!: The parameter extension does not work correctly in 64-bit
Violation of access by opening the demo song "Thomas Chavez – Raubana – LIFE"
Audio recordings on audio tracks can sometimes insert sound into another track.
"Burn to pattern" in some cases does not record all notes.
Looping channels causes constant repainting of the playlist and piano roll
The processor panel is repainted when hidden
Crash on exit
Error opening demo song "RadioactiveSandwich"
Incorrect channel index error when selecting template clip in selection panel
In some cases, the preview does not work.
Playlist – clicking on a clip in a multi-selection does not select the corresponding item in the selection panel
Playlist – creating a tool track in an empty project does not use a template 1
Playlist – Instrument tracks can be created even if there are no free mixer tracks.
Playlist – when placing clips on tracks a unique dialog is incorrectly displayed.
Playlist – make a unique dialog is not displayed when cloning a clip in the same place using the Shift key
Playlist – deleting an unrecognized file type in a track header adds a tool track with an empty channel
Playlist – clips are constantly repainted when you hover over them
Playlist – Pattern 1 is selected after moving the clip to the instrument track.
Playlist – nothing happens when the sample drops to the instrument track and an "audio clip" is selected.
Plug-in delay compensation is interrupted when channel cloning
The Punch-Out marker does not work if there is no previous Punch-in marker.
Right-clicking on an audio clip in the selection panel will focus the channel rack (when it is disconnected)
Too many tracks added while looping audio
A version update notification does not always show when it should
Control Panel: number management does not send changes to Patcher and FL Studio
DirectWave: the user interface falls to full screen when the browser panel is hidden
Edison, Slicex, Convolver: hang when using pitch detection and "dump into the piano"
MIDI Out: hang when selecting some presets
Newtone: the density parameter is not memorized correctly
Patcher: the audio output of new plug-ins generator is not automatically connected to the output of Patcher
(MacOS)
Channel stand not visible
Violation of access when reconnecting a MIDI device
I can not choose a save location for files
Magic mouse scrolling conflicts with mouse clicks
Wrong icon for audio and instrument track in channel rack
DirectWave: access violation when used in Patcher
DirectWave: access violation when importing more than one file through Finder
Video player: mute button – question mark
How to solve the problem with skinning and Russification FL.
Everything you need and instructions
here.