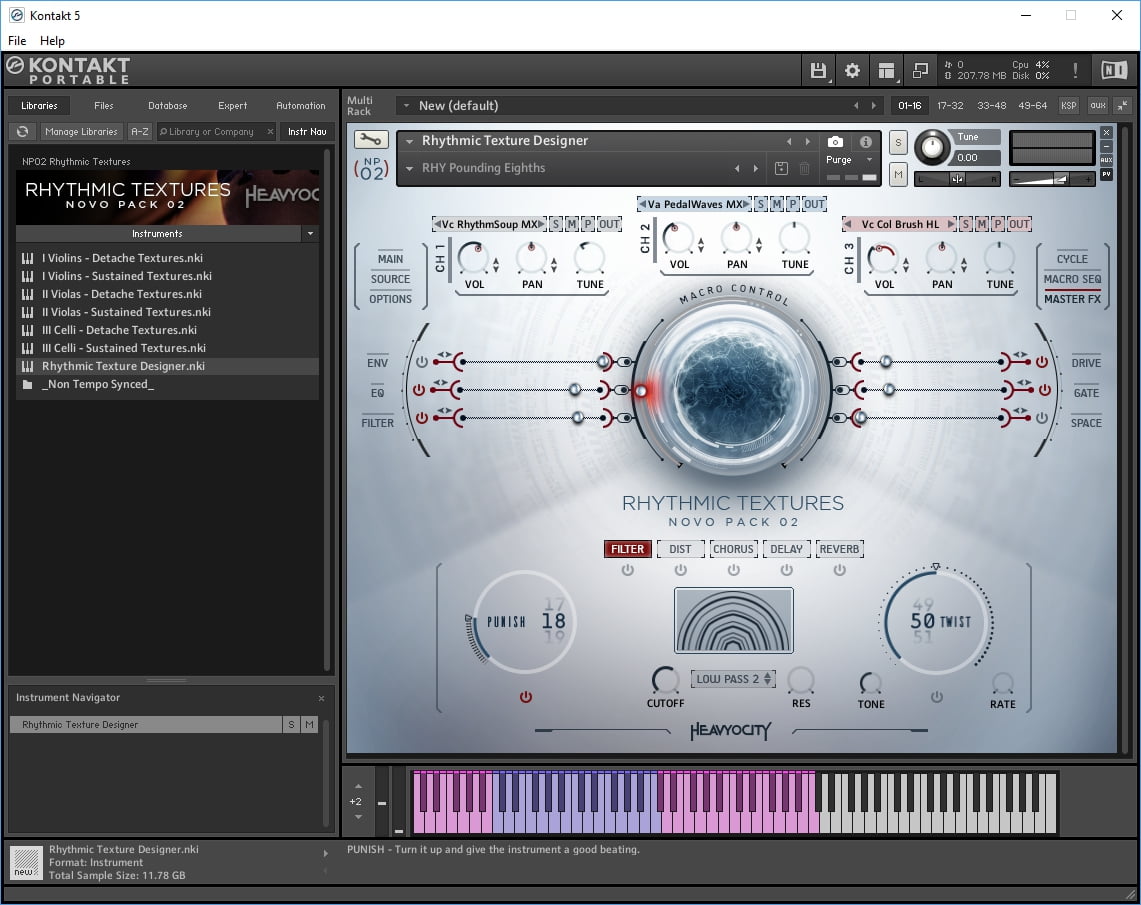 Publisher : Heavyocity
Website : Heavyocity
Format : KONTAKT 5.6.8+
Quality : 24 bit 48 kHz stereo
Description : Heavyocity Media today announced the release of a new instrument for Rhythmic Textures for Native Instruments Kontakt.
The second installation of the NOVO Packs series includes more than 12 GB of unique rhythmic elements performed by string ensembles containing 16 complex articulations of violin, viola and cello.
Heavyocity again returned to the historic boundaries of Reservoir Studios in New York to create rhythmic textures, recording world-class players performing in violin, viola and cello ensembles with three and four faces. There is a subtle and definite magic that arises when right microphones and right preamps, in the right room, grab the entire chain in the right direction. Feel that you are in the room with every keystroke with each bow movement, as the rhythmic textures serve as an inspiring center for your next creation.
And while the collections of thousands of carefully recorded samples are great, what distinguishes the Heavyocity virtual instruments is the serious possibilities of sound formation. The NOVO engine is no exception. Armed with a pristine organic content of rhythmic textures, the ability to create synthetic string and deeply unique rhythmic impulses will be right at your fingertips. From the tremendous modulating power of the central MACRO CONTROL tool to the CYCLE playback details, NOVO is driven by a powerful arsenal of recording instruments directly in the hands of the composer.
• 17.2 GB uncompressed (12 GB on Disk with NI lossless compression)
• 2,476 Samples
• 221 Snapshot Presets
• 10 NKIs
• 48 unique articulations across three sections: Violins, Violas, Celli.
• Articulations include Tremolo Pushes, Bow Drops, Tremolo Swells, Sul Pont Waves, Pulse Waves, Sliders, Tremolo Waves, Rhythm Soup, Pedal Waves, Pedal Swells, Tremolo Pulses, Tense • Pulses, Off Echoes, Off Accent, Col Legno Brushes, and Raindrops.
• Intuitive Sample Browser.
• CYCLE page for advanced granular & rhythmic playback.
• MACRO knob for dynamic multi-parameter control.
48 unique articulations across three sections:
Violins

– 16 Articulations: Tremolo Pushes, Bow Drops, Tremolo Swells, Sul Pont Waves, Pulse Waves, Sliders, Tremolo Waves, Rhythm Soup, Pedal Waves, Pedal Swells, Tremolo Pulses, Tense Pulses, Off Echoes, Off Accent, Col Legno Brushes , Raindrops
Violas

– 16 Articulations: Tremolo Pushes, Bow Drops, Tremolo Swells, Sul Pont Waves, Pulse Waves, Sliders, Tremolo Waves, Rhythm Soup, Pedal Waves, Pedal Swells, Tremolo Pulses, Tense Pulses, Off Echoes, Off Accent, Col Legno Brushes , Raindrops
Celli

– 16 Articulations: Tremolo Pushes, Bow Drops, Tremolo Swells, Sul Pont Waves, Pulse Waves, Sliders, Tremolo Waves, Rhythm Soup, Pedal Waves, Pedal Swells, Tremolo Pulses, Tense Pulses, Off Echoes, Off Accent, Col Legno Brushes , Raindrops

.yuzo_related_post img{width:149.5px !important; height:104px !important;}
.yuzo_related_post .relatedthumb{line-height:16px;background: !important;color:!important;}
.yuzo_related_post .relatedthumb:hover{background:#fcfcf4 !important; -webkit-transition: background 0.2s linear; -moz-transition: background 0.2s linear; -o-transition: background 0.2s linear; transition: background 0.2s linear;;color:!important;}
.yuzo_related_post .relatedthumb a{color:#303030!important;}
.yuzo_related_post .relatedthumb a:hover{ color:#8023dd}!important;}
.yuzo_related_post .relatedthumb:hover a{ color:#8023dd!important;}
.yuzo_related_post .relatedthumb:hover .yuzo__text–title{ color:#8023dd!important;}
.yuzo_related_post .yuzo_text, .yuzo_related_post .yuzo_views_post {color:!important;}
.yuzo_related_post .relatedthumb:hover .yuzo_text, .yuzo_related_post:hover .yuzo_views_post {color:!important;}
.yuzo_related_post .relatedthumb{ margin: 0px 0px 0px 0px; padding: 5px 5px 5px 5px; }
.yuzo_related_post .relatedthumb{
display:block!important;
-webkit-transition:-webkit-transform 0.3s ease-out!important;
-moz-transition:-moz-transform 0.3s ease-out!important;
-o-transition:-o-transform 0.3s ease-out!important;
-ms-transition:-ms-transform 0.3s ease-out!important;
transition:transform 0.3s ease-out!important;
}
.yuzo_related_post .relatedthumb:hover{
-moz-transform: scale(1.1);
-webkit-transform: scale(1.1);
-o-transform: scale(1.1);
-ms-transform: scale(1.1);
transform: scale(1.1)
}
.yuzo_related_post{
overflow:inherit!important;
}
jQuery(document).ready(function( $ ){
jQuery('.yuzo_related_post .yuzo_wraps').equalizer({ columns : '> div' });
});




[ad_2]