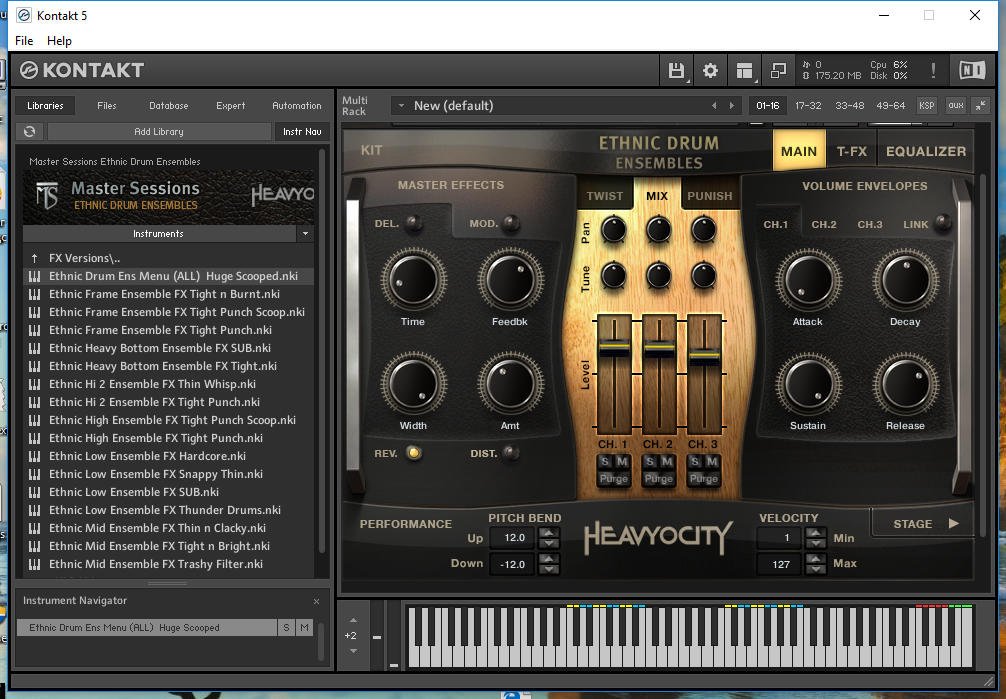 Master Sessions: Ethnic Drum Ensembles delivers 6 unique multi-sampled drum ensembles and over 375 tempo-synced loops. Each ensemble consists of up to 12 different drums, performed simultaneously by 7 players. Through creative processing and mixing, Heavyocitys team composed banks of loops to be inspiring and immediately useful.
The 6 ensembles contain a mixture of taikos, daikos, bongos, congas, frame drums, djembes, dumbeks, bodhrans, darbukas, batas, cajons, and surdos. These expressive, punchy ensembles are presented in both menu and single kit presets, providing complete control over your sound. Heavyocity has further tweaked and affected the kits, creating an additional 28 presets with a more aggressive edge.
Mix and shape your sound using Heavyocitys proprietary interface containing global effects (reverb, delay, distortion, and chorus mod), per-drum EQ, per-channel ADSR, TriggerFX, and the signature Punish and Twist knobs.
Ethnic Drum Ensembles – Loops contains over 375 tempo-synced phrases arranged in menu and single loop presets. As an exciting new feature, the content is now divided into straight and triplet loops. It is a veritable "Barrage – à – Trois". Rearrange and adjust the loops by slice with Heavyocitys signature "Loop Mutator". Dial in the Trigger FX, master effects, filter modulation and ADSR for radical sonic results.
Layer massive kits with hybrid loops to create huge walls of percussion. Mix and match loop "stems" to build your own unique combinations of tempo-synced rhythms.
Kontakt 5.5.1.451