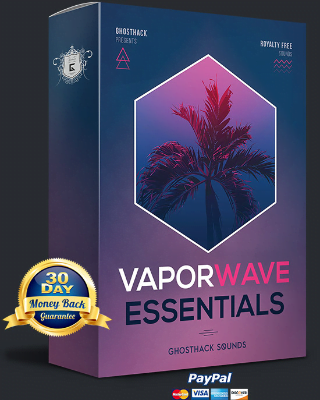 Publisher: Ghosthack
Website: ghosthack.de
Format: MIDI, WAV
Quality: 24 bit 44.1 kHz stereo
---
Description: Dive into the deep collection of hypnotic Vaporwave sounds and loops!
Ghosthack proudly presents Vaporwave Essentials, a collection of dreamy jazz and lo-fi lounge nostalgia.
Lo-fi drum breaks, deep melodic loops, warm sub-bass, split-stem drum loops, unique percussion, abstract sound effects, beautiful keys, ethereal atmosphere and much more – everything you need to create an exciting steam track !
If you are looking for a unique collection of lo-fi sounds with many modified frequencies to sound like they were recorded on vinyl or cassette, then look no further.
This pack also pairs well with Lo-Fi Hip-Hop, Chillwave, Downtempo, and other Ambient or Lo-Fi genres. All melodic content is marked with key and scale to ensure ease of use, so you can add your favorite sounds to your chosen DAW and off you go!
Content :
One-Shots:
49 Percussions
43 Hi-Hats & Cymbals
28 Synth Shots
42 Pads & Atmospheres
24 SFX
11 Kicks
10 Bass One-Shots
10 Snares
6 Toms
1 Clap
Loops:
50 Music Loops
30 Full Drum Loops
22 Bass Loops
10 Full Drum Loops (Stem-Separated)
11 Hat Loops
9 Percussion Loops
Other:
25 Melody MIDI Files
---