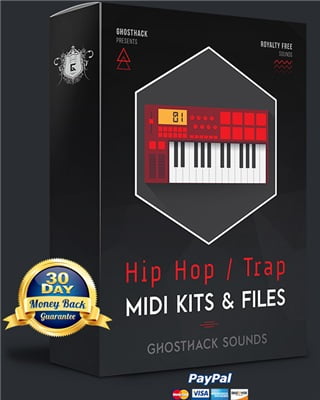 Publisher : Ghosthack
Website : ghosthack.de
Format : MIDI, WAV
Quality : 24 bit 44.1 kHz stereo
---
Description : Writing songs can be a daunting task for every hip-hop producer and trap – if you are stuck in finding the right notes for your tracks, be inspired by our huge MIDI collection today!
Our team of international sound designers has done everything possible to create amazing MIDI tunes, chords, arps, bass lines and even drum MIDI files for you.
The entire package contains 20 thematic MIDI sets with key marking and BPM. Each kit contains all the MIDI files that you need to create a pleasant hip-hop: heavy 808 bass line, melodic chords, a wonderful melody, atmospheric pads and all kinds of drums (beats, hi-hats, loops, clicks, drums).
In addition, we have included a total of 180 separate MIDI files from bass lines to chords and melodies.
Drag these files into your chosen DAW, they can be combined with everything. From samples to virtual instruments and synthesizers. Use them as inspiration to overcome annoying creative blocks.
All files and ringtones are 100% free and can be used for commercial projects.
The package contains clean .mid files that can be used with any music software.
20 MIDI Construction Kits with 260 Files
100 Melody MIDI Files
25 Bass MIDI Files
55 Chord MIDI Files
---